The latest Judo News offered by JudoInside.com
Slovenian talent Apotekar on her way to world fame
Klaus Müller / Watch: https://km-pics.de/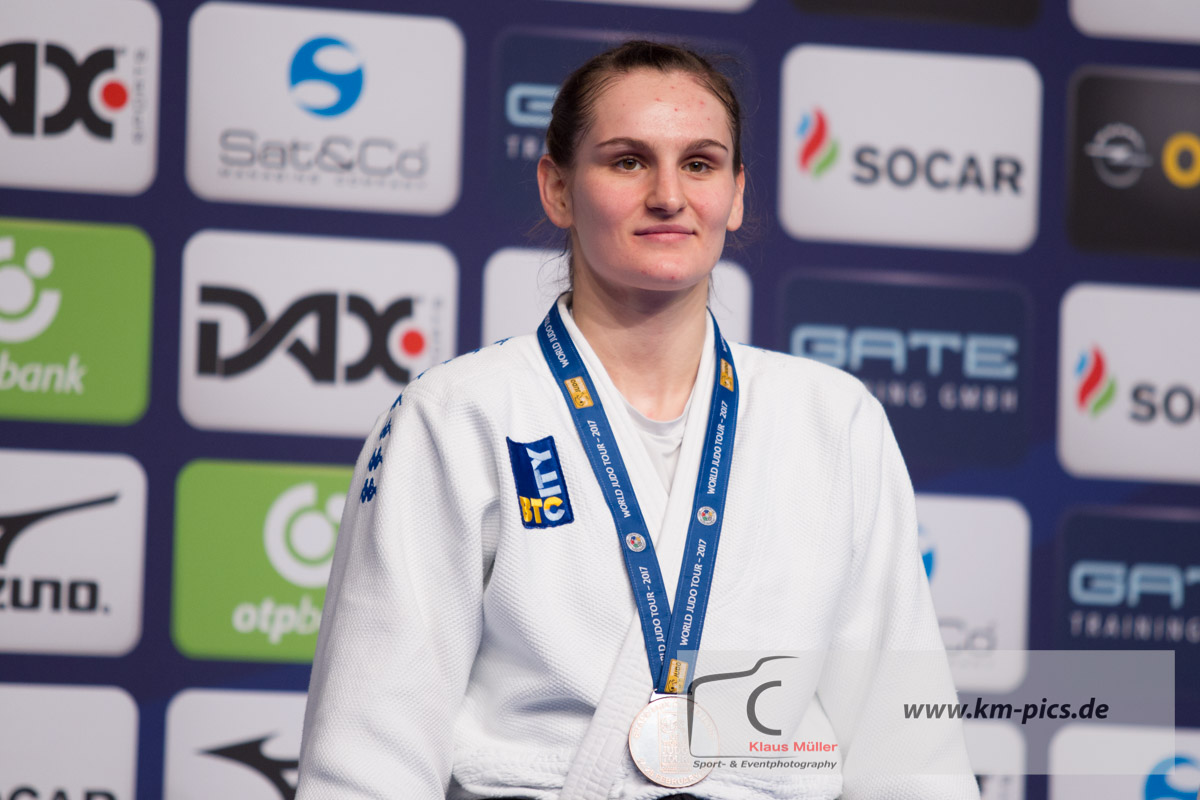 Two Slovenian women were strong today at the Second day of the European Open in Sofia. Both Anka Pogacnik (U70kg) and Klara Apotekar (U78) won the gold in their divisions. The third gold medal was for German Carolin Weiss who regained her title of 2014.
Pogacnik starts well in 2016 with the victory in Sofia. Last year in March she won the African Open in Casablanca. This time she overcame Swiss experienced lady Juliane Robra. Pogacnik opened with ippon against Danish hope Emilie Sook, defeated German Lisa-Marie Mueller by wazari and outsmarted Valentina Maltseva (RUS) over the full four minutes by waza-ari. Robra got caught by wazari as well and had to be satisfied with silver, not even so bad as last year she won bronze. The 24-year old Slovenian won her ninth World Cup medal in a field of 22 women and was obviously happy: "It is my second competition of the year as I also fought in Tunis two few weeks ago where I took bronze. The final was really thought, I threw waza-ari early and it was hard to keep my score until the end. I need points so it is a very important win for me today. I am really happy."
18-year old talent Klara Apotekar showed herself a few times in Europe. She won silver at the 2015 World Junior Championships in Abu Dhabi. She came back with the European U23 title as revenge in November last year after she won European U23 silver in 2014. Now the gold was for Apotekar after she defeated the double older Yahima Ramirez of Portugal in the final on penalties after a tactical match. But Ramirez is in a good shape as well. Ramirez was born in Cuba but switched to Portugal. Last week she won silver at the Grand Prix in Havana. Apotekar had a strong track today starting against European Junior champion Larissa Groenwold (NED), then against last week's Havana bronze medallist Assunta Galeone (ITA), and last week's German Championships silver medallist Barbie Bandel based upon her ne-waza skills. In the semi final 9 time World Cup medallist Ivana Maranic (CRO) was put aside. An excellent milestone in the career of young Apotekar. The number one in Slovenia is still Ana Velensek, the world's number three and World silver medallist in Astana and half-sister of Klara Aoptekar. Park Yu-Jin and Dutch talent Karen Stevenson won bronze in Sofia.
Apotekar is among the top 20 youngest World Cup winners of the last five years. Japanese Sarah Ashina was the youngest, aged 16, also in Sofia in 2013. Two years ago 18 –year young Distria Krasniqi won gold in Sofia, now she is World Junior Champion. "I am very happy. I didn't expect to win a medal here. I only came here for experience. I only have one medal from senior tournaments and it is this gold medal I won today. The hardest fight was definitely my second contest because I was facing the number one seeded. I lost against her twice already and I know her very well and so I knew what she will do. At the end, I felt she was tired and the next thing I knew I won the contest."
Germany's strong heavyweight Carolin Weiss enjoyed to be back in Sofia. She won the tournament in 2014 and today she booked her fifth World Cup victory and tenth World Cup medal. In the final Santa Pakenyte of Lithuania won the silver medal as Weiss only needed 51 seconds to conquer the gold medal. For Pakenyte is was her third lost World Cup final, but against Weiss not a shame. She will climb a bit in the World Ranking but has Konitz (6) and Kuelbs (11) still ahead of her. Weiss defeated Anastasia Sapsai (UKR) and Sarah Adlington (GBR) in her first two matches in a limited field of 15 athletes. Sarah Adlington and Maryna Slutskaya (BLR) both took the bronze medals. Weiss reacted to the EJU reporters: "I am happy to defend my title here in Sofia. My aim is to win as many medals I can in lead up to the Olympic Games and to pressure my two rivals in Germany. The truth is that I am also in the qualification zone for Rio 2016 and with five months to go anything can happen."
Next target: Grand Slam Paris
Related judoka and events
Related Judo Photos
Related Judo Videos
Related Judo News

Dennis Vonk (NED)
33 years
| Result | City | Date |
| --- | --- | --- |
| 1 | Düsseldorf | 2020 |
| 2 | Osaka | 2019 |
| 1 | Tokyo | 2019 |
| 1 | Tokyo | 2019 |
| 1 | Hohhot | 2019 |
| Result | City | Date |
| --- | --- | --- |
| 1 | Düsseldorf | 2020 |
| 1 | Osaka | 2019 |
| 1 | Tokyo | 2019 |
| 3 | Tokyo | 2019 |
| 2 | Fukuoka | 2019 |