The latest Judo News offered by JudoInside.com
Takajo Tomofumi outsmarts Ebinuma Masashi in Tokyo final
by Mark Pickering - IJF IJF Media Team / International Judo Federation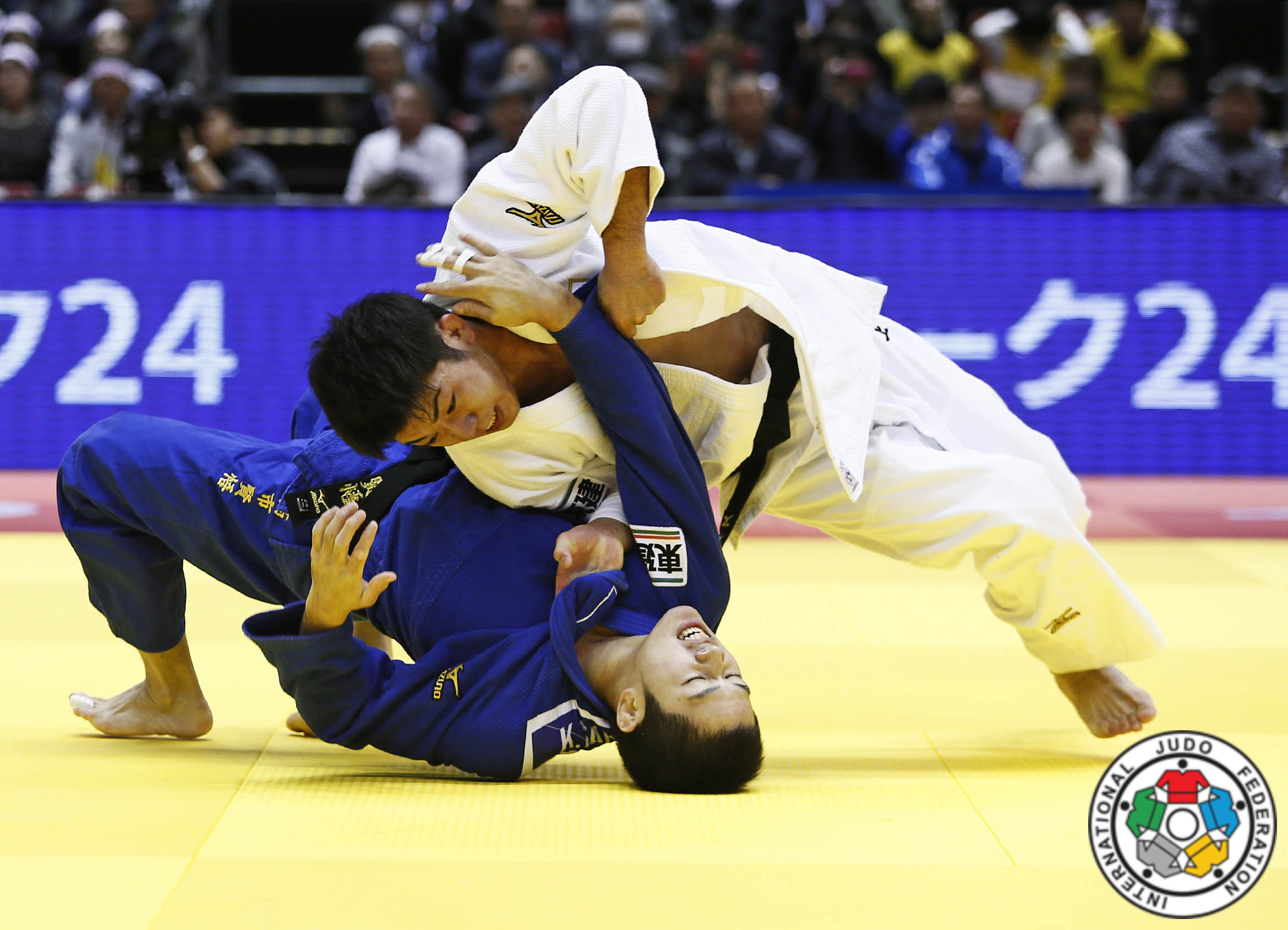 For the third time in his career Takajo Tomofumi was awarded with the gold medal and trophy for the victory at the Grand Slam in Tokyo. Although World Champion Ebinuma Masashi was aiming for the golden ippon, it was Takato who was much more efficient in the final U66kg.
Several favourite athletes had a difficult competition day, like Georgii Zantaraia (UKR), who was surprisingly eliminated by Sergiu Oleinic (POR), or the current world champion, An Baul (KOR) was defeated by the 22 year old Japanese, Tateyama Sho (JPN), even if earlier during the preliminary rounds, An sent back home the current Olympic champion, Arsen Galstyan (RUS). This all unfolded to the benefit of three-time world champion, Ebinuma Masashi (JPN), who faced his teammate, Takajo Tomofumi, in the final.
After 15 seconds, Takajo, who won the Asian Championships this year, had already one yuko, after a spectacular first attack with a kata-guruma. It took a little less than two more minutes for Takajo to launch again his special movement, but this time for waza-ari. But for sure, that is not something to discourage the three-time world champion, who scored a yuko as well with a left handed koshi-waza technique. But this was not enough, especially since Takajo scored a last yuko with a reverse drop-seoi-nage.
The first bronze medal fight opposed Takaichi Kengo (JPN) and Tateyama Sho (JPN) to guarantee one more medal for the Japanese delegation and one shido was enough for Takaichi Kengo to win the bronze after a fight where both athletes totally neutralised each other.
In the second bronze medal fight, the winner of the last edition of the Paris Grand Slam and world number three, Davaadorj Tumurkhuleg, was opposed to Sergiu Oleinic (POR). With two yuko scored with a tai-otoshi and a ashi-waza technique, the victory belonged to Davaadorj Tumurkhuleg.
Related judoka and events
Related Judo Photos
Related Judo Videos
Related Judo News