The latest Judo News offered by JudoInside.com
Ronda Rousey: When I retire, I'm going to retire forever!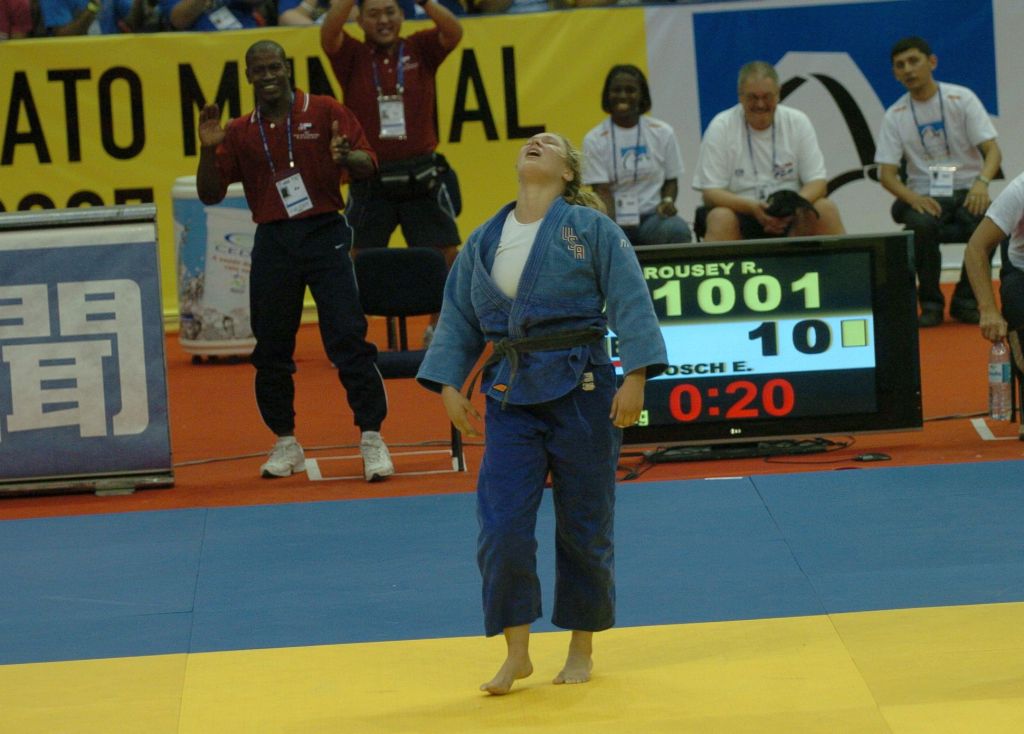 Ronda Rousey has been competiting for almost her entire life. Raised as the daughter of a judo world champion, Rousey followed her mothers lead getting involved in martial arts at an early age. Rousey eventually reached the pinnacle of her sport, making it all the way to the Olympics where she took home a bronze medal in judo in 2008. And then her world fell apart.
Once her Olympic run was over, Rousey felt lost. She didn't know how to react without the next match scheduled or competition to attend. Rousey had been conditioned as a top-level athlete her entire life where everything came down to wins and losses.

When there was no one left to throw on the mat, Rousey didn't have a clue which direction her life would go. It was then that she found mixed martial arts and decided to put forth the same kind of effort she had in judo towards a new athletic endeavor.

Now she's viewed as the best women's fighter on the planet, one of the top pound-for-pound fighters in the sport and the only thing she really fears is when this ride comes to an end. Just like her judo career, Rousey is mortified about the prospect of retiring one day because she knows what happened the last time she had no next match to look forward to.

"That's one big worry of mine," Rousey told about retiring one day. "There's so many people out there that fight too long and I don't know how I'm going to deal with it. Because I tried stepping away from judo and I've never been so depressed and lost in my whole life. I want to be able to step away and step away for real."

It's hard to imagine Rousey being afraid of anything, but life after fighting is the one thing that strikes fear in her heart like few things possibly could.

She knows it's not going to be easy to give up the thrill of stepping into an arena with 20,000 people cheering and the adrenaline rush that goes along with a big victory. It appears at least on the surface that Rousey already has plans for what happens after fighting is over.

She's landed several major roles in upcoming films including "Fast and the Furious 7" and the "Entourage"' movie from HBO. Unfortunately, none of it can replace her love of competing as a professional athlete.

"I'm afraid of that. I'm afraid of life after," Rousey said. "I'm doing everything that I can that I have that new quest and goal or whatever to go after next. Before I was left broke with no goals, but if I'm left rich with no goals, it's a little bit more comfortable, but would I mentally still be in the same place? I think so.

"I make that decision after each fight whether I'm still going to keep going, but I haven't gotten a single bruise yet from getting in a fight."

The one thing Rousey doesn't want to do when the day comes for her to call it a career is to waffle on the decision. She's seen plenty of fighters and other high level athletes retire only to return within a few months because the hunger to compete never goes away.

So when she finally makes the call to say she's retired, Rousey wants to be satisfied with the decision.

There won't be any comebacks for Rousey. When she says she's done — she's done for good.

"When I retire, I'm going to retire forever," Rousey said. "I'm not going to be that person that comes back. I don't know how I'm going to handle it. That's actually one of the things I'm scared of."
Related judoka and events
Related Judo Photos
Related Judo News
Esmay Van Klaveren (NED)
23 years
| Result | City | Date |
| --- | --- | --- |
| 1 | Fukuoka | 7 Apr |
| 1 | Düsseldorf | 22 Feb |
| 1 | Osaka | 2018 |
| 1 | Jakarta | 2018 |
| 3 | Fukuoka | 2018 |
| Result | City | Date |
| --- | --- | --- |
| 2 | Fukuoka | 7 Apr |
| 1 | Paris | 9 Feb |
| 7 | Guangzhou | 2018 |
| 1 | Baku | 2018 |
| 2 | Baku | 2018 |