The latest Judo News offered by JudoInside.com
Tokyo generation announces ambitions with gold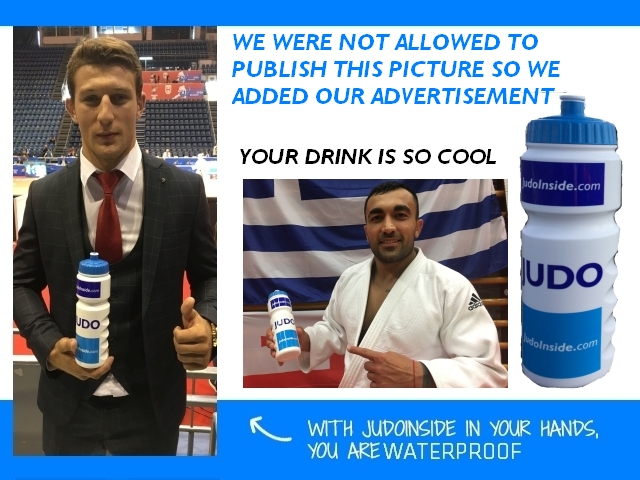 For the first time in the Serbian history they welcomed a European U23 Champion. Since 2010 Serbia had a European Champion in one of the age categories. Milica Nikolic is her name and for the insiders no surprise. She is hard to fight and despite her 20 years she has the experience. Last year she finished seventh, but this time she won all her four contests.
Although it wasn't an easy pool with European Junior Champion Reka Pupp who finished with bronze today. Nikolic won that battle by wazari and qualified for the semi final against Cinta Garcia Mesa, who also won the bronze, stating that Nikolic was the best today beating all medallists. In the final Israelian Noa Minsker lost after 20 seconds by ippon. Minsker won bronze last year and silver at the European Juniors in 2012.
Russia is traditionally a strong country in this age category U23. Islam Yashuev was the first men in Bratislava to capture the gold medal. Yashuev prolonged his title of last year in Wroclaw. Since 2012 the Russian reign in this category where Aram Grigoryan won the title in 2012 and 2013. Also Zafar Makhmadov won the title twice for his country in 2007 and 2009. Yashuev overcame Davud Mammadov in the final. The 2013 European Junior Champion is still junior with his 19 years. Dutchmen Tornike Tsjakadoea (19) and Mathijs van Harten (18) won the bronze medal in the Slovakian capital. Both are the two youngest medal winners.
Poland celebrated gold for Karolina Pienkowska. The Polish lightweight develops well and already won two bronze medals at European Junior Championships. She is the sixth ever Polish judoka to win the U23 title, but the first woman since 8 years. She was certainly one of the favourites in advance with European Cup victories in Sindelfingen and Lund and practiced successfully last year with a victory in Bratislava. Usually such successful feeling helps and in the final she defeated Tena Sikic of Croatia, another successful woman in this age category. Also Pienkowska's semi final wasn't easy against Finnish Katri Kakko who had some chances to win. Kakko and Hogrefe (ESP) won the bronze U52kg. Pienkowska: "I am really happy. This success feels awesome as I have had a really tough month competing every weekend, this being my fifth competition in row so I'm little bit tired."
Pienkowska battles with Agata Perenc for Olympic qualification but both ranked 37 and 47 might look over Rio towards Tokyo.
Another one with the 2020 dream is Fabio Basile. In the senior division in Italy he has Elio Verde and Emanuele Bruno in front of him, but Basile showed his best in Bratislava where he took the gold U23 years. The Italian have a successful U23 generation and won gold medals last year by Esposito and Di Guida (now 23). Basile won bronze at last year's European Junior Champions as well as in 2012 and won silver at the Cadet division in 2010. Now aged 21 he saw his chance defeating five opponents including nemesis Khametov. In the final strong Belarus judoka Dzmitry Minkou was his opponent who also survived some tough matches. Basile won the tactical match over 5 minutes by one penalty less. Basile said: "I felt really good today and the win against Martin Setz put me in a good frame of mind. I know that competing at the Olympics is a dream for many people, but not for me. I am going to do it." Realistically for Tokyo.
The gold for women under 57kg was again for Germany's Sappho Coban. The strong policewoman came back at the right moment in a tough year. "Up to this time, I have fought some European Cups and European Opens. This route has been quite successful for me and I am so happy to defend my title this year. I believe I arrived in my new weight class." She confirmed her choice for U57 by defeating four quality opponents starting with Tecla Cadilla, the tough Polish Anna Borowska who won bronze, Montenegro's talent Tanja Bozovic who came short in her bronze bout against Arleta Podolak, and finally Coban defeated Anastasiia Konkina of Russia by ippon after two minutes. Coban won two titles now for her country with Kristin Buessow (2010-2013) and in this category Marlen Hein (2005) and Hannah Brueck (2009) took the title as well. They had another pathway to this success compared to Coban who won the World Junior title in 2013 but seems to be back in the line with another confirmation of her class. Coban (86) faces competition in her country from Roper (9), Waechter (19) and Mueller (44), Hajime!
Related judoka and events
Related Judo Photos
Related Judo News
Jana Tillmanns (GER)
22 years
| Result | City | Date |
| --- | --- | --- |
| 2 | Düsseldorf | 21 Feb |
| 1 | Budapest | 2019 |
| 2 | Qingdao | 2019 |
| 1 | Osaka | 2019 |
| 1 | Odivelas | 2019 |
| Result | City | Date |
| --- | --- | --- |
| 1 | Düsseldorf | 21 Feb |
| 2 | Osaka | 2019 |
| 1 | Tokyo | 2019 |
| 1 | Tokyo | 2019 |
| 1 | Hohhot | 2019 |