The latest Judo News offered by JudoInside.com
Korean Gwak Dong Han grabs the world title U90kg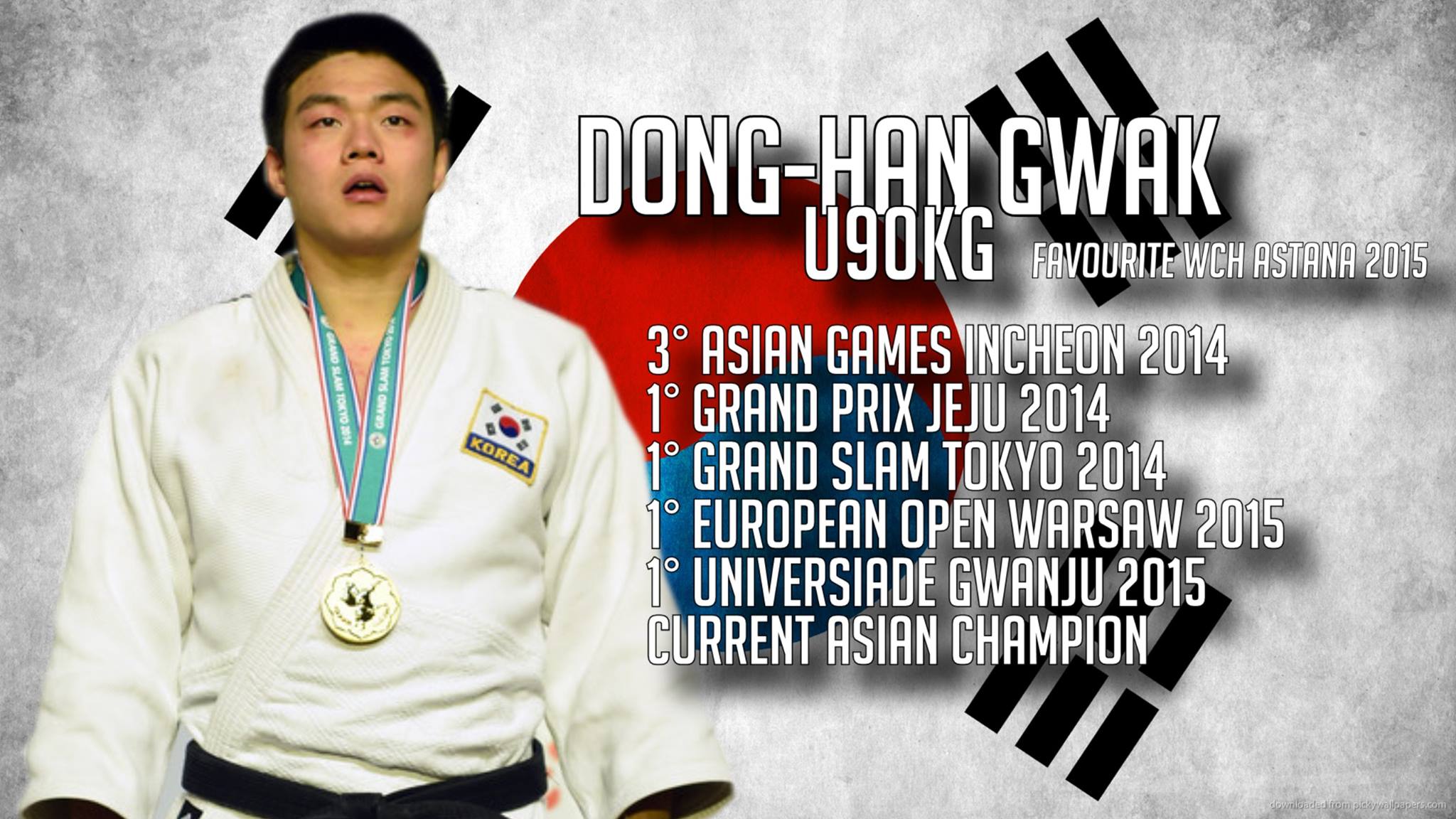 What a crazy fifth day at the Judo World Championships in Astana. Three new champions were born as many of the favourites had an off-day. The preliminaries were awesome to see and the final block was as unpredictable as the prelims. Korea's Gwak Dong Han surprised the European favourites today by taking the gold medal U90kg. If you're coached by the current Olympic champion, you cannot complain about expertise, but the conversion to the first World Champion of Korea U90kg since 2009 is unexpected. In Rotterdam Kyu-Won Lee became world champion in 2009 and in 2003 Hee-Tae Hwang.
Today Gwak had a good draw and defeated Robert Florentino, Vadym Synyavsky and David Ruiz. In the quarter final Varlam Liparteliani was his first World class opponent and he defeated the triple world medallist by yuko. Later Liparteliani continued his medal serie.
In the semi final Komronshoh Ustopiriyon of Tajikistan did everything in his power to prevent a yuko score by Gwak but couldn't turn the match. The final could be a tactical match as Russian Kirill Denisov is an expert. Denisov finished in the top five of the world championships over the last six editions, an amazing performance where only Teddy Riner has a better record.
The Russian vice world champion of 2009 wanted to take the gold this time, but Gwak launched a left seoi nage after two minutes in the match and threw Denisov for ippon. Gwak could have a penalty as long as the Russian didn't score and he didn't, he only scored his second silver world medal, also not so a shame. Denisov is still among the best athletes of the world despite all his troubles he has had with his fingers. Gwak thanked his coach, and still the Olympic Champion in this weight category Dae-Nam Song. What an expertise and vibe in this team. Korea now have two gold medals and three bronze.
In the preliminaries four former World Champions couldn't qualify for the final block.
2005 Guillaume Elmont (NED)
2007 Tiago Camilo (BRA)
2013 Asley Gonzalez (CUB)
2010, 2011, 2014 Ilias Iliadis (GRE)
Bronze fights
The bronze medal was also Asian, for Japan Mashu Baker medalled. He is one of the youngest medallists of this championship and he managed to realise the medal where other youngsters such as World Number 1 Krisztian Toth and world #4 Beka Gviniashvili lost their matches in the final block. Varlam Liparteliani defeated his countryman by ippon in an always lively match without a coach. Both fighters collected three penalties, but it was never boring. Liparteliani was thrown by a perfect maki komi.
Korea equals Ilias Iliadis
Thanks to Dong Han Gwak Korea now have won three world titles in the category for men U90kg. Hwang (2003) and Lee (2009) won the title before him. Six different nations have won the title. Korea now equals Greece… or triple world champion Ilias Iliadis.
Year Judoka NOC #
1999 Hidehiko Yoshida JPN 1
2001 Frédéric Demontfaucon FRA 2
2003 Hee-Tae Hwang KOR 3
2005 Hiroshi Izumi JPN
2007 Irakli Tsirekidze GEO 4
2009 Kyu-Won Lee KOR
2010 Ilias Iliadis GRE 5
2011 Ilias Iliadis GRE
2013 Asley Gonzalez CUB 6
2014 Ilias Iliadis GRE
2015 Dong Han Gwak KOR
Related judoka and events
Related Judo Videos
Related Judo News