Big battle between Rafaela Silva and Christa Deguchi in Antalya final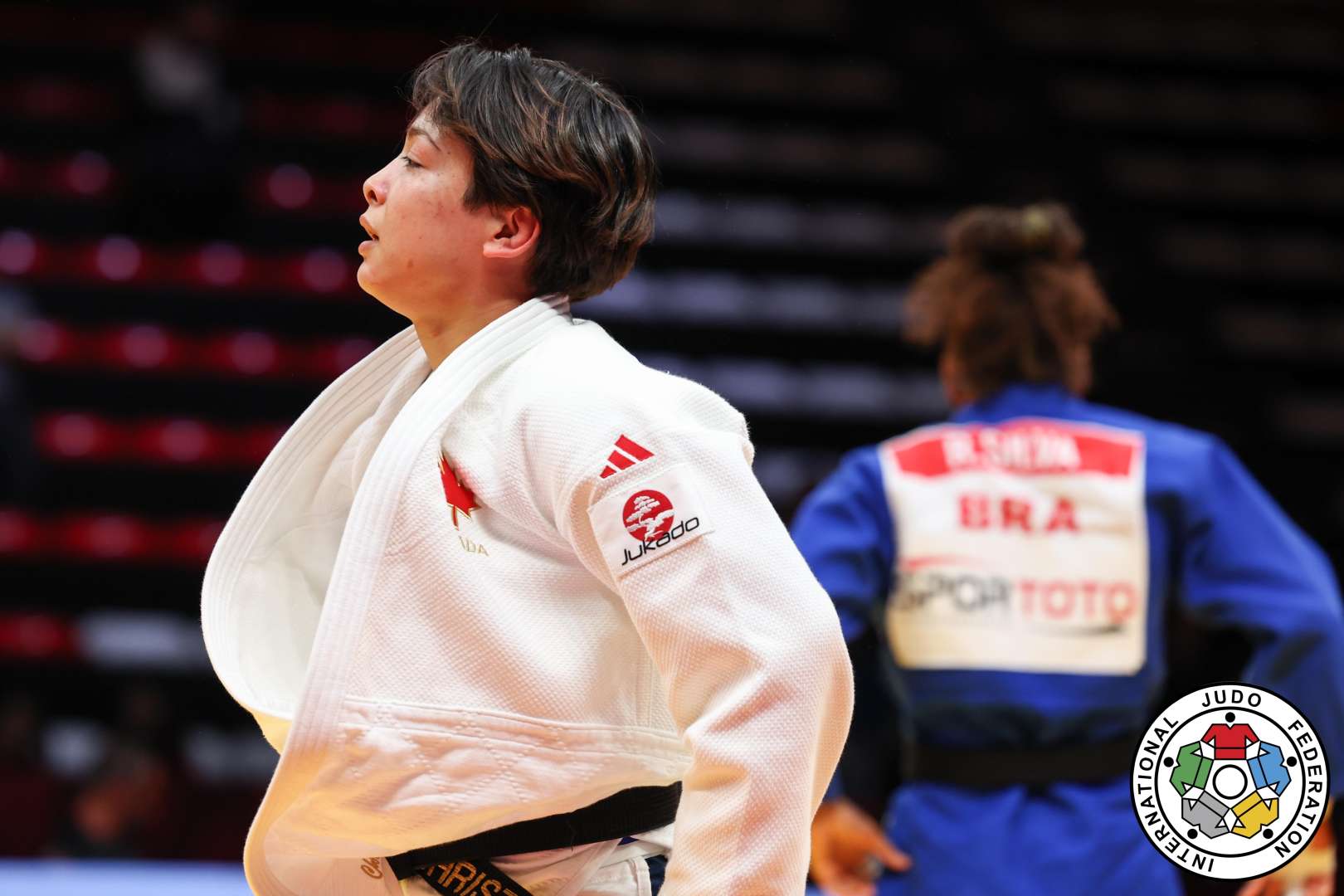 1 Apr 2023 00:05
IJF Media team by Jo Crowley and Judo Canada
IJF Emanuele Di Feliciantonio / International Judo Federation
Today in Antalya number one seed Christa Deguchi was simply unshakable. All contests were finished in normal time with only her quarter-final against Cai (CHN) going the full distance. Christa was calm but laser-focussed and with the sharpness that attracted so much attention when she first arrived on the World Judo Tour in 2017. Her Masters gold in Jerusalem was not an accident and after a period of disappointment and recovery Deguchi seems fully fuelled on her road to Paris. She has one problem, by the name of Klimkait, but today she flew solo and with no additional domestic stress she managed things very well indeed.
In the final Deguchi met with number two seed, Rafaela Silva, who only made it there by a hair, having had an 11 minute semi-final with Bilodid (UKR), a contest which looked throughout like a Ukrainian victory waiting to happen. Silva took the win in the end but it was not an easy pass.
"Christa had a very good day today, and I could tell she was feeling at ease in her final bout against a normally very tough competitor," said coach Antoine Valois-Fortier.
"It was going well, but the Brazilian, who is left-handed, caught her off guard with an unexpected attack from the right. Kudos to [Silva]. Her timing was perfect, since the clock had almost run out."
During the bout, Deguchi and Silva, who hold second and third place in the world rankings for their weight class, respectively, took some time to study each other, with neither gaining an advantage over the other. In fact, the referee called the two finalists to order a minute into the match due to their lack of combativity.
Their grappling game finally yielded results when Silva got Deguchi onto the ground with a minute and a half to go, although she did not manage to score. Thirty seconds later, the Albertan, who won the world championship in 2019, gained partial control of Silva on the ground, and Silva received a second yellow card.
With just over 10 seconds to go, Rio Olympic champion Silva threw Deguchi for a waza-ari, and the clock ran out before Deguchi could tie up the match and force it into overtime.
In her six international fights against Silva so far, Deguchi has won four.
Cai, who gave Deguchi her toughest fight of the day, put China under the spotlight early in the tournament. The new heavyweight women have been most successful up to now for this fledgling team but today the -57kg category was the start of the Chinese campaign in Antalya. She beat Munkhtsedev (MGL) and Kim (KOR) before dealing with the seeded German, Starke, to set up that semi-final with Christa. Losing that dropped her into a bronze medal contest with Slovenia's Kaja Kajzer.
Cai came out at quite some speed by Kajzer matched it and after a minute and a half it was the Slovenian who took the lead, scoring from a 3 technique combination which finished with a left-sided o-uchi-gari. Kajzer widened the distance from that point on but did not slow down. There was a powerful o-soto-gari attempt with half a minute to go but Kajzer braced it well and held her nerve for the remaining seconds to take the bronze. One of the two would win their first grand slam medal today; Cai would have to wait for another event to record hers.
The other bronze medal was discussed by Ballhaus (GER) and Jessica Lima (BRA), each arriving after significant victories. The Brazilian took out last week's silver medallist, Perisic (SRB) while 22 year old Ballhaus dealt with Nelson Levy (ISR) and threw her name in the ring for her first ever medal on the World Judo Tour.
Lima took the win, only her second medal at a grand slam, after employing a well-timed seoi-otoshi for waza-ari and then withstanding a brutal onslaught from Ballhaus to the end of the 4 minutes. Lima hung a second Brazilian flag above the -57kg rostrum in Antalya with her teammate Silva in the last final of the day.
Silva and Deguchi know each other well enough, from the World Judo Tour but also their continental rivalry. Each has won the world championships but only Silva has Olympic gold too. Who looked more precise today? Deguchi is the answer but in this classic left versus right battle there was a cancelling out of energy and neither looked able to break the stalemate. However, with just a few seconds remaining, Silva threw in a big left uchi-mata and as Deguchi hopped off it, the Brazilian launched into the space with a right ko-uchi and scored. Four seconds was not sufficient for the Canadian to equalise or lead and so the gold was secured. Two medals for Brazil in one category shows depth but Deguchi had a good day all the same.
"The two women know each other well and have a lot of respect for each other, so neither wants to get caught up in the other's game or make any errors," explained the coach. "Christa played it safe, but all in all, she fought well. Her attacks were better, as was her stance throughout most of the bout. It's too bad she was caught out at the end, but still, it bodes well for the World Championships in May."
Of the top seven oldest winners at a Turkish Grand Slam or Grand Prix, five achieved it at this edition in Antalya. Rafaela Silva (30), Noel van 't End (31), Audrey Tcheumeo (32), Kayra Sayit (35) and recordholder in Turkey Keyleyn Quadros who will turn 36 this year.