The latest Judo News offered by JudoInside.com
A silver medal at European Games isn't so bad afterall
Emir Incegul / Turkish Judo Federation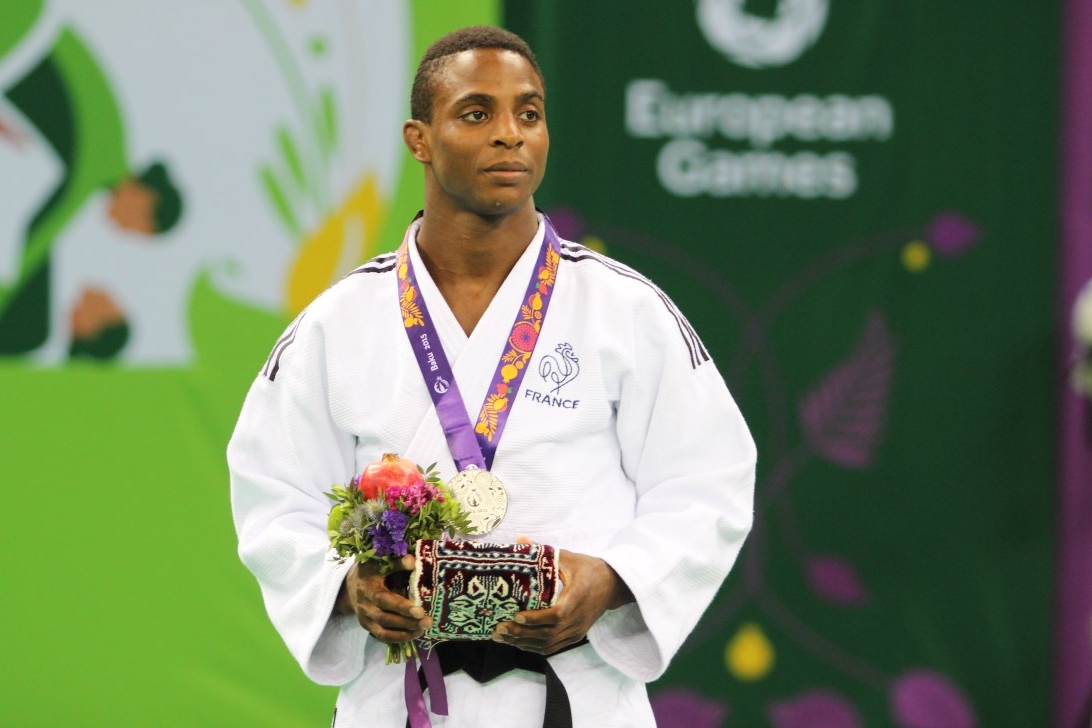 The silver medal is usually the medal that feels worse than any place. However the athletes are proud to medal at this European Games in Baku. We interviewed a few athletes reaction on their lost final.
Orkhan SAFAROV - who won silver after his loss against Beslan MUDRANOV (RUS)
On his feelings:
"I feel super. I am thankful to my public for their support. If they would not support us, we could not achieve these results. And I dedicate my victory to my mother."
On winning the silver medal:
"In this competition there were no weak rivals. I have some good results in World and European junior competitions, but this is my best result in seniors. The medal of Baku 2016 European Games will have special importance in my career."
On losing in the last minute:
"I was ahead of him (MUDRANOV), but one minute from the end he used a technique and I injured my leg. I understand that if I don't risk I will lose. But in the last minute, as I was risking, I gave him the chance to score points."
On his preparations:
"During the the last year we were preparing to these Games, and I did not know what rest was. Now I really need rest and hope our coaches will give us at least one week off."
Ebru SAHIN (TUR) – who won silver after her loss against VAN SNICK (BEL)
On her feelings after fighting in the final match:
"It would be better to win the championships, but second place also very important for me and makes me be proud."
On losing to VAN SNICK:
"I have to learn her techniques and improve myself, upgrade my techniques my skills."
On receiving two medals (one for European Games and one for European championships):
"Both are important for me. In the 2013 European Championships I got a bronze medal, and I improved a bit and got silver. In order to get gold ? have to practise much more."
Loic KORVAL (FRA) - who won silver after his loss against Kamal KHAN-MAGOMEDOV (FRA)
On whether he felt any pressure in the final as the European champion:
"No, I didn't feel any pressure from that. I will keep being the European champion from 2014 for all my life. Now I don't think about that any more, now I just want new medals."
On winning both the elimination round of 16 and the quarterfinal by turning the matches around in the last seconds:
"A fight is only over when the referee is saying ippon or the time is up. Until then I always think it is possible to turn it around - and it was."
"I wasn't 100 per cent and I made some mistakes, but my spirit is good and I think this feels really good for the world championships."
On the main difference between him now and when he won the European championships last year:
"I miss some judo feeling. I didn't fight for the first part of the year because I'd been injured and had surgery in my elbow, and then it's pretty hard to come back. This was a good first competition and I want to focus on the positive vibrations. A silver is really not so bad."
Annabelle EURANIE (FRA) - who won silver after her loss against Andreea CHITU (ROU)
On being back on the podium at 32, having won her last and only European championship medal - a gold - in 2003:
"I am very happy. I can see all the hard work that is put in before arriving here today and it looks very good for the future. I have a lot of targets - to be a world champion and an Olympic champion, so this is only the beginning."
On losing the close gold medal match:
"I'm not really sad about this because I fought this girl a month ago and lost by a big ippon. Today I was closer to win and it's good for the future. Now I will analyse this on videos and see how I can improve more."
On her long break from judo between 2006 and 2014:
"I had two babies and decided to stop competing. So I was working, but one day I decided that I wanted to go back and start from zero again, and this is like a second life for me."
"I had forgotten about the sensation of winning a medal, so to go back to France from this competition with a medal is something amazing for me. It's only joy and happiness."
On what is most difficult - having two babies or winning two European championship medals:
"It's difficult to have babies too and mine are very dynamic, so I need to work hard to get control over them now. But they are only happiness. Of course, it is harder to win in judo than having a baby."
Hedvig KARAKAS (HUN) - who won the silver after her loss against Telma MONTEIRO (POR).
On reaching the gold medal match:
"It was my first final in senior European championships, so I am very happy. I had never been in a final. For us it was also European championships, not only European Games, and we get two medals."
"I think it is my second best result. Once I was fifth in the Olympic Games, and I consider it as my best result."
On her competition:
"I was in a good shape. I was strong enough and I am very happy that I was in the final. I have fought her (MONTEIRO) a lot of times and lost every time and now it has happened again. She is still better, faster than me, better in the head. I need to prepare better techniques. We are working on them in training."
Related judoka and events
Related Judo Photos
Related Judo Videos
Related Judo News

Jose Sotomayor (CUB)
24 years
| Result | City | Date |
| --- | --- | --- |
| 1 | Paris | 8 Feb |
| 1 | Qingdao | 2019 |
| 2 | Osaka | 2019 |
| 3 | Brasilia | 2019 |
| 1 | Tokyo | 2019 |
| Result | City | Date |
| --- | --- | --- |
| 5 | Paris | 8 Feb |
| 3 | Qingdao | 2019 |
| 1 | Osaka | 2019 |
| 2 | Chiba | 2019 |
| 5 | Budapest | 2019 |