The latest Judo News offered by JudoInside.com
Kamal Khan-Magomedov takes the European title, Korval wins silver
Emir Incegul / Turkish Judo Federation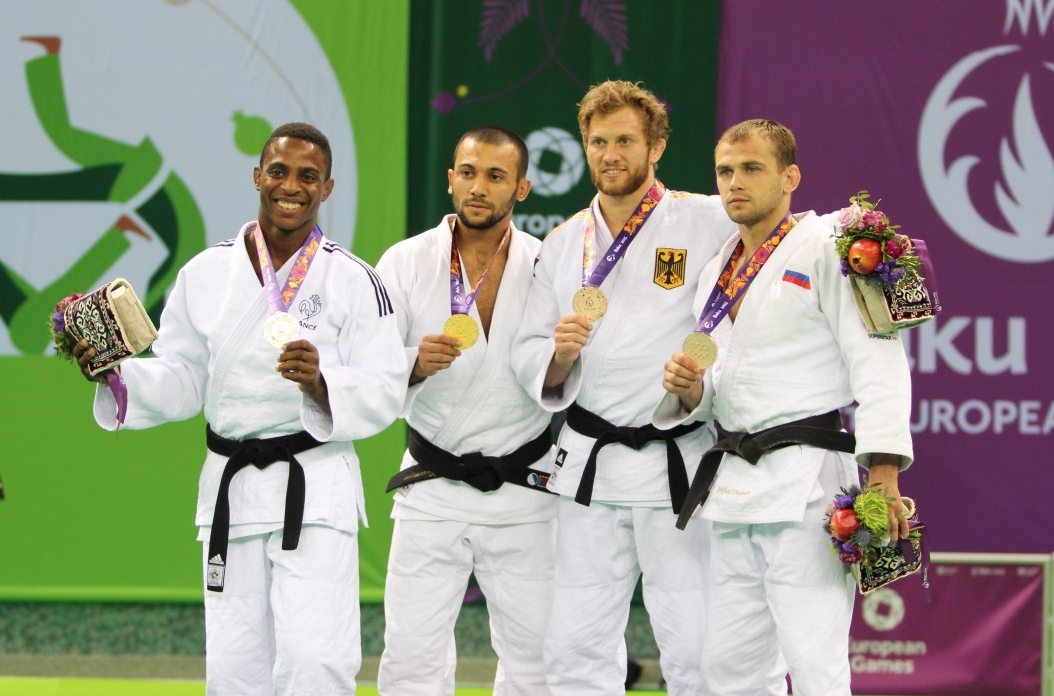 Kamal Khan-Magomedov has taken the European Games title U66kg in Baku. The Russian defeated 2014 European Champion Loic Korval in the final. On stage he was accompanied by Mikhail Pulyaev who the bronze.
Khan-Magomedov showed in Chelyabinsk at the World Championships what he is capable of. At the European Games he defeated World's number one Georgii Zantaraia in the quarter final and gave himself a ticket to a medal. Khan-Magomedov also defeated the talented Ismail Baruch (ISR) and Marko Vukicevic (SRB). He could be the successor of Alim Gadanov who won the title in 2012 for the last time for Russian while strong athletes such as Musa Mogushkov and nowadays Mikhail Pulyaev led the IJF World Ranking. In the semi final Khan-Magomedov defeated Sergiu Oleinic of Portugal.
Sergiu Oleinic did it again, two weeks ago in Budapest she showed that he came in shape for this event and the little man defeated the big man for Azerbaijan Nijat Shikhalizada.
The big man from Russia Mikhail Pulyaev, this year's former world number one, is still in shape and defeated Sebastian Seidl of Germany who was so eager to win this event after qualifying three times for the final, but all lost. Today he can only go for bronze. Pulyaev and Zantaraia were be the biggest favourites for the European title. Last year Pulyaev won world bronze beating Zantaraia. But this year she slipped in the semi final against Loic Korval, who is in competition with David Larose for an olympic position. Larose lost to Zantaraia. In the semi final Pulyaev surprisingly lost to Korval who was eager to make a big leap forward in his battle with Larose.
French Loic Korval who got back after a short suspension defeated the talented Belarussian Shershan. Korval also defeated Golan Pollack of Israel who was also a potential medallist in Baku, but forgot the overcome the semi final. Pulyaev defeated Khan-Magomedov in the quarter final of the World Championships, although that was doubtful, that victory may have been summened from above. It looked like an all Russian final was in the make, but Korval prevented that.
Finally it was Khan-Magomedov who could go for a big title. Remembering the 2014 World Championships the bronze final U66kg was won by Khan-Magomedov against the European Champion Korval. Also in 2010 Khan-Magomedov defeated the Frenchman, so he was the favourite in advance.
World Leader Zantaraia lost in the repechage against Shikhalizada. But the Azerbaijani wasted a chance to give his country a second medal as he couldn't prevent Pulyaev from taking the bronze medal.
Sebastian Seidl defeated Shershan in the repechage final and won the bronze medal after he beat Portuguese Oleinic. Finally Seidl won his last match after losing three finals in a row.
Russia has only won a few European titles in the history U65/U66kg
1993: Sergey Kosmynin
1994: Vladimir Drachko
2012: Alim Gadanov
2015: Kamal Khan-Magomedov
Quotes from Kamal KHAN-MAGOMEDOV (RUS) - gold
On the final match, against Loic KORVAL (FRA):
"I tried to be calmer and keep my emotions. I really wanted to win, I wanted to win more than he (KORVAL) did. I needed this victory. It is the third time that I have met him, and thanks to God that all three times I won."
On winning gold:
"I had silver medal of European championships (Budapest, 2013), but now I have got a gold medal of the first European Games and European championships - two in one - it is such an amazing feeling."
On the special bond between his home city in Russia, and Azerbaijan:
"All my countrymen and relatives are here in Baku because I am from Darband, which is very close to Baku. It is the nearest Russian city to Azerbaijan, on the border. Azerbaijan is my second homeland. My mother is Azerbaijani and this medal, I want to dedicate it to my city Darband; because it is our (city's) first European Games gold medal and (Darband) is the oldest city of our country."
On becoming a judoka:
"In our city we did not know what judo was, we were thinking that it was karate, so we went to karate, but it was judo."
Related judoka and events
Related Judo Photos
Related Judo Videos
Related Judo News

Quanchao Wang (CHN)
34 years
| Result | City | Date |
| --- | --- | --- |
| 2 | Düsseldorf | 21 Feb |
| 1 | Budapest | 2019 |
| 2 | Qingdao | 2019 |
| 1 | Osaka | 2019 |
| 1 | Odivelas | 2019 |
| Result | City | Date |
| --- | --- | --- |
| 1 | Düsseldorf | 21 Feb |
| 2 | Osaka | 2019 |
| 1 | Tokyo | 2019 |
| 1 | Tokyo | 2019 |
| 1 | Hohhot | 2019 |