Priscilla Gneto takes gold this time in Paris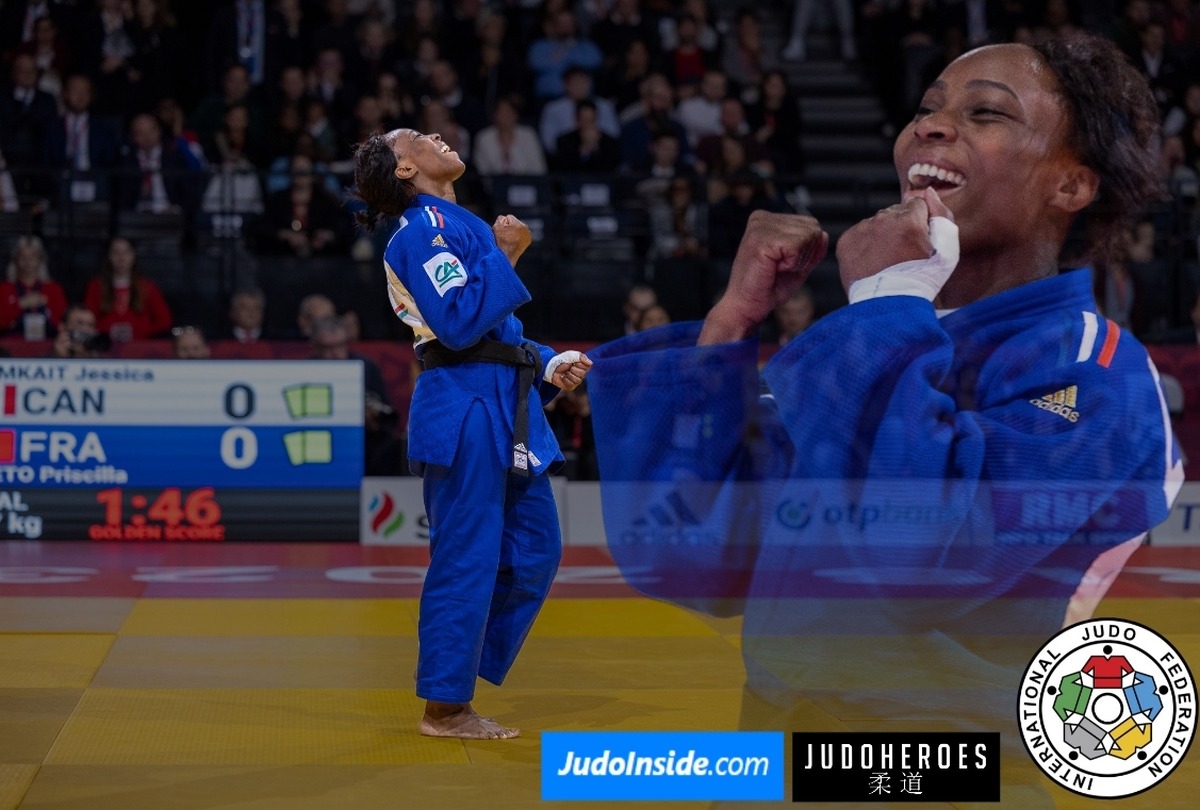 4 Feb 2023 22:00
IJF Media team by Jo Crowley and JudoInside
JudoHeroes & IJF Media / Copyright: www.ijf.org
In the final for women U57kg of the Grand Slam in Paris, Canada's Jessica Klimkait and French Priscilla Gneto could not seem to find the right way to add power to their strategies, racking up the penalties for dropping, passivity mad gripping infringements. In the end it was Gneto who took the win and the crowd appreciated her efforts, as always, letting out a great cheer. Priscilla placed 7th in 2021, won bronze in 2022 and levelled up to gold for 2023.
Haruka Funakubo was gifted to Timna Nelson Levy (ISR) by Klimkait, not an easy bronze medal match at all. Nelson Levy looked extremely well prepared and stopped any entry at all, fighting with a physically strong approach, not giving an inch. However, in the end she earned a third penalty having ducked Funakubo's arm and this sent the bronze medal to Japan.
Telma Monteiro and Daria Bilodid cancelled each other out somewhat for the other bronze medal, with cautious movement and unfinished attacks. Bilodid earned two penalties for minor infringements, in normal time and when the bell went and extra time began there was no real change. After only 24 seconds though, Daria seemed to enjoy a second wind and she gripped over the top with extra power and crushed Monteiro for 3 exchanges in a row forcing a blocking penalty against the Portuguese.
With the next grip came an explosive o-uchi-gari and the Ukrainian believed she had won but no score could be given as in a strange positioning anomaly Monteiro landed in Bilodid's leg and so never touched the tatami and so it continued. Bilodid only became more determined and Monteiro attacked less and less convincingly. Another o-uchi-gari but with a score attached eventually finished the contest and Bilodid was able to wear a bronze medal, a first World Judo Tour prize since ascending from the U48kg category last year.
The quarter-final between world champions Klimkait and Bilodid was a contest that many anticipated, rubbing their hands together. Despite the decision being made via penalties, it was an active match with a clash of styles and palpable stubbornness dressed in both blue and white. Eventually, after a powerful turnover, Daria looked poised to win from an osae-komi but she made a mistake in the execution and stretched Klimkait's leg against the rules. This earned her a 3rd shido and a loss.
Today Bilodid looked more ready to truly compete in this category than she has at any point before, since moving up from her throne at -48kg. She may be in the repechage in Paris but in the coming months she will be hunting for a new throne and it seems her level may have returned just in time.
On the bottom half of the draw a semi-final between circuit veteran Telma Monteiro (POR) and Priscilla Gneto (FRA) almost brought the house down. Monteiro has fought in Paris more than a handful of times but since winning gold in 2012, more than a decade has passed without a medal here. She looked in control, explosive even but at 2 and a half minutes into golden score, Gneto absorbed all she had been shown up to that point and countered expertly to take a place in the final. Monteiro lay on the tatami for just a moment longer than usual, letting the loss and disappointment sink in.
Funakubo (JPN) held court throughout the day, notching up win after win. Her ranking is not a joke. However against Klimkait in the semi-final it was a loss on penalties whereas she had won in every other contest, throwing with conviction. Klimkait had the better of her Japanese opponent's gripping and that was enough to engineer a place in the penultimate women's final of the day, to face Priscilla Gneto and the voices of the Bercy. The 31-year old is among the top 15 oldest ever winners in Paris.
Gneto now collected six medals in Paris including 5 times bronze and although she doesn't have the double figures like Jossinet or Decosse but in the Grand Slam era (since 2009) she does become important. French record holders in Agbegnenou (8 medals) followed by Audrey Tcheumeo with 7 who can equal Agbegenou on Sunday.