Christa Deguchi back at top spot and a medal at Masters finally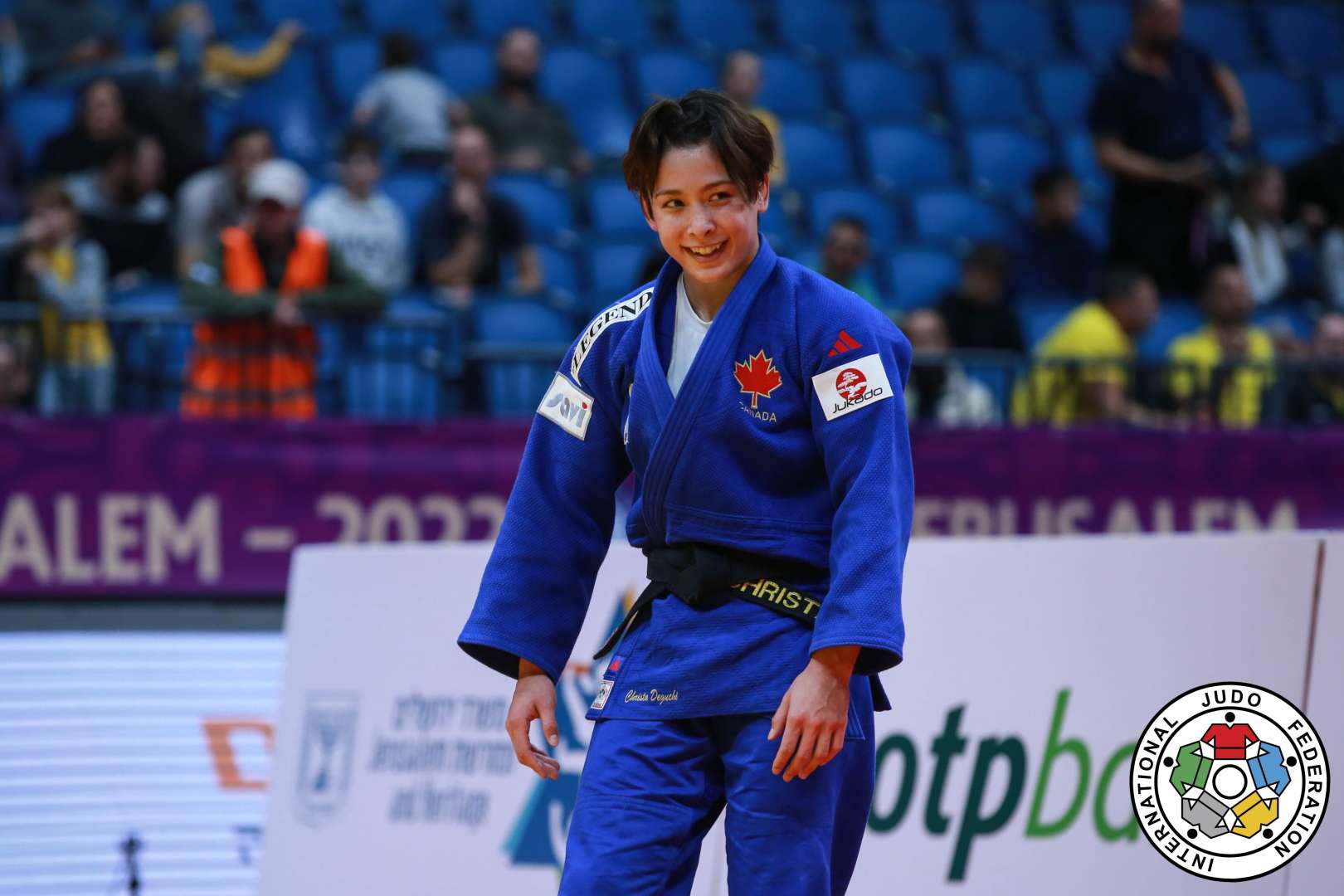 21 Dec 2022 13:50
IJF Media team and JudoInside
IJF Emanuele Di Feliciantonio / International Judo Federation
Christa Deguchi had some great moments in 2022, including victories at the Baku Grand Prix in July and the Zagreb Grand Prix in November. On Tuesday, the Albertan made sure to end the year right by winning the gold medal at the Masters Tournament in Jerusalem, Israel. In the big final, Deguchi found herself up against Tokyo Olympics silver medallist Sarah Léonie Cysique of France in a hard-fought match that went into overtime. The Canadian was declared the winner when her opponent forfeited due to an injury.
The final of the IJF Masters in Jerusalem U57kg between Sarah Leonie Cysique (FRA) and Christa Deguchi (CAN) concluded the day. It started with a two-minute round of observation, Cysique trying to impose her power, while Deguchi was trying to find an opening for her tomoe-nage, that was particularly efficient during the day. A sign: at the end of normal time, there was no shido on the scoreboard, there was no score either but this is a good sign of a well balanced match between two champions. During the golden score period Cysique had to surrender due to an injury, offering the victory to Deguchi, for a well deserved comeback at the top level.
Huh defeats Gjakova again
The repechage was a bitter-sweet place for Gjakova, as she met Nairne, who had beaten her in Baku. In Jerusalem she made no mistake and threw the British judoka with a perfect uchi-mata for ippon. It was a strange sort of revenge, on the way to bronze and not gold but certainly a fight Gjakova needed to have, one where she showed what she is capable of.
Olympic champion, Nora Gjakova (KOS) will still have to wait a little longer though before being back at the same level she was last year in Tokyo. This time, it was Mimi Huh (KOR) who scored a waza-ari before she pinned Gjakova for ippon and a bronze medal.
Bronze for Yoshida
Tsukasa Yoshida (JPN) and Chen-Ling Lien (TPE) faced off for the last bronze medal awarded on this first day of competition in Jerusalem. After more than two minutes of golden score, Yoshida scored with a left-handed o-soto-gari for ippon.
Prelims
Georgia and Japan could not bring two more different styles, the Liparteliani-Yoshida contest proving to be awkward and uncomfortable. Neither could quite convince the other that their way was the better way, every attack being squashed or simply annulled. Yoshida made space under the mauling of Liparteliani's attempts to close it all down and went for her customary left-sided uchi-mata a couple of times but the Georgian's answer was to step off the danger and re-engage even closer than before, coming close to a pick-up of her own. At full-time and with a shido apiece, they continued in the same vein but a slick moment of clear thinking earned Yoshida the win. Amid a scramble with almost no grip she tapped the back of Liparteliani's foot and it caused a slip and a landing that although rebounded from very fast, was a landing nonetheless. Liparteliani was out and Yoshida was on course but with Deguchi next in her path.
Mimi Huh won gold medals in Abu Dhabi and Tbilisi this year and doesn't seem bothered by facing the red back patch of Silva (BRA) for a place in the semi-finals. She worked non-stop, executing her plan and never once looked disturbed by the very physical style of the Brazilian. Keeping to her line, maintaining the strategy was perfect and she took the win on penalties, never looking at risk. This is quite something and dropped Silva down to become a potential nightmare for others in the repechage.
Her first repechage contest comprised more world and Olympic medals than anyone could have imagined, as Yoshida joined Silva in the bottom half having received an immaculate tomoe-nage as a gift from Deguchi (CAN).
Back to the top of the draw and Lien (TPE) was making moves, beating Perisic (SRB) first to face the world number one. Lien has always had the sankaku as her tokui-waza and it should never be underestimated. Nelson Levy wasn't as ready as we thought and was caught cleanly and early. The number one went out and Lien looked well positioned for a possible medal. Peaking at the Masters is a serious response to the challenges of Olympic qualification and if she could win big points in Jerusalem she would almost guarantee a women's Taipei delegation for Paris 2024. With world number 1 at -60kg, Yang (TPE), showing no signs of slowing down, the Taipei contingent at this Masters can already be satisfied with a good run in Jerusalem.
Let's now really get down to business, because what we have reported so far still isn't quite enough. The World Judo Masters quarter-final for pool B brought together the Olympic finalists from last year. In a mind-blowing match Gjakova (KOS), with her gold back patch, was thrown by Cysique at the halfway point. It was beautifully timed but just short of the criteria for a full point. The Kosovan, a professional, came back harder and harder, never losing faith. Cysique struggled with the gripping under a pressure most could not bear but in the end Cysique held her ground just enough and Gjakova had to settle for a place in the repechage but finished with empty hands.
Quotes Deguchi:
"This was probably Christa's best performance since she won the world championship in 2019. The final was very tight. Although Christa made some strong advances, the fight was still scoreless after four minutes. Unfortunately, Cysique hurt her knee during overtime, and that's how it ended," explained coach Antoine Valois-Fortier.
"Anything can happen during overtime, but I think Christa had the upper hand. She's very happy with her performance. It's a great achievement for her to finally win the Masters Tournament for the first time," added Valois-Fortier.