Brazil again strong at day 2 of IBSA World Championships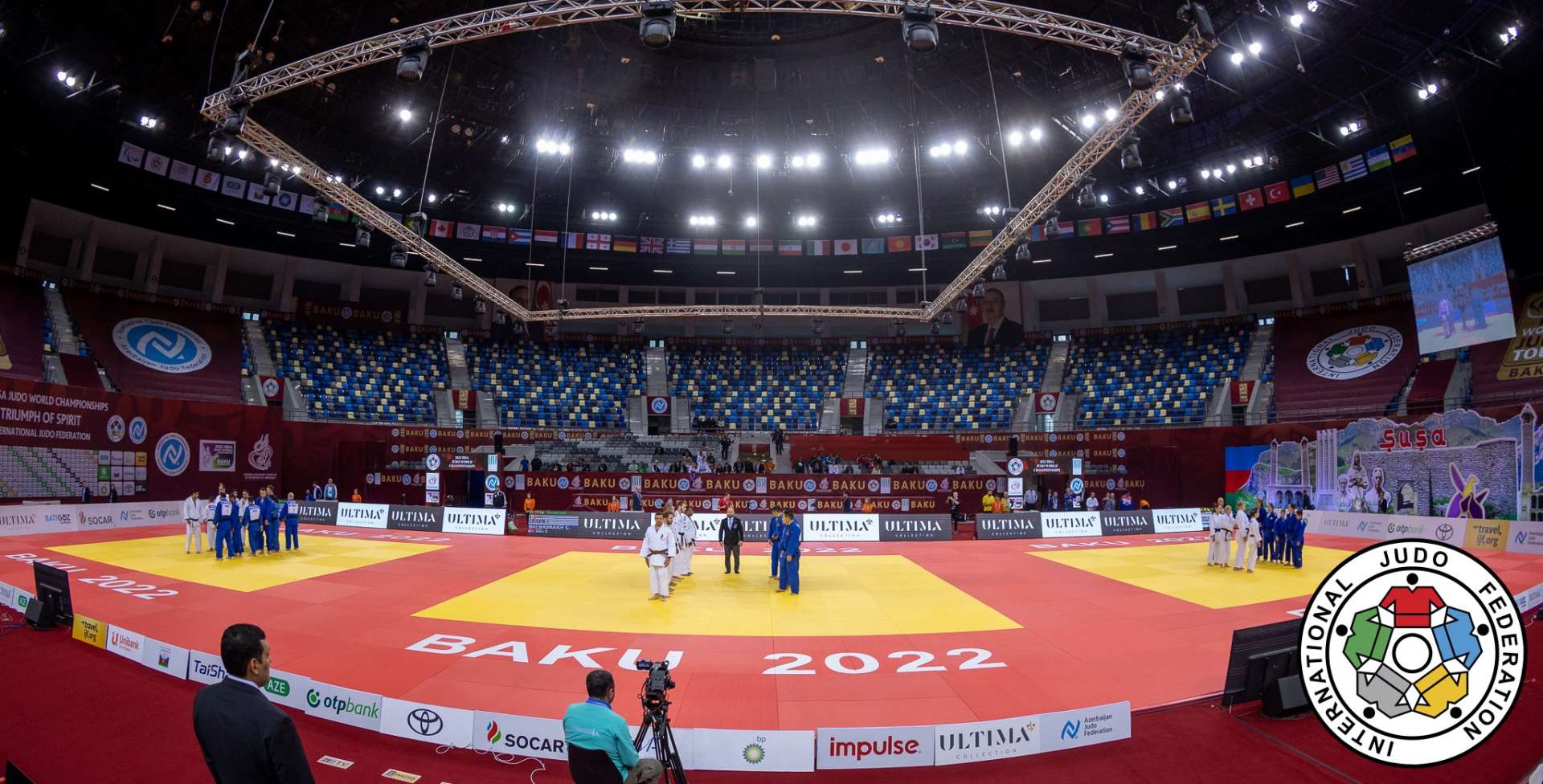 12 Nov 2022 23:45
IJF Team by Jo Crowley
IJF Gabriela Sabau / International Judo Federation
Day 2 of the IBSA Judo World Championships has gone off with a bang. There has been big ippon judo, plus some heavily contested starting positions, with many competitors fighting hard to not be left too far away from their preferred kumi-kata when the referee says hajime.
The entry is big, with more than 40 countries participating. Following the Tokyo Paralympic Games there were a number of rule updates which had a big impact on judo's visually impaired athletes. There were weight changes and also new guidance for sight classification, splitting the categories into J1, for those who can not see at all and J2 for those who have less severe impairment but within certain parameters. These changes seemed to have an effect on competition entries and some events in 2022 have been less well attended than IBSA would have liked. However, this world championships saw a resurgence of engagement and the overall figures pushed organisers to increase the number of competition mat areas from the planned two to three.
Among judoka competing at world level for the first time is Great Britain's Kirsten Taylor, J2 +70kg. She's a real sports fan and has tried as many Paralympic sports as she could gain access to. She took up judo in 2016 at 27 years of age, at Tayside in Scotland, having already competed in swimming, athletics and dressage but she says that finding judo was something completely new and different, "It's so much fun! I'm constantly looking for opportunities to compete, learn and improve, always looking for something somewhere to win. For example, I show dogs at Crufts, with my German Shepherd when I'm not away for judo."
Kirsten fell in love with judo immediately. Baku is her first IBSA world championships but she took silver in the Kazakhstan Grand Prix in May this year and is developing at an alarming rate. "I was just outside the medals at the 2022 European Championships. I'm going to a tournament in the Netherlands next, later this month. It's the only sport I've done where people around me have known what to do to include someone who is visually impaired. In other sports people are often a bit weird about it and don't know what to do with me! In judo everyone knows how to help, so it's inclusive.
Inclusivity is a big part of judo's global appeal, illustrating perfectly the 2022 World Judo Day theme of 'Inclusion.'
The final for J1 -70kg was a one way street with Turkiye's Esmer Taskin throwing Lkhaijav (MGL) for ippon almost straight away. However, on review it was decided there was no intention, despite the landing and so the score was scrubbed and the women started afresh but it didn't take long for Taskin to throw again, this time with a clear uchi-mata, taking the first gold of the day.
The category J1 -90kg saw Jonard (FRA) and Powell (GBR) fight for gold. Jonard is deaf as well as completely blind, meaning communication requires special attention and part referee David Fuentes' (AUS) remit was to officiate with very specific systems for that.
In the first exchange Jonard threw Powell for waza-ari, not easy to do as Powell arrives with the experience of having fought at both the London and Tokyo Paralympic Games. To ensure the judoka was aware of the position on the scoreboard, Mr Fuentes drew the score on the athlete's hand. The contest continued with Jonard staying one step ahead throughout. With a little over half the normal time gone, Jonard turned Powell over and held him for the second waza-ari. This brought the Frenchman an emotional acceptance that he was now world champion.
The J1 -90kg final a new champion had scored ippon in every match through the day, including beating the number one seed, Cavalcante De Silva (BRA) in the second round, who went on to win the bronze in convincing style. Gold for Cyril Jonard (FRA).
Kaldani (GEO) managed to grow in J2 -70kg for waza-ari and then ippon, with a massive hip throw, inside the first half a minute to take a bronze medal, whereas the other 3rd place match went on longer and brought some penalty play. The Tokyo Paralympic champion, Huseynova (AZE), pulled off a well timed attack though, to secure her medal and thrill the crowd.
In the final Tokyo Paralympic champion Maldonado (BRA) took on Turkiye's Raziye Ulucam. It was a drawn out match, much to Maldonado's frustration but eventually the number one seed dealt with her opponent's defended and won the gold in golden score.
Gogotchuri (GEO) made life very difficult in J2 -90kg for Latchoumanaya (FRA) in the final of this busy group. The Frenchman came in as the number 1 seed but it was the Georgian who had defeated the number 2 on the ranking list earlier in the day.
The Georgian began well with a very strong top left grip and produced a number of strong attacks, most dangerously with o-uchi-gari but Latchoumanaya was able to hop away, surviving all attempts. Eventually, in a scramble in the floor, the French judoka closed all the space down and held Gogtchuri for ippon. This gold is representative of a very dominant day of judo, one capped by becoming IBSA world champion.
Anastasia Harynk had cause an upset at the start of the day in J1 +70kg by beating Turkiye's number one seed and dropping her into the repechage. Akin Gunes (TUR) came through to win the bronze medal with ease, for a consolation prize. This was not what she came for but remains a world medal in an ever-growing category that only gets tougher year on year.
Harynk went on to win the gold with strong gripping and a dominant, attacking style. She threw for ippon with little hindrance, delivering Zoaga (BRA) sharply to the silver medal spot on the rostrum.
In most categories the gripping has been decisive and with the heavyweight men J1 +90kg, it was no different. In the final the first grip proved fundamental as Araujo (BRA) secured his sleeve grip pinpoint perfectly and within 30 seconds he had launched into an unstoppable makikomi which landed as planned giving referee Roland Poiger (AUT) every reason to raise his arm and indicate the maximum score. Home athlete Ilham Zakiyev had an outstanding day, winning two contests by ippon, after a bye, to reach the final. He was unseeded and the crowd were clearly proud of their judoka for fighting against the odds to reach the podium.
There was a fast finish from Grandry for the first bronze in this group but the second bronze was a different matter. It took Tastan a little longer but his reaction to winning was wonderful. He hoisted his coach into the air and carried him to the edge of the mat before embracing him with a great big 'thank you!'
Neither of the top 2 seeds made it to the final J2 +70kg in a category full of surprises. In fact, losing at different stages meant Silva (BRA) and Leze (FRA) dropped into the first bronze medal match together. What should have been the final turned into a contest for one single medal, with the loser leaving without their flag waving over the podium. Silva took that win with a demonstration of the need for good posture, employing a textbook harai-goshi to get the job done.
In the final Costa (ITA), who had beaten Silva out of pole position in the semi-final, faced Hernandez Estupinan (CUB), the victor over Leze in their respective semi-final. The Cuban attacked at a pace throughout but made a tiny mistake that cost her the crown. She turned in but decided to bail and came back out. As she did, Costa felt the space in front of her and stepped into it, driving her opponent to the tatami where she held her and took the title.
In the J2 +90 and final category of the day, a similar scenario to that of the previous category played out with number one seed Bolukbasi (TUR) and -100kg Paralympic champion Christopher Skelley (GBR) getting beaten in their respective semi-finals. They dropped into opposite bronze medal matches though and so the top two competitors in he category still had a chance to reach the rostrum.
The Turkish athlete used a left seoi-nage to unbalance his opposition but it was on the floor that he really excelled and held for ippon. On the other tatami, Skelley and Jurakulov (UZB) played judo chess with the grips and stance, vying for position. It's an interesting mix of the old categories with experienced competitors, such as the Brit, now fighting at +90kg, with the heavyweights, instead of his preferred -100kg. It proved too much for him this time, with the Uzbek taking the win in golden score. It takes time to get used to new categories!
In the final Vahid Nouri of Iran beat teammate Kheirollahzadeh on penalties in a contest that was far more active than the scoreline suggested.