Denis Vieru again golden man U66kg in Baku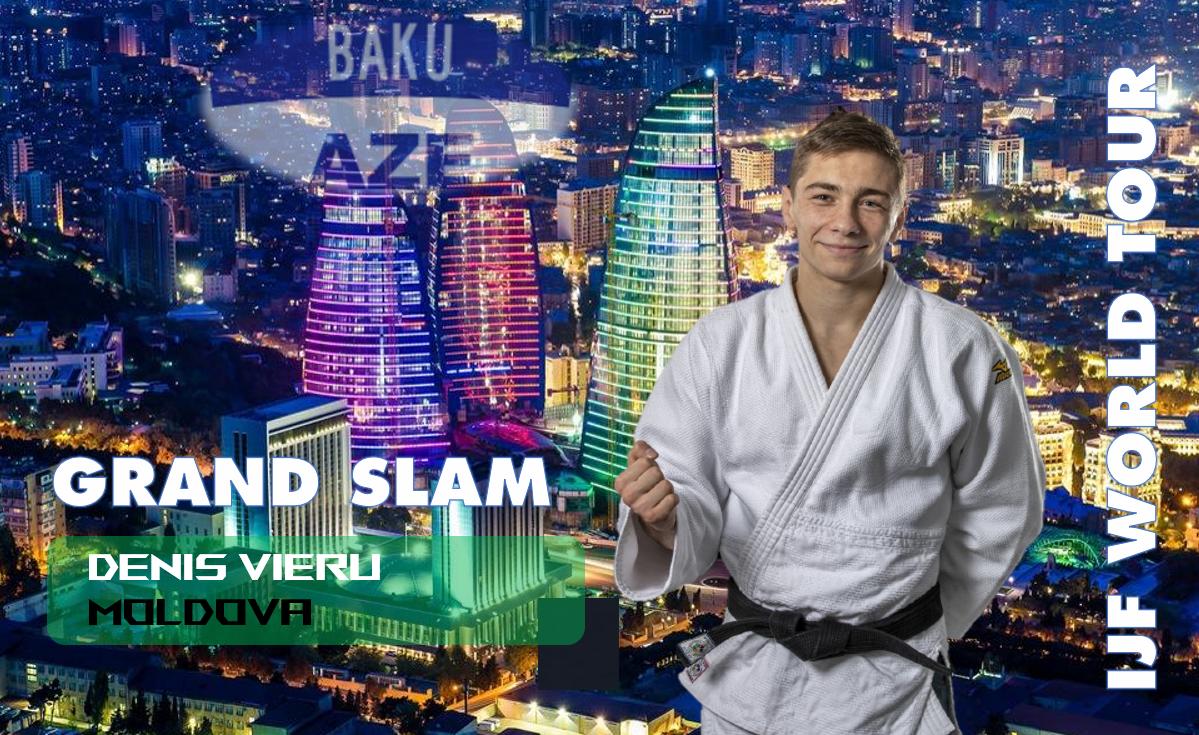 4 Nov 2022 20:50
IJF Media team by Jo Crowley and JudoInside
JudoInside.com - Hans van Essen / judo news, results and photos
On to the final U66kg of the Grand Slam in Baku the Tajik Mulorajab Khalifaev had nothing to his name. Most fought for medals in Baku but he also fought for the honour of being a champion, for a sign that he can raise his confidence and go again in the near future. In Baku, regardless of the final standings, Khalifaev proved that being an outsider does not have to exclude you from the biggest prizes and it doesn't have to dictate the run of play. His opponent in the final was the experienced ad successful Denis Vieru of Moldova.
Vieru stepped forward almost casually but we all know he is anything but that. He takes nothing for granted even when his demeanour might suggest otherwise. Khalifaev, on the other hand, without a coach to accompany him, came on to this grand slam final mat having to muster all his discipline and will to control some undoubtedly unruly nerves. Unfinished attacks and breaks in the flow characterised the match and at 3 minutes and 40 seconds Vieru won an unsatisfactory contest. Taking the third shido left the Tajik judoka with an incredible silver medal, a target on his back and a future which includes many more open doors than it did yesterday.
David Garcia takes bronze for Spain
With Margvelashvili and Gaitero Martin out, the script was left to improvisation and the rest had a good tussle for the medals. In the first bronze medal match, Quino Ruiz sent David Garcia (ESP) into battle, one he took on with pride and seriousness, throwing Battogtokh (MGL) for ippon with an exceptional tani-otoshi and no loss of focus. Both coach and athlete were clearly emotional about the win, one which brings Garcia his first grand slam medal.
Orkhan Safarov brings crowd bronze
The second bronze medal contest was up for grabs and Safarov had no intention of permitting Buncic to walk away with it. He'd been technical, fun, charismatic and entertaining throughout the morning, only losing to Vieru in golden score. The medal was in his pocket before even taking a grip and a stunning sasai movement made space for him to roll Buncic right off the rostrum.
Mulorajab Khalifaev beat Strahinja Buncic in the semi-final and that set up a final against the world's favourite technician, the ever-sharp Moldovan Denis Vieru. Vieru may have expected a different adversary but Margvelashvili, the number two seed and Olympic silver medallist, was grounded by Azeri hopeful Suleymanov who himself was dispatched by Battogtokh (MGL). The Mongolian has 2 grand slam medals, 4 years apart and is not well known but on day one in Baku he shone right up to the point where he lost to the unseeded, unplanned-for, unlikely Tajik.
Vieru stayed on top. He's a professional. Despite a scrappy final, we look forward to seeing him again in the coming weeks as Vieru is always a class act and draws the gaze of judo fans from all around the world.