Draw of the World Championships Judo for men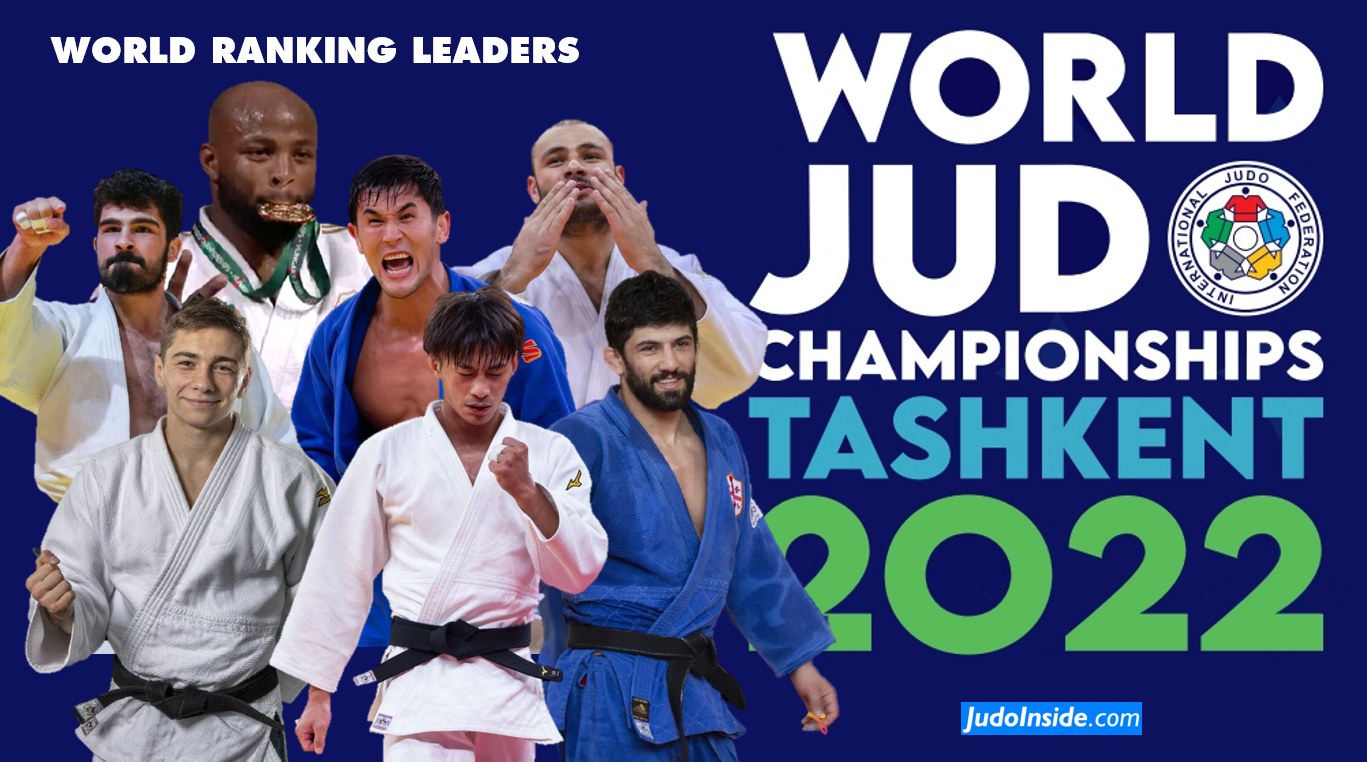 5 Oct 2022 14:45
JudoInside.com - Hans van Essen / judo news, results and photos
The draw for the men of the World Championships in Tashkent resulted in numerous contests between some of the top fighters, as some are non seeded. Obviously the first eight of the seeding lists were separated for each category. It was interesting to see where renowned athletes were placed such as 2019 Word Champion Joshiro Maruyama and it's outside the scope of another top man, Olympic Champion Hifumi Abe, both U66kg.
In total 571 athletes will participate, which is the lowest since 2005 in Cairo. For the first time all athletes have to be seeded among the best 100 of the world in their category. In total there are 310 men and 261 women from a total of 82 countries. 310 men is the lowest of this century and equal number to the 1993 World Championships in Hamilton (CAN), can you believe that, it's 29 years ago. Let's check the top seeds and surprises with you.
Yang Yung Wei of Chinese Taipeh is the number one seed and Olympic silver medallist, he lost to Takato in Tokyo who is on the same side seed as fourth so they can meet only in the semis. Huseynov and Smetov may battle it out for a place in the quarters. This lightweight category with 42 men can be full of surprises, Pantano can stunt in the pool with Verstraeten, Caladier Picard has a reputation, can he do it at senior level against birthday boy Tsjakadoea? Former world champion Ckhvmiani looks strong on this side. Watch also the two Mongolians Enkhtaivan, they can cause some damage U60kg.
We knew Denis Vieru is consistent in his performance and seeded as world number one. He might face Abe in the semis, but enough to worry about with Flicker, Gaitero in his pool. Safarov might face European Champion Iadov in an early stage. But Nurillaev of Uzbekistan is a dangerous outsider for a medal. Abe looks safe. Also two Mongolians here U66kg with Yondonperenlei as seeded player and Kherlen Ganbold as trouble maker in a pool with Shmailov on the other side. Then Maruyama in the pool with Willian Lima and likely against Ivo Verhorstert (NED) in the pool, he won't worry. In the quarter final against possibly Vazha Margvelashvili is the real test. Don't forget An of Korea in a pool with Kyrgyzbayev.
What a pool in U73kg with World Champion Lasha Shavdatuashvili as number one seed probably okay with Stump and Esposito. Then Soichi Hashimoto so early in the quarters? So far the Japanese have a good draw. Butbul seems okay on that same side. Orujov could face Brazil's smart man Daniel Cargnin, another medal prospect who performs well. On the other side tsend-Ochir look okay and might face Margelidon without surprises. Heydarov is for sure a medal prospect as he beat Shavdatuashvili and in a pool with Umayev of Belgium, who beat him before, so keep watching belgium's man here. Akhadov is not easy in that same pool of death. Sterpu and Lombardo seem strong in the last of 8 pools among 51 men. We have three Georgian number one seeds in Tashkent.
Look at the stage U81kg with Matthias Casse who defends his world title separated from Tato Grigalashvili the current number one seed. It's an amazing field with 47 men where Grigalashvili might open against Djalo and Ressel is also close. Then Takanori Nagase, the world champion in this same pool for a place among the best four. So they might face in the quarters. The Brazilian revelation Schimidt now against Esposito and in the pool with 2019 World Champion Sagi Muki. The 2018 World Champion Saeid Mollaei is protected on the same side, so it's a huge pool for a place in the final. On the other side Casse who seems okay. Shamil Borchashvili who took bronze at the Olympics could face Urquiza, not easy but doable. Albayrak has a tough opponent in Dutchman Frank de Wit in a top match in the prelims. Boltaboev is the homeplayer with potential but has Japanese Fujiwara in his pool.
Uzbekistan has the number one seed position by Davlat Bobonov U90kg. Mihael Zgank is certainly a man who we shouldn't forget in this pool. 2019 World Champion Noel van 't End is not far and will battle with Portugal Anri Egutidze for a place in the quarters. Silva Morales and Majdov are big names who will pick up their best assets to reach the quarters. Olympic Champion Lasha Bekauri is seeded as fourth bit perhaps the number one contender for the world title U90kg. He is in the pool with Kosuke Mashiyama, read more about him. On the other side of the table Mehdiyev is super smart and can he resist Christian Parlati, a man with ambitions. Olympic silver medallist Eduard Trippel will challenge Mehdiyev for a place in the semi final. Jesper Smink is eager to gold him off. Krisztian Toth won bronze last year in Budapest and seems to have a good draw this time.
Jorge Fonseca is without a doubt the biggest favourite in U100kg. But nothing is easy with Simeon Catharina (NED) in the pool. He can stunt as well against Portugal's powerhouse. Zelym Kotsoiev seems okay as number 8 seed but Daniel Eich could block him, he is on good form. Peter Paltchik is always a medal candidate and has a few opponents who might stunt, but Paltchik remains our favourite. Ilia Sulamanidze can win a medal here, interesting to see what Junior World Champion Kenny Liveze can do in Tashkent in this pool. On the other side of the U100kg category with 41 men we see Shady El Nahas in a pool with former world number one Aleksandar Kukolj and double world champion U90kg Nikoloz Sherazadishvili. Who will reach the quarter final. Varlam Liparteliani has a good draw but Turoboyev is a nasty opponent, even the smart Minaskin is not easy. Both very experienced athletes. One of people who are on fire is Michael Korrel, just married and he wants to achieve a gift, but the draw isn't. Buzacarini, Bozbayev, Fara all big guys but not impossible. Toma Nikiforov seems okay to fight likely Korrel for a place in the semi final.
2018 World Champion Guram Tushishvili (GEO) would want to have another world title +100kg. Another explosive judoka, Johannes Frey is in his pool. Not so far away Andy Granda and Richard Sipocz, one of the two will make it. Rafael Silva is unstoppable, he is 35 and likely quarter finalist. Mongolia Odkhuu is an outsider for a medal and in a pool with Roy Meyer who won bronze in 2019. His compatriot Jur Spijkers reached the world number one position for a while and will be facing Japanese champion Saito, that will be an outstanding contest in one of the early rounds at day 7 where 36 big man to fight. Yakiv Khammo has a few challenges but has the reputation to win his pool, but for a place in the final two big man are waiting: Temur Rakhimov (TJK) and Lukas Krpalek, the Olympic champion, what can we expect from him. Again he will face Puumalainen who beat him in Zagreb, Krpalek will not allow that twice. Rakhimov might face Riner's replacement Joseph Terhec.
Seven days of spectacular judo is expected with not too many men, but the quality is evident.