Hidayet Heydarov showstopper in Budapest against Shavda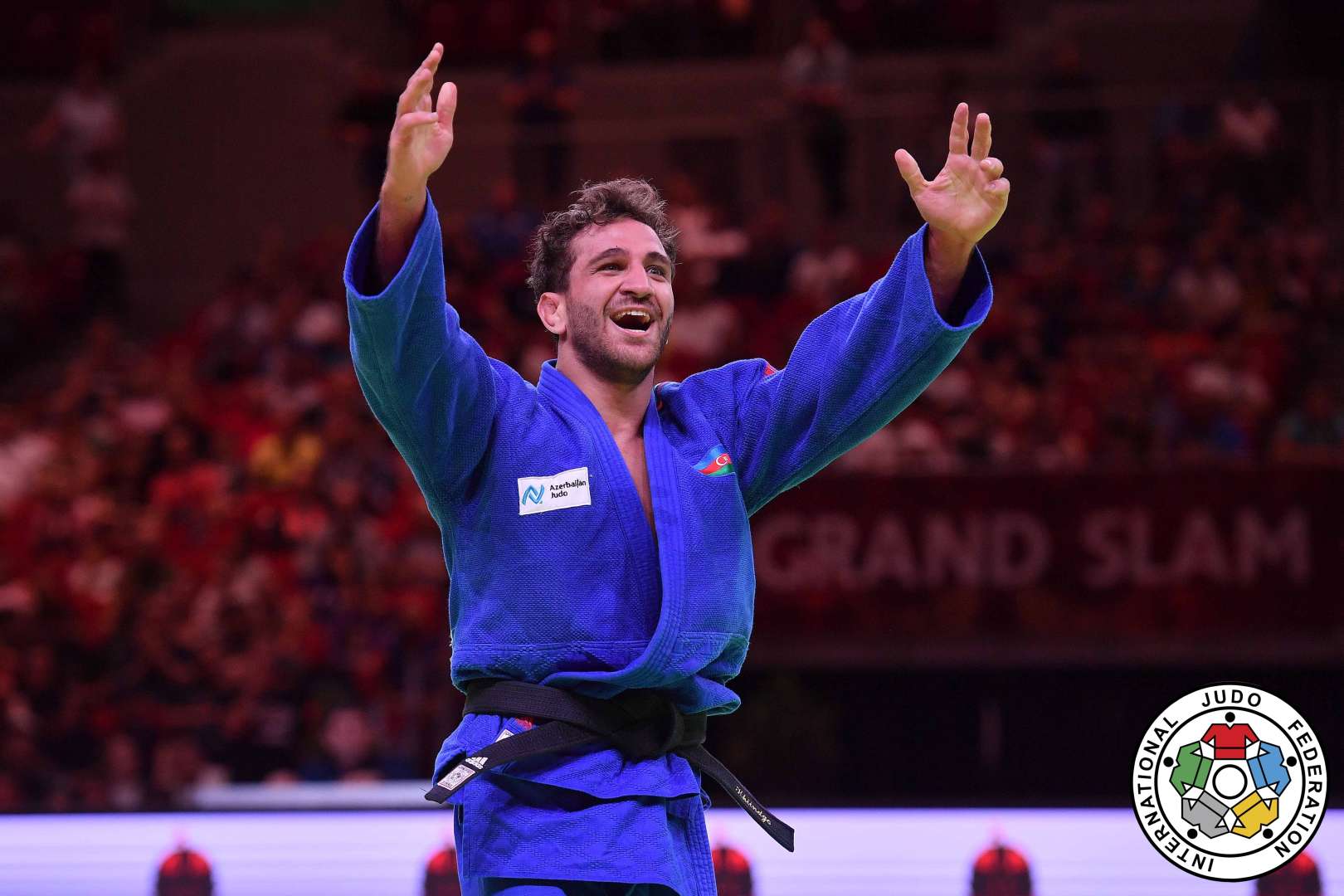 9 Jul 2022 21:45
Tamara Kulumbegashvili - IJF
World champion of last year in Budapest Lasha Shavdatuashvili showed his skills in Paris and then in Tbilisi and in Hungary where he offered a new class of tactics and technique that should be taught in all dojos of the world. In the final he was opposed to Hidayet Heydarov of Azerbaijan.
There comes a time when the important thing is not that he wins, but how he does it, with intelligence and a clinical eye. Azerbaijan has two top players in the U73kg division: Rustam Orujov and Hidayat Heydarov. This time, Heydarov was the one who came up tops.
He started off by strangling Jack Yonezuka (USA), rolling him on the ground twice before settling in with a modified kata-ha-jime for the submission.
Heydarov's second match, against Victor Mrowczynski (POL), was also settled on the ground. First, he scored with a low hip throw for waza-ari. But the ippon came from an osaekomi where he had to disentangle his leg, Japanese-style.
Against Behruzi Khojazoda (TJK), Heydarov used sumi-gaeshi to score waza-ari just as the bell rang. And then against Magdiel Estrada (CUB), he used a tewaza for ippon.
That took him into the final, where he was up against World and Olympic Champion, Lasha Shavdatuashvili (GEO). Their's was a tough match that went into Golden Score. But Heydarov would not be denied. His opportunity came when the Georgian attempted a sacrifice version of sasae-tsurikomi-ashi. Heydarov simply used tewaza to get the score. It scored a waza-ari but since this happened in Golden Score, it meant Heydarov had won the match.
Heydarov gives the impression that he doesn't care, going about his business, his cold blood is impressive.
Shavdatuashvili's opponent in the final was the Azeri staple Hidayet Heydarov. For years, Heydarov has been in the shadow of Rustam Orujov, the undisputed number one in the category in his country's team, Olympic and world runner-up. For some time now, Heydarov's results have been better and that translates into medals and finals.
Orujov fought for the bronze against Estrada. The Azeri veteran scored with soto-makikomi which earned him his 16th grand slam medal and considering that they have changed coaches and have to adapt to other methods, it is an excellent result for Orujov.
The Israeli Tohar Butbul did not want Poland to take a second medal and so he put it to Stodolski in the fight for the second bronze. It turns out that Butbul is a man of his word. One sode-tsuri-komi-goshi plus ude-garami to turn his opponent over, to conclude with an immobilisation. It is easier to do it than to say it, full stop.