Haruka Funakubo stops world champion Klimkait in Budapest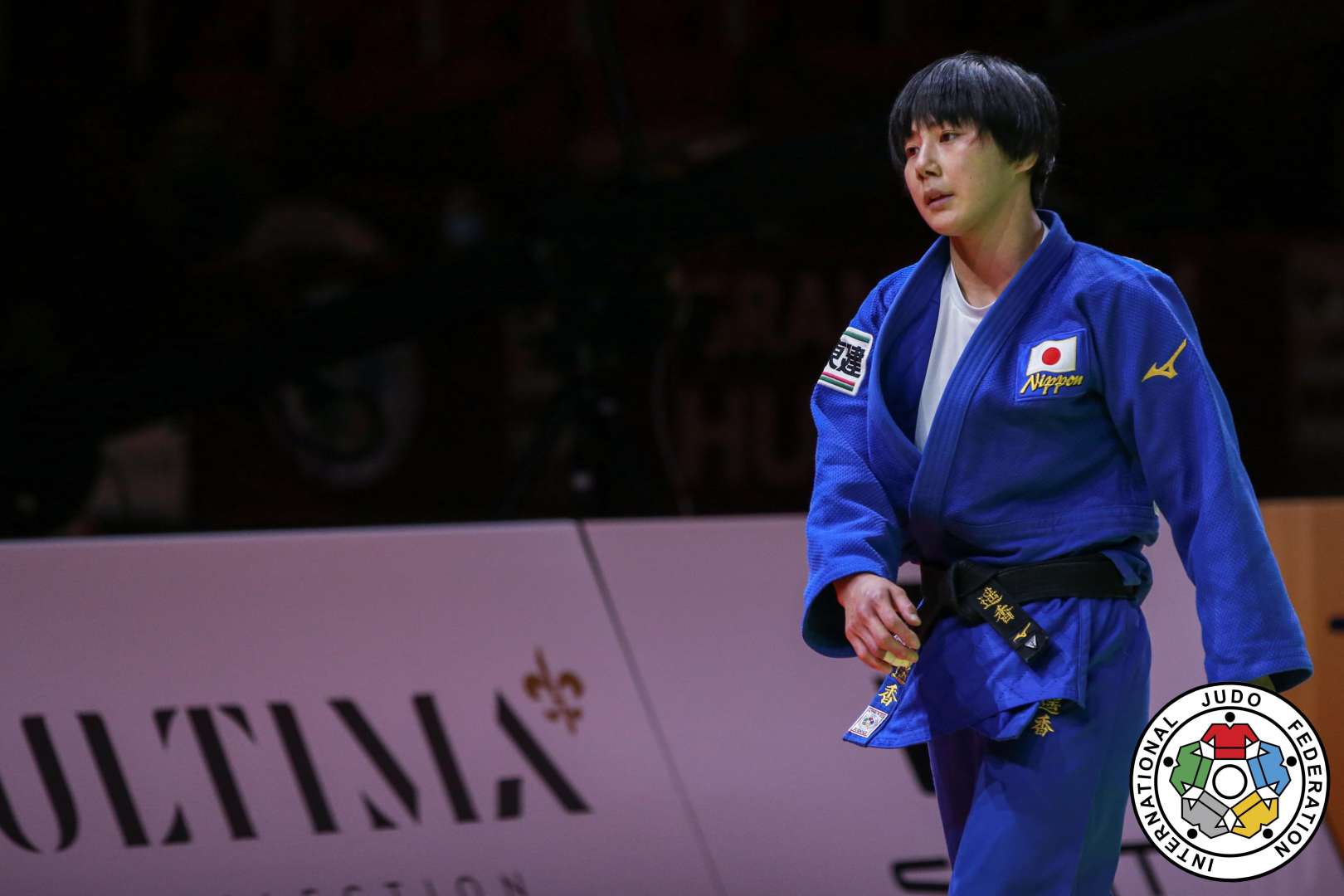 9 Jul 2022 00:05
IJF Emanuele Di Feliciantonio / International Judo Federation
Haruka Funakubo concluded an excellent first day for Japan by defeating Silva. The Brazilian lost after a penalty for several seoi-otoshi attempts from the Japanese, no score but it was enough to bring a third shido against Silva on the final in Budapest U57kg.
Japan's Haruka Funakubo is so good at newaza, she has an osaekomi move named after her. It's actually an old move traditionally known in Japan as hara-zutsumi (stomach wrap) but in recent years, it's widely referred to in Japan as Funakubo-gatame.
True to form, Funakubo used newaza extensively at the Hungary Grand Slam. Her first opponent, Mariah Holguin (USA), gave her a free gift by dropping down and leaving her neck exposed. Funakubo quickly snapped on a koshi-jime for ippon.
Next, against Cai Qi (CHN), she used a modified form of her famous Funakubo-gatame for ippon.
That brought her up against drop seoi-nage specialist Jessica Klimkait (CAN), who attacked continuously. Funakubo had accumulated two shidos for non-combativity when Klimkait made a mistake and got caught on the ground.
Funakubo's semifinal match was against the very experience Telma Monteiro (POR) but she took succumbed to groundwork in the form of yoko-shiho-gatame.
Her final match was against former World and Olympic Champion Rafaela Silva (BRA) who, fully aware of Funakubo's prowess on the ground, assiduously avoided newaza. But It's hard to fight an opponent properly when you are afraid of going to the ground with them. In the end, Silva lost after getting three shidos.
Canada's World Champion Jessica Klimkait had not taken a plane since last year and there was a legitimate curiosity at the Grand Slam in Budapest to see Klimkait's form. started with an offensive, positive attitude against the Hungarian Kitti Kovacs. Waza-ari, total control of the duel and little else, a formality for her. Her first acid test took place in the third round against Haruka Funakubo because she is Japanese and that always means that the fights are demanding; also because she is fifteenth in the world ranking, not too high, not too low, just enough for Klimkait because she had to try a little harder than she wanted. Against the Japanese, Klimkait took it as if her rival had another passport. She kept attacking, taking the initiative and forcing two shido against Funakubo. Everything was going well but we already told you that logic sometimes goes to rest, and also that Japan is Japan; it is recommended to not underestimate them.
Klimkait launched a very predictable attack and Funakubo pinned her to the ground to win by osae-komi. The Japanese was already advancing at cruising speed. Apparently, she doesn't like her position in the ranking. Next round, another big test, that's the way it is in Budapest. Telma Monteiro is the most successful judoka in Portugal with the experience to write several books; she reached the semi-finals showing that she is fit. Well, Funakubo virtually ate her and at the end, for dessert, which wasn't a small fruit salad either, but a chocolate cake with cream and icing, the Brazilian and former Olympic champion Rafaela Silva.
Israel went to bed with three medals, all bronze, thanks to Timna Nelson Levy's last win over Monteiro. As for Klimkait, since she came from Canada, which is very far away, she pocketed the second bronze, defeating the Cuban Arnaes Odelín García with a seoi-nage awarded ippon. "Jessica had a good day. She's currently preparing for the World Championships. [Funakubo] is in terrific shape right now, so she was a good challenge for Jessica. Jessica dominated the bout almost from start to finish, but Funakubo took advantage of a ground transition to gain the upper hand and win," commented coach Antoine Valois-Fortier.
"In the repechage and the bronze medal final, she didn't make any errors. It was a great way to end the day and we were happy to see her on the podium. Her throws were well-executed and her medal was well-deserved," added Valois-Fortier.