Bilodid, Pupp and Monteiro victims of prelims at Sofia Europeans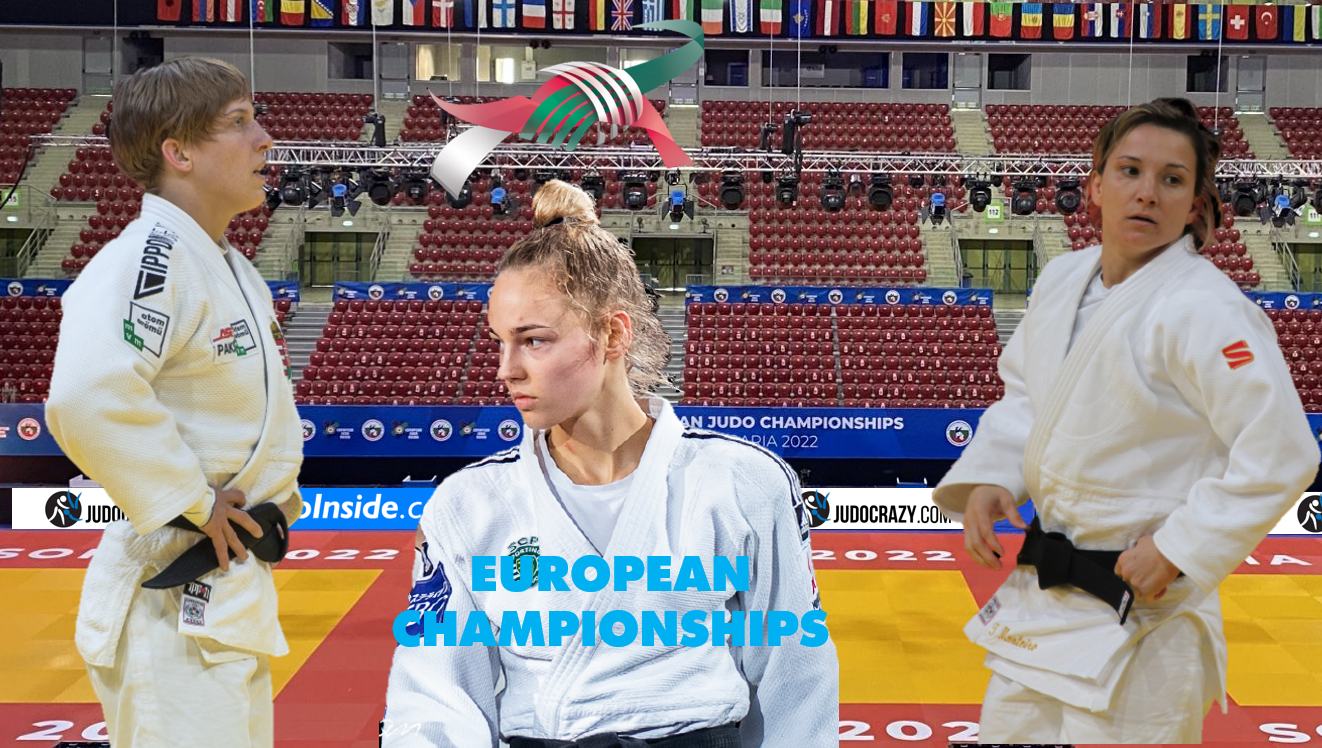 29 Apr 2022 14:10
JudoInside.com - Hans van Essen / judo news, results and photos
Some surprising developments at the preliminaries of the first day of the European Championships in Sofia where Daria Bilodid made her comeback in the scene after her Olympic bronze medal and her horrifying situation in her country. Bilodid moved to Spain where she was able to train at the Valencia Judo Club and she moved up to the weight category U57kg, but it wasn't a big success.
Although Bilodid won her first contest against Junior World bronze medallist Pleuni Cornelisse (NED), she couldn't get grip on Priscilla Gneto, the experienced French fighter. Gneto scored early with a waza-ari from a drop sode-tsurikomi-goshi. After that, she was in a rather defensive mode while Bilodid piled on the pressure. At one point, Gneto was down by two shidos while Bilodid had one. That put the French player with a big disadvantage and it would seem that Bilodid would win this one by penalties. Despite the height difference, Bilodid suffered a wazari from the beginning but couldn't score either. She didn't get a repechage match. Bilodid was realistic throughout the day, actually relaxed despite the situation she's been through.
In her category Sarah Leonie Cysique of France was expected to progress to the final and met with the expectations. She will meet Timna Nelson Levy of Israel who defeated Pauline Starke in the semi final. Starke had a strong performance against last year's European Champion Telma Monteiro in her first contest of the Portuguese title defender. Cysique and Nelson Levy are in balance in previous confrontations (2-2) Nelson Levy actually won the last two encounters.
Also in the weight category U52kg there were some surprises, but the major favourite Amandine Buchard walks straight into the final this way. She dominated the fights and again defeated Olympic U48kg Champion Distria Krasniqi in a direct battle in the quarter final. The hotly anticipated match-up was the one between France's Amandine Buchard and Kosovo's Distria Krasniqi. They last met at the Paris Grand Slam in February. There, Buchard thrilled the home crowd by defeating Krasniqi, a reigning Olympic Champion (albeit at the -48kg category). Both players had been penalised with two shidos and in the end the match was decided when Krasniqi got her third shido. Given how close the fight was, it's safe to assume that Krasniqi will continue to give Buchard a hard time in future competitions. Buchard will defend her title as she is opposed to another Olympic medallist, Chelsie Giles in the final U52kg. Giles overcame the third European Olympic medallist, Odette Giuffrida in the quarter final, but the Italian didn't recover and finished seventh after her loss to Ana Viktorija Puljiz (CRO). Daria Krasniqi came back in the repechage and will fight the surprising Mascha Ballhaus who lost to Giles, but was victorious against number two seed Reka Pupp of Hungary. Buchard defeated Giles three times over the last three years.
Shirine Boukli can regain her European title achieved in 2020, if she wins the final U48kg against Catarina Costa of Portugal. Costa never medalled and secured herself from her first medal, but would wanna be the second ever Portuguese woman after Monteiro to win the European title.
Although we know Costa is getting stronger each year, she was able to shake off her opponents in the pool phase and overcame Shira Rishony in the semis. Boukli defeated Spanish Julia Figueroa in the other semi final. Boukli and Costa never met in an official match.