German judo names dominate at first day in Prague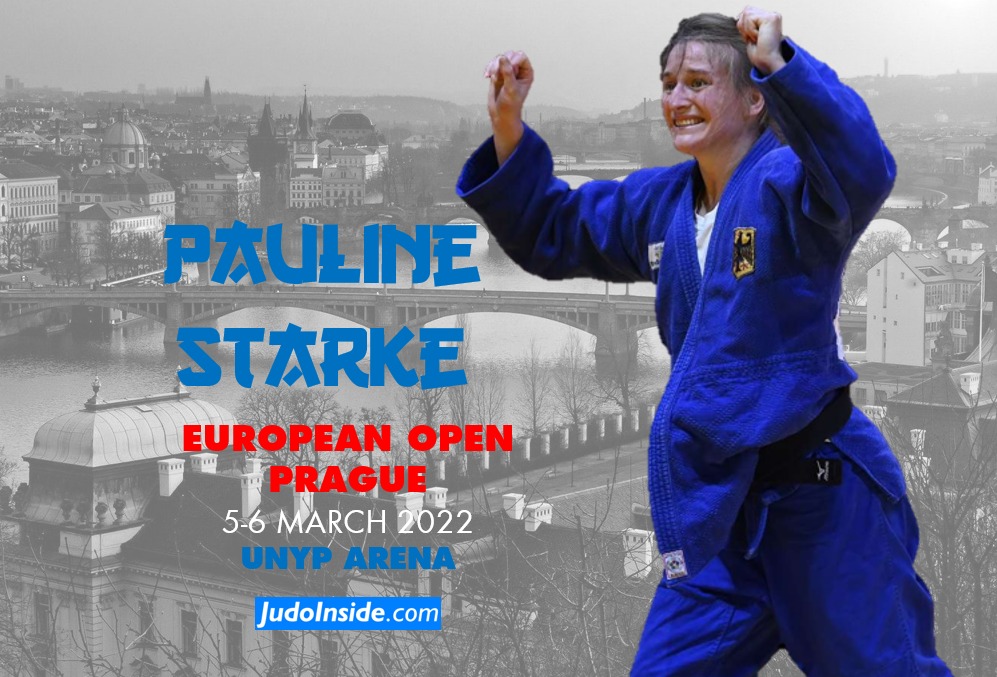 5 Mar 2022 20:30
JudoInside.com - Hans van Essen / judo news, results and photos
France and Germany were the two most impressive nations at the first day of the European Open Prague, CZE. The French booked two victories in the men's lowest weight division and Germany was strong for women U52kg and U57kg.
Richard Vergnes claimed the gold medal in the lightweight division U60kg. The Frenchman defeated his compatriot Maxime Merlin in the final. It was his third World Cup gold medal. His previous victory was booked in 2018 in Lima at the Panamerican Open. However Vergnes showed his form at the Belgian Open in Vise in January where he also took a gold medal.
23-Year old French Reda Seddouki booked his first World Cup victory. In Prague he was too strong in the final for Elios Manzi of Italy. Last week in Warsaw he missed out on the medals finishing fifth in Poland. He was the best in a field in 58 men. The last time that we noticed a field of 58 athletes was at last year's World Championships which underlines the big field fighting in Prague. In total 525 athletes are gathered from 42 countries. Obviously without Russian, Belarussian nor Ukraine athletes. The 2019 French champion had to win six contests in Prague to stand on the highest podium. For Manzi it was defeintely a silver medal with golden edges after a nasty period of three years with lots of injuries. He was happy to celebrate a sweet silver medal.
The victory for men U73kg was for 22-year old Mark Hristov of Bulgaria who was the youngest winner of today. It was a great preparation for the European Championships that will be held in Sofia (BUL) in April. Hristov marked himself as a medal candidate with Saturday's performance. Although the quality of the field in Sofia will be much higher. In the final today he overcame Italy's Luigi Centracchio, the bronze medallist of last year's World Junior Championships. Hristov already took a bronze medal at Grand prix level in Zagreb last year and finished ninth at the World Championships, this is definitely an outsider for a surprise on home soil in April.
Spanish champion U48kg Mireia Lapuerta Comas took the first place in Prague in her weight class. Last week she came third in Warsaw which was just the beginning of likely her best year to come. Although she came short to make it to the last eight at her previous Grand Slam and Grand prix competitions, this is the level she can easily deal with. It will charge her some extra confidence to make it to the next level. In the final Lapuerta defeated one of her Spanish rivals Laura Martinez Abelenda. In the golden score of the final Lapuerta took over an attack of Martinez and destroyed her with a huge ura nage.
Strong German Annika Wuerfel again showed her skills at the European Open level, she claimed the gold medal U52kg she needed to grow into today's tournament which in fact she didn't expect from the beginning. In the final she defeated Swiss talent Binta Ndiaye who was today's youngest medallist aged 17. The oldest medallist was actually her compatriot Evelyne Tschopp (30) one category higher. German champion Wuerfel has a similar story as Lapuerta Comas, coming short in the IJF World Tour for the last eight, but this gold medal should be good enough to give her the power to make it to the last eight at the next World Tour event, whenever that is. The Grand Slam in Tbilisi was postponed, the Grand Slam in her own country, in Düsseldorf was cancelled. Wuerfel took her chances in Prague and after Binta got penalized for a third time it was the German to win her last of five contests.
The Germans were also strong at U57kg where Pauline Starke had a tough semi final against Amelie Stoll, but Starke won that battle and qualified for the final against Kitti Kovacs, who beat Jaione Equisoain of Spain. Both 24 years, Starke didn't give Kovacs much time. After twenty seconds the Hungarian was in trouble on the ground and Starke worked on her ne-waza with oseikomi and Kovacs tapped out quickly who need just 45 seconds to take the gold in the final. After gold in Warsaw, she proves that this level is just a finger practice for her. Last year she took bronze at the Grand Slam in Baku and she already took a European bronze medal, which makes her a medal candidate for sure in Sofia's Europeans. For former Hungarian champion this medal was her best ever performance at international level. Stoll and Tschopp finished with bronze.
In fact a former German international, for years competing for Australia, Katharina Haecker won the category U63kg. Haecker who also competed at the Olympic Games defeated Agathe Devitry of France in the final. Haecker also won the Grand Slam in Tel Aviv two years ago and is multiple Oceania Champion. For Haecker Prague was a good practice to get back in shape for the more important events such as Asia-Oceania Championships and IJF World Tour events. Haecker won the final in the last medal when she scored a wazari and converted into an oseikomi. Devitry lost her last contest, just like in Sarajevo in February were she finished with silver, still she is in a great shape. She won the Belgian Open in January, even in U70kg and slowly becomes an asset for France in a category where Agbegnenou is on maternity leave.