Margaux Pinot came without a plan and took valuable gold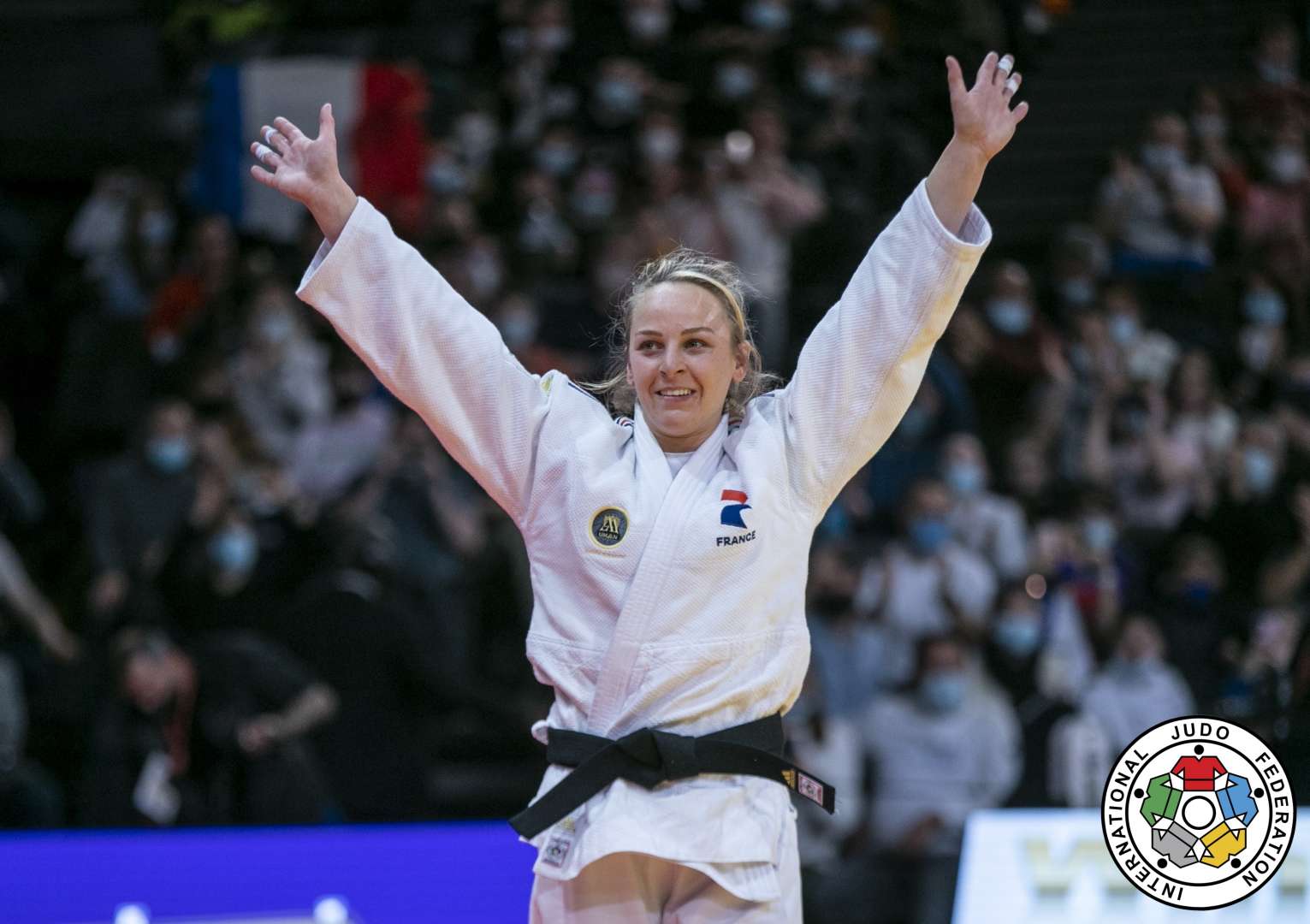 6 Feb 2022 23:25
IJF Media team by Pedro Lasuen and JudoInside
IJF Gabriela Sabau / International Judo Federation
It was France against Japan in the final of the Grand Slam of Paris on Sunday, like the old good days. It was a very tense final between Margaux Pinot and Saki Niizoe. Both judoka annulled each other and thus they reached the golden score period, where Pinot won with morote-seoi-nage. With gold and two wins against two Japanese on the same day, it's a yes, the new Pinot really has something new.
Margot Pinot: "My judo has been better today than all of last year. It is because I have fixed some other problems and have freed myself mentally. When the head is well, everything else falls into place."
Paris was the chosen event by Barbara Matic to show signs of life. Barbara Matic won the bronze on the fast track against Britain's Kelly Petersen-Pollard. The Croatian dressed up to show off her red back patch that accredits her as world champion. There were only twenty registered judoka, but some were very dangerous, such as Yoko Ono, Assmaa Niang or Maria Portela. However, the real danger came from another place. Margaux Pinot had a bittersweet 2021 because she won the team Olympic gold, but lost the individual tournament in the first round. She was unable to show her best judo. It seems that the long break that she has been given since Tokyo has paid off. Pinot first destroyed the Cuban Idelannis Gómez Feria, to then do the same with the Japanese Yoko Ono. Ono also won bronze in the absence of Scoccimarro.
The 2022 version of the French one looks very good. In the semi-finals, she unhesitatingly eliminated the world champion Matic. Another judoka who jumped on the success train was Saki Niizoe. Ono is better known, but we must remember the devil and the details. Discreetly, without making much noise, the Japanese slipped into the final after defeating Prévot, Portela and Petersen. In the semi-finals, she benefited from the absence due to injury of the German Giovanna Scoccimarro. Sometimes this happens and she appeared against Pinot in the final. In the last eight editions, it was seven times Japan or France, only British Sally Conway interefered in 2018.
The intra-story of this second and last day was the battle between France and Japan. There were three finals between these countries; all three in the women's categories.
Pinot after a turbulent period: "I have come without preconceived plans, no strategies. I have done everything by instinct. I usually start like a diesel, I go slower."
"I have fixed my problems, I have liberated myself, literally. I have cleaned everything that was dirty in my life, I have discovered who my real friends are, the ones who love me and the ones who are there when I need them. I look for new goals, varied horizons, I do everything in a different way."