Akira Sone concludes Japanese harvest with ninth gold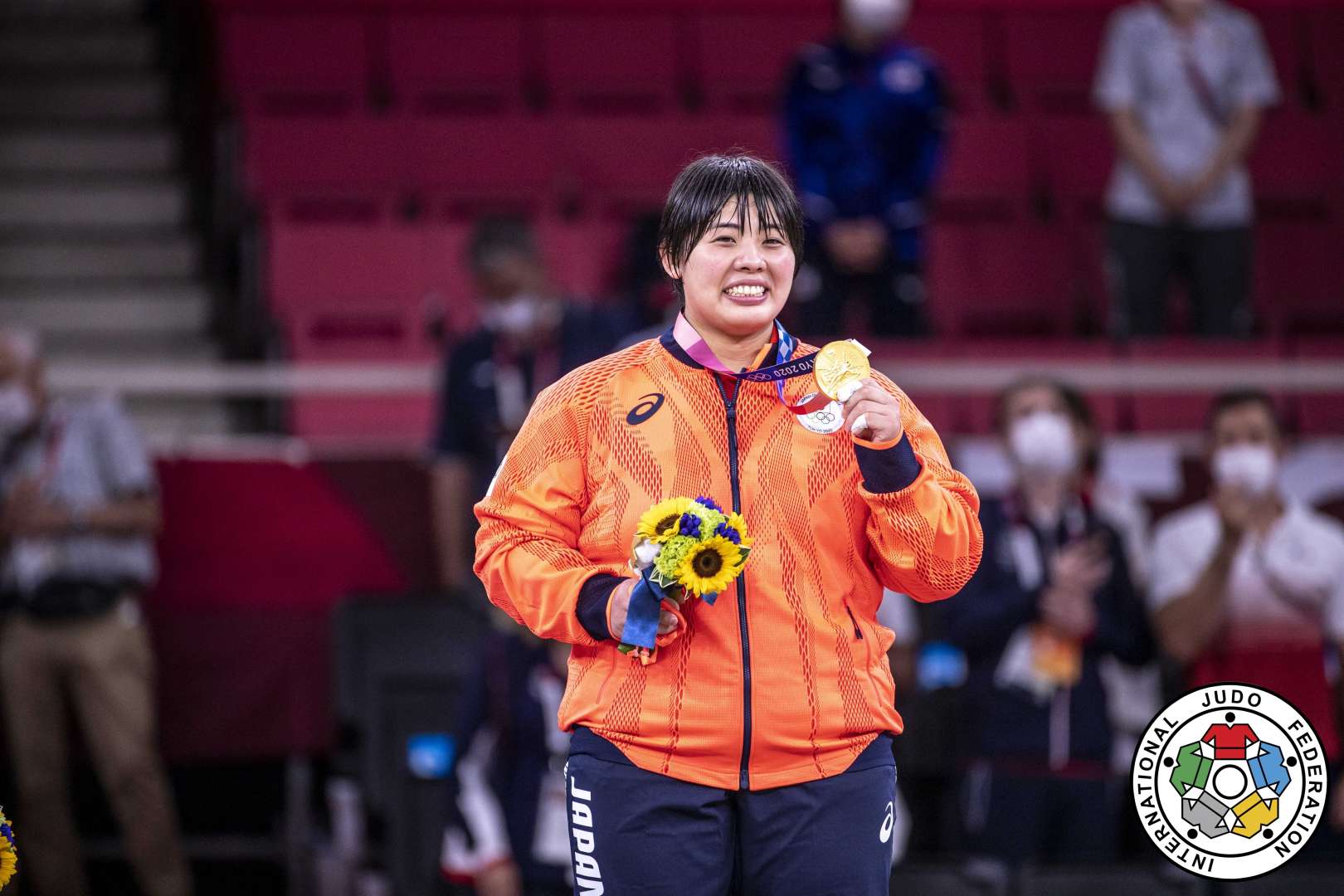 30 Jul 2021 15:20
IJF Gabriela Sabau / International Judo Federation
The incredible experience of Idalys Ortiz with four Olympic selections and four medals, including the last three finals and on the other side against the future of heavyweight judo, Akira Sone. As no-one could find a way to throw, the decision was made with penalties and Sone Akira won the 9th gold medal for Japan; an impressive harvest for the host country.
Sone Akira said, "I'm small for the category so I thought I would try to bear her in kumite. It was hard but I did and I am so proud to prove that it is possible to win with a small body. I have gone through many, many difficult times, and I've always been telling myself to try at least three times. This was my motto, and I am happy I was able to achieve my goal. The Olympic gold medal is something that is very, very important to me and very special to me."
Legend Idalys Ortiz said, "Cuba came here looking for a medal. Done! It is the 4th for me and I am especially happy because many people thought I was finished. This medal is my answer. I work hard, I have experience and it was out of the question to go back home without a medal. I dedicate this medal to my father who passed away 9 months ago."
Bronze Medal Contests
Iryna Kindzerska (AZE) did what it takes to step on the podium. Giving no chance to her Chinese opponent, she built her attacks perfectly to score two waza-ari and took bronze.
Kindzerska said: "It is the best medal of my career. I lost the bronze medal contest in London and was injured. Now I have it! I will sleep very well tonight and then I will smile for a year. This is my dream that has come true. Every one of us girls, judokas, have shown that even age is not something that will stand in our way."
The second bronze medal contest was easily won by Romane Dicko, who couldn't hide that she was disappointed not to be in the final, but this bronze medal is a fantastic result for the young French judoka,who was poised to reach the final against Ortiz. She is only 21 years of age and only at the very beginning of her career. Teddy Riner himself began his reign with an Olympic bronze medal in Beijing in 2008. Let's wait and see what comes next for one of the most talented athletes on the circuit.
Romane Dicko: "It's wonderful to have this medal. That's just the way it is. It's not the gold medal, but that is just the way the sport is. It's full of surprises. After my lost semi final I decided to fight for my teammates because a bronze Olympic medal is important. I have three years now to take revenge and time goes fast."
Semi-Finals
Idalys Ortiz is one of those athletes, already with an incredible track record, who will always be there when needed. Olympic champion in 2012 in London, silver medallist four years later in Rio, also world champion, she again reached the semi-finals in Tokyo. This longevity, while remaining at the highest level, is not only exceptional, it is inspiring for generations of athletes. We always have great pleasure in seeing the Cuban on the circuit. The years that go by don't seem to have an effect on her; Idalys still has this incredible ability to get in shape at the right time. This is what she did during the morning session, winning against all opponents to meet in the semi-final the one everyone has been talking about for months, French marvel Romane Dicko.
The latter did not disappoint either and everyone who predicted she would be Rio 2016 Olympic champion Emilie Andeol's successor, nodded their heads, eager to see if Ortiz might be beaten by the French contingent again. For months Romane has been lighting the fuse, chaining victories with mastery, to become one of the favourites for the Olympic title. Ortiz' performance in the semi-final was a model of technique and tactics. She totally controlled the right arm of her young opponent, who was incapable of breaking the distance. Then, for once the Cuban let Dicko take her strong kumi-kata, but that was to counterattack her better and then Ortiz scored with a demonstration of ura-nage, just when it was needed and neutralised Dicko for the rest of the match. The French judoka was unable to respond and couldn't prevent Idalys Ortiz from contesting her third Olympic final in a row.
The second semi-final pitted the finalist of the World Judo Masters in Doha last January, Iryna Kindzerska (AZE), against the young Japanese judo prodigy Sone Akira (JPN), who was, almost two years ago, the first athlete nominated for the Japanese Olympic team, after winning the 2019 World Championships in front of her home crowd. With a waza-ari and an immobilisation, Sone bought her ticket to the first Olympic final of her career.
Repechages
Chinese athlete Xu Shiyan and Maria Suelen Altheman (BRA) were meant to meet in the repechage but due to an injury the Brazilian could not compete and therefore Xu moved directly to the bronze medal contest.
The second repechage match saw Han Mijin (KOR) and Sayit Kayra (TUR) compete to have the chance to win a bronze medal later on. Sayit was not long before throwing her opponent for waza-ari and then pined her down for ippon.