Clarisse Agbegnenou resists Olympic pressure and wins judo gold for France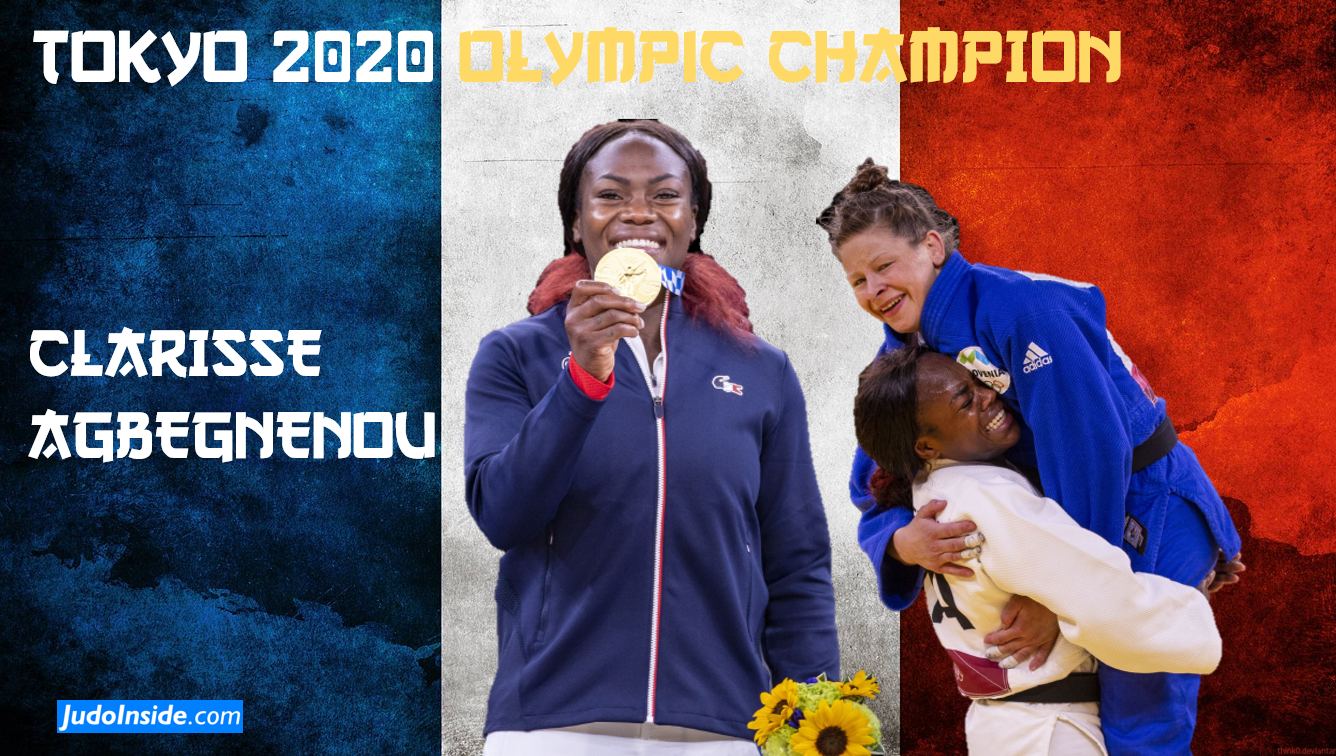 27 Jul 2021 14:55
IJF Media Departmend and JudoInside
JudoInside.com - Hans van Essen / judo news, results and photos
Clarisse Agbegnenou of France was the expected Olympic Champion and she did not disappoint her supporters and the expectations. In an repetition of the 2016 Olympic final against Tina Trstenjak she confirmed her status as world leading judo woman. Despite all the pressure on her shoulders of the nation and judo fans, the French flagbearer celebrated the precious gold at the Nippon Budokan.
Trstenjak had defeated her five years ago in Rio but this time the result is different. Finally France has it's precious gold medal and fourth consecutive medal for the team in Tokyo. Both athletes appreciate the battles they share with the world and Agbegnenou lifted Trstenjak as a token of appreciation. Fans usually see devastated athletes who just lost the final, but Trstenjak carried it like a former Olympic Champion and that image of friendship was great for judo. The five time world champion was relieved after so much pressure on her well trained shoulders.
Both rivals have met so many time over the past years, this time for the eleventh time and for the ninth time in a final including Olympic and World Championships finals.
Trstenjak took the initiative at the start of the final with a dangerous seoi-nage, an attack perfectly controlled by the French, who was then close to strangling her opponent, but for a powerful and determined escape. The rest of the match was alike, Trstenjak attacking always before Agbegnenou, to push her to be penalised and she was penalized herself, but then it was Trstenjak's turn to receive two shido for false attacks. Agbegnenou eventually concluded a perfect competition day by throwing the best opponent after 37 seconds in the golden score. Five years ago, in the same configuration, Clarisse lost, but this time the story is different and both competitors looked happy at the end. One for winning and the other for watching the joy of the first.
Clarisse Agbegnenou: "I'm doing some new things now, such as boxing and yoga, to help me to improve different aspects of my judo. It paid off. Now I'm going to take time to enjoy my medals, because I haven't since the worlds in Budapest. After that I will take a long break. It's beautiful, look how the medal shines. She is magnificent. I'm going to have to see photos to believe it's really there, that I have it. She is so beautiful. Sorry Rio, this is more beautiful than Rio."
What did you do before the final? "I was singing, I was really deep into my music which was giving me good vibes. I felt good. I felt happy. I felt in fine form. I felt strong. Untouchable. The music is called Afrotap. I like it because it gives me power. It makes me move and dance. And that's what I like about dancing because it takes me there. And then I danced on the mat afterwards."
"I am so proud and can't wait to show my family, my friends and everyone who supported me over these difficult years. The solidification of all the work, the pain, the struggle, the joy, the love, the hate - and there you go."
Did you have any doubts in advance of the tournament?
"There is always a moment when we doubt a little, but it passed quickly. Perhaps a moment of doubt when I would tell myself maybe I felt overwhelmed and lacked confidence and became stressed. But I told myself no one would take (the win) from me - it's there. In a crisis of confidence, I told myself, 'Calm down. I have worked hard and I will seek (the win). It's time to go get it.'"
Tina Trstenjak: "It is a great day after five hard years. I wanted the gold medal but, hey, this is the Olympic Games. Silver is great!"
At the age of 30 years and 337 days, Tina Trstenjak (SLO) became the oldest Olympic medallist in this event, surpassing Driulis Gonzalez (CUB) who took bronze in 2004 at age 30-331.
Centracchio surprises for Italy
Maria Centracchio of Italy was not among the favourites of the category and for sure is not the most prominent judoka of team Italy, but this evening she is an Olympic bronze medallist after she won against Dutch Juul Franssen by penalties. So far she has won medals only two times on the World Judo Tour. Centracchio secured the second medal for the team of Italy and more over she now has that medal herself. In 2016 she was in Rio to support her biggest friend Ody Giuffrida who again set the tone in the team at day two. Italy has collected multiple Olympic medals in women's judo at the same Games for the second time, after 2000 (2).
Centracchio did the maximum today to convince the referee to be the rightful winner of the battle with Franssen who had the chance of her life to follow up performances of Elisabeth Willeboordse (2008) and Anicka van Emden (2016) in this class. Italy never won a medal in this class.
Maria Centracchio declared, "I was the last qualified for the Games so I decided to fight with zero pressure, just relaxed, for fun. When I do that I'm better! That is how I won my bronze medal."
Catherine Beauchmin-Pinard: "It was an incredible day, almost perfect. It took me a minute to realize that I'm now an Olympic medallist. It was a long battle, so I was really happy to be able to push through to the end. And I was very glad to see Antoine Valois-Fortier, Arthur Margelidon and Sasha Mehmedovic after my win. I was feeling a bit overwhelmed and was having trouble understanding what was going on," stated Beauchemin-Pinard with a smile in her voice after receiving her medal.
Canada takes a bonus medal
Anriquelis Barrios (VEN) and Catherine Beauchemin-Pinard (CAN) were then opposed in the second bronze medal contest. A golden score period was necessary again to determine the winner of a close match. The Canadian needed a little more than three minutes of extra time to score a liberating waza-ari to win the bronze medal. Canada have claimed multiple judo medals at the same Games for the first time.
Catherine Beauchemin-Pinard said, "In the semi-final I lost against the best. After the semi-final it was hard to focus but I did it. Then I stuck to the plan to grab her sleeves and make no mistakes."
Road to the final
In the upper part of the draw there was no surprise as Clarisse Agbegnenou (FRA), dominated all her preliminary rounds, first against Sandrine Billiet (CPV) and then Juul Franssen (NED). The quarter-final was a really good test for the five-time world champion. She clearly dominated the match, but had to pull some extra concentration as the Dutch judoka can be dangerous at any time. Nevertheless, Clarisse controlled the bout perfectly, bringing to the table a kata-guruma that we didn't know she was a specialist of, to face Catherine Beauchemin-Pinard (CAN) to access the final. With an opportunist little foot action, Agbegnenou scored the first waza-ari, that followed several sequences where the French was clearly dominating. The rest of the semifinal was a one way ticket for Clarisse the reach the second Olympic final in a row of her career.
The lower half of the draw was dominated by Tina Trstenjak (SLO), who had a more difficult journey than Agbegnenou. The defending Olympic champion has a lot of resources and although she was led by waza-ari by the Venezuelan Anriquelis Barrios, she managed to qualify for the semi-final, to meet Maria Centracchio, one of Italy's last chances to reach the podium. Actually Maria was not even seeded but she defeated Agata Ozdoba-Blach, who had just upset the Japanese fans by defeating Tashiro Miku. Tashiro became, therefore, the first local athlete not to be in a position to reach the podium. Half way to the end, Trstenjak put a serious option on the final by scoring a waza-ari with an opportunist shoulder throw, which she secured by pinning down Centracchio for ippon. A great performance again by the defending Olympic Champion.
Repechage matches
Juul Franssen, who had no chance against the power of Agbegnenou, was opposed by a veteran on the circuit, Ketleyn Quadros (BRA), who was already an Olympic bronze medallist back in 2008 in Beijing. For those who know how difficult it is to stay at the highest level, seeing an athlete who competed in Beijing and got a bronze medal, meaning that she was already a top level competitor for several years before that performance, and having her performing again 13 years later in Tokyo, is incredible. Unfortunately for this time, Quadros, who was dominating the bout against Juul Franssen, was pinned down by the Dutch, who qualified for the bronze medal contest.
Two of the main animators of the morning session, Anriquelis Barrios (VEN) and Agata Ozdoba-Blach (POL), met to access the second bronze medal match and it is Barrios who qualified for it after having scored a waza-ari with o-uchi-gari.