Matthias Casse first Belgian man to become World Champion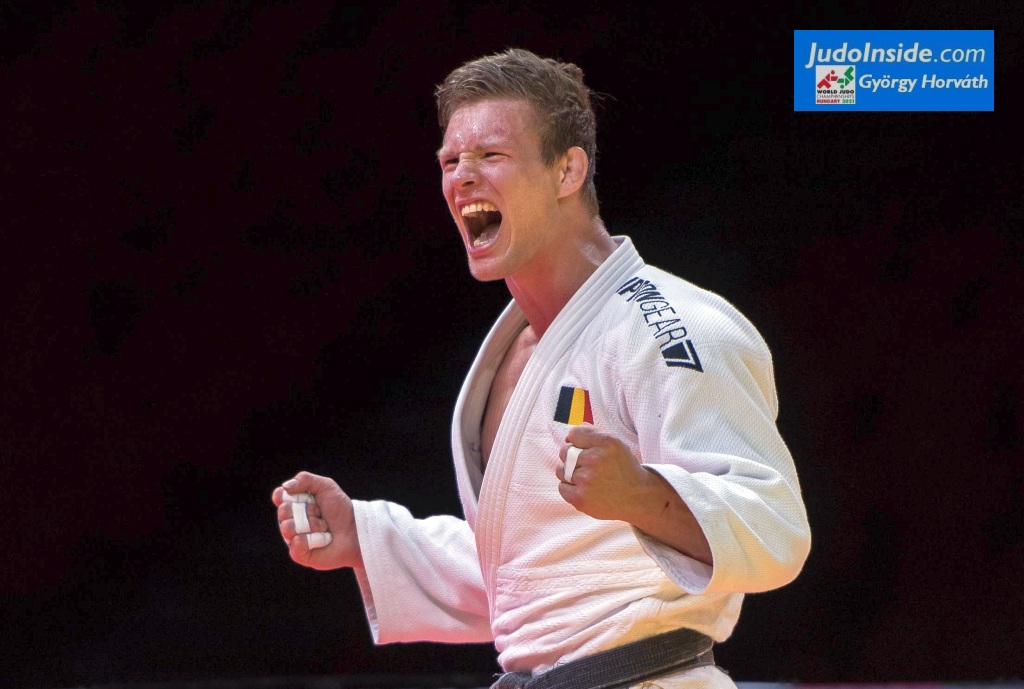 9 Jun 2021 19:25
IJF media Department and JudoInside
György Horváth / Hungarian Judo Association
The final of the U81kg category at the World Championships brought together Matthias Casse of Belgium, already a finalist two years ago in Tokyo and Tato Grigalashvili (GEO), winner of the last World Judo Masters in Doha in January.
During the first half of the final Grigalashvili seemed to be slightly ahead, looking for the instant moment where he could kill the match with a magical move, but Casse resisted and step by step also imposed his power, so the two men reached the end of normal time with only one shido to Grigalashvili. During the golden score period everything can happen. Grigalashvili was looking for the perfect moment, Casse as well, but maybe with a little more clarity in his mind, as the Georgian started to launch an unfinished attack. Suddenly with a massive utsuri-goshi, Casse, who two years ago couldn't win gold, this time threw his opponent for ippon. After a world silver medal, being able to come back and win is impressive. Casse did it and he did it with style.
Matthias Casse said, "Like I said a couple of days before, I had a plan for every single opponent. Today I stuck to the plan in every contest. Now I need to remain calm for another month."
Frank de Wit takes first senior World medal
In the first bronze medal contest we found Fujiwara Sotaro (JPN), bronze medallist at the Paris Grand Slam at the beginning of last year and Frank De Wit (NED), finalist of the last edition of the World Judo Masters in Doha, where he lost to Grigalashvili. After two minutes, Frank De Wit seemed to be more dynamic than his opponent, bringing more rhythm and creating opportunities. Fujiwara was penalised with a first shido for a false attack. With one minute left, he was again penalised, for passivity.
They entered the golden score period, which started with a strong attack from Fujiwara, but De Wit turned on time to land on his stomach. Another attack-counter-attack combination was then close to scoring. A last false attack from Fujiwara deprived him of the bronze medal, one that went to the Netherlands and Franck De Wit. He's a regular at the top level; this result is totally deserved.
Egutidze neutralizes Boltaboev
Quite discrete during the first round, compared to the big names of the category, Anri Egutidze (POR) reached the contest for the bronze medal, against Ilias Iliadis' protege, Sharofiddin Boltaboev (UZB). A first shido was rapidly awarded to each competitor for avoiding contact. A second shido was then given to the two for passivity, obliging them to take more risks to score. It's actually not that they were inactive, but they neutralised themselves until Boltaboev scored what he believed was a waza-ari with an aerial ura-nage, but the score was cancelled. Time for golden score! This is when Anri Egutidze decided to launch a last attack with a left-handed maki-komi that scored ippon. Bronze medallist for the first time at the world level, the Portuguese let his joy explode.