Jessica Klimkait claims the world title for Canada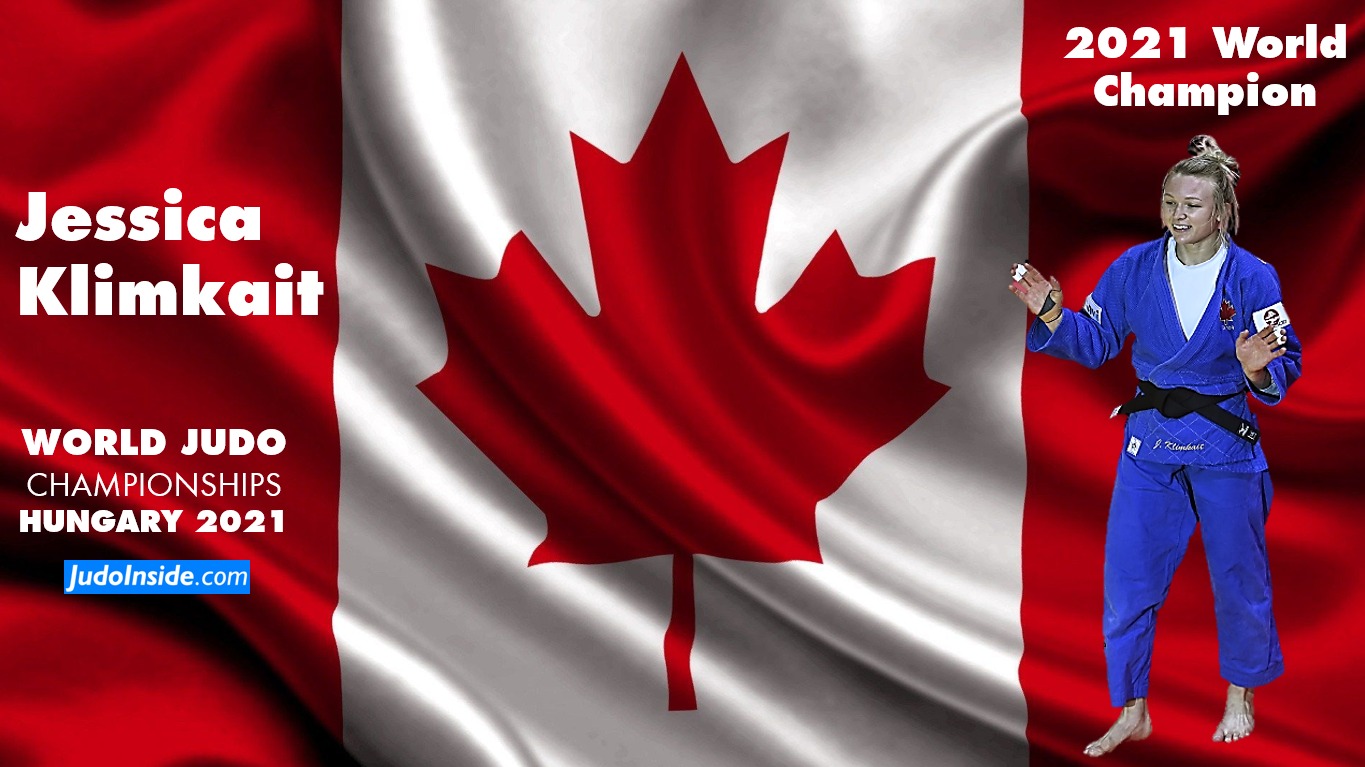 8 Jun 2021 19:05
IJF and JudoInside
JudoInside.com / judo news, results and photos
There was only one task on Tuesday for Jessica Klimkait, take the world title and the Canadian did it, The became the successor of her rival Christa Deguchi who finished fifth. There wasn't a better possible outcome for Klimkait. She will go to the Olympic Games as she left no doubt as world number one. Deguchi lost her bronze medal match, but Klimkait defeated Momo Tamaoki who had overcome Deguchi.
The first final of the day was maybe not exactly the one expected, even if both competitors were among the top favourites of the category. Tamaoki was penalised rapidly with a first shido, while Jessica KLIMKAIT began each exchange, after the hajime, with a dynamic circlular dance around her opponent, before diving on her and in search of the seoi-nage or the o-uchi-gari. What is impressive, is that everyone knows it, but still she does it again and again and it works. While Tamaoki Momo was penalised a second time, Klimkait received her first shido and both athletes reached golden score were everything remaining possible. After 1 minute, Jessica Klimkait, who was obviously dominating, concluded with a ko-uchi-gari that seemed to come from the other side of the tatami, but she managed to score a liberating waza-ari. With this first world title, Jessica Klimkait might have won more than just a title.
Jessica Klimkait declared, "I can hardly speak, I am so happy. I think it's going to take a long time to sink in. Being called world champion is an amazing feeling and I guess it will be even more amazing to wear the red backpatch. At the beginning of the day, I knew exactly what was required of me and that is exactly what I achieved. I have had my goal for a long time and today was the end of one part of that goal. There were a few things that I changed after the contest with Theresa STOLL. These things made me better prepared for my semi-final with Nora Gjakova."
Nora Gjakova took bronze for Kosovo which was a great performance. She was consistent throughout the day and only lost to Klimkait. She became the fourth woman for Kosovo to take a World medal. She defeated Marica Perisic who can be proud of such as development she's been through the last year, she really grew to world level in the period after the crisis, she hasn't sit still. Bronze medallist in Kazan a few weeks ago, Marica Perisic (SRB) was again competing for bronze, against Nora Gjakova (KOS), bronze medallist at the last European Championships in Lisbon. Gjakova imposed her power to control the kumi-kata quickly and build her judo, made of small ashi-waza to open the gate to an ample uchi-mata. After just half of the match Gjakova hadn't scored but Perisic had already been penalised twice. It was with only a few seconds remaining and with a massive maki-komi on the edge of the tatami, that she had prepared throughout the bout, that Gjakova took the lead by a waza-ari, to win her first bronze medal at that level.
Ranked 12th in the world, the 25 year-old athlete from Germany, Theresa Stoll, holder of two bronze medals on the World Judo Tour since the circuit resumed last October in Budapest, faced world number one Christa Deguchi (CAN) for a second spot on the podium. The first in action was Deguchi, with a risky o-uchi-gari, that Stoll blocked and even tried to counter, but no-one scored. At least during the beginning of the match this was Deguchi's plan as she tried several times to go under the strong kumi-kata of Stoll with her right o-uchi-gari. Dominated by Stoll, the Canadian champion was penalised with a first shido, showing a different version of herself, less dominant and more in danger than we are used to. She was then penalised a second time, entering the golden score period with two penalties to her name. It only took 8 seconds for Stoll to score a massive maki-komi that crucified Deguchi, who seemed to be somewhere else and that somewhere else, unfortunately, might not be Tokyo this summer. There was a bronze medal for Theresa Stoll. This is the difficulty of judo. Everything can stop and change within a second, with the wrong loss at the wrong moment. It is tough but it also participates in the beauty of the sport, where everything hangs by a thread. All athletes know it. All athletes work to hold on to and maximise all their chances and at the end, it is the result on the tatami that decides. Today it was not Deguchi's day. Theresa Stoll couldn't be stopped. The German train was on full gas in her bronze medal match against Christa Deguchi who was devastated and not sharp anymore after her semi final loss. Stoll took her first World Championships bronze medal despite her heavy study and knowing she had missed bronze in 2018 in Baku when she lost to Deguchi.