Double World Champion Ai Shishime dominates U52kg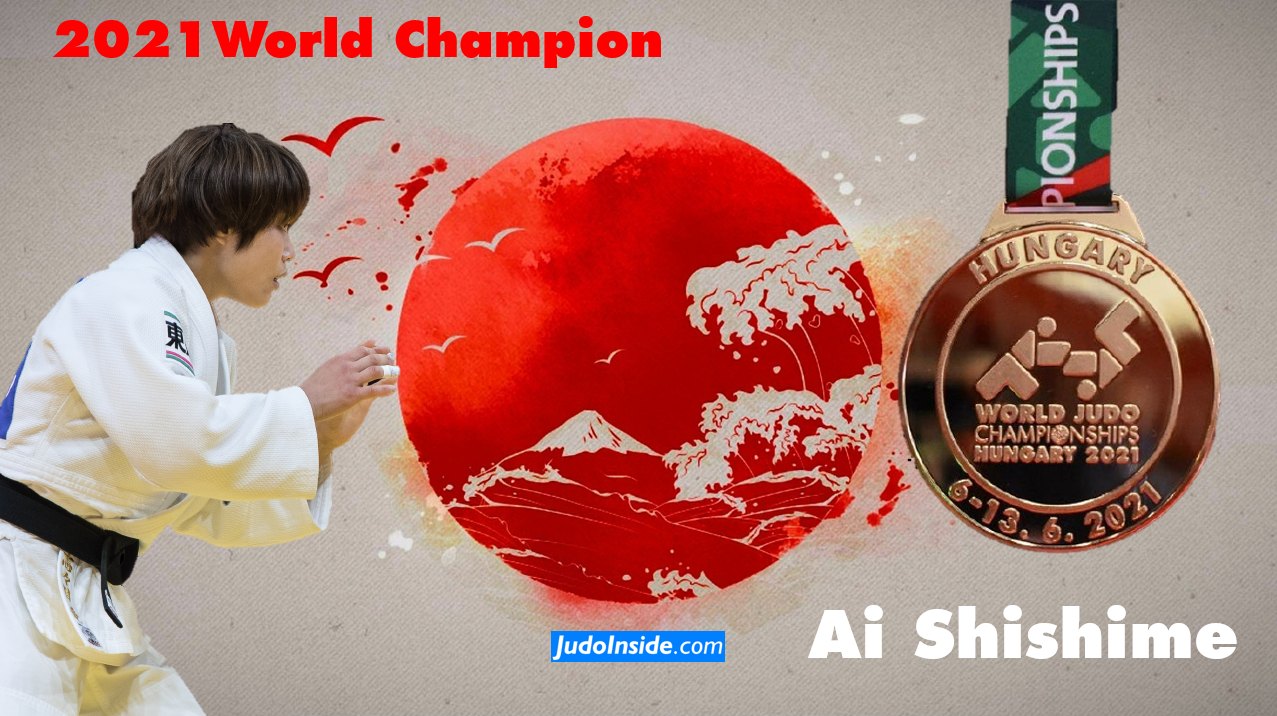 7 Jun 2021 18:50
IJF and JudoInside
JudoInside.com / judo news, results and photos
Japan once more dominated on the second day with two gold medals. Ai Shishime regained her world title, and again in Budapest where she won the first title. In between she took silver and bronze. In the final against Spanish surprise Ana Perez Box Shishime was taking the initiative and was focused on this world championship in Budapest.
The first final of the day saw, without any surprise, Shishime Ai (JPN), already the holder of medals of all metals, facing Ana Perez Box (ESP). Shishime, in pure Japanese style, produced some really nice ne-waza during the morning session as well as simple but well executed tachi-waza techniques, while Ana Perez Box was especially efficient during all her matches.
The first little ashi-waza to make her opponent react, offered a first opportunity to Shishime to conclude on the ground, but Perez Box was vigilant. After one minute and the first storm, Perez Box seemed to have a better understanding of what was happening on the mat and started to regain control with better gripping patterns to match Shishime. Both were penalised with a first shido, followed with a second one for the Spanish finalist a little later. With 50 seconds remaining, Shishime suddenly unleashed the kind of uchi-mata that we love and want to see in a final of a world championships. The execution was almost perfect, with Perez Box landing on her side for an almost perfect score, but Shishime was already there to catch her and pin her down for Ippon. This is nothing less than a second world title for her and the fourth medal at that level of competition. Impressive.
Shishime Ai declared, "I knew there was a lot of expectation for me to win and this meant a lot of pressure, but in the end I always manage to get medals. The funny thing is that I won my first world medal here in Budapest and now again, so that makes this city like my lucky place."
Bronze for Switzerland
In the first bronze medal contest, Joana Ramos (POR), who so far had a fifth place at the World Championships two years ago in Tokyo, as her best result, stepped on to the tatami against Fabienne Kocher (SUI). In Astana in 2015 she earned her best result: a seventh place. When the match started, Ramos knew she had to be careful not to go to the floor too, with Kocher having shown great skills during the morning session. However, the Swiss fighter had to watch Ramos' maki -komi, which was particularly strong earlier in the day. With a ko-soto-gake and a counterattack for no score, Ramos was immediately dangerous, despite the apparent superior power of Kocher, who was close to scoring with Ramos' special technique, the maki-komi, but the Portuguese athlete, knowing perfectly how to apply them, also knew how to escape. No score!
With only one shido to their names, Ramos and Kocher reached the golden score period, where everything remained possible, but Ramos was penalised early with a second shido and then a third, when she blocked her opponent under the belt, which is forbidden. This third shido was synonymous with victory for Fabienne Kocher, who gave a long and true hug to Ramos, before leaving the mat to jump into her coach's arms.
Fabienne Kocher is the second ever medal for a Swiss women since 1997 (Monika Kurath). Kocher proved today to beat all her opponents at the Olympic Games and totally turned the odds for the tickets to Tokyo in her competition with Evelyne Tschopp who wasn't able to get to the quarter finals. This was a changer for Kocher today and the decision will be difficult in Switzerland who to send, but Kocher seems to have a ticket in her hands. The last Swiss judoka was Swiss President Sergei Aschwanden in 2003 (and 2001).
Takes takes Bronze
Third at the European Championships just a few weeks ago, Gefen Primo (ISR) is definitely one of those young competitors, at 21 years old, raising their level at every event on the circuit. This time she had the opportunity to add a medal at the world level, as she faced Diyora Keldiyorova (UZB), winner of the Antalya Grand Slam this season. Primo, who exploited every single opportunity during the first rounds, was facing a specialist of precise drop seoi-nage techniques, who scored from both sides and with traditional or reverse versions, at the beginning of the day. The match started without any kind of observation phase, both competitors immediately imposing a crazy rhythm that only top athletes can withstand. After a little more than two minutes, Keldiyorova was penalised with a first shido for a false attack and with one minute remaining she received a second penalty for the same reason. Keldiyorova seemed to lose a little control of the situation. A third shido came less than thirty seconds later, offering a deserved bronze medal to the young Gefen Primo, who had an immense smile at the end of the bronze medal contest.