Chelsie Giles gives British Judo medal fever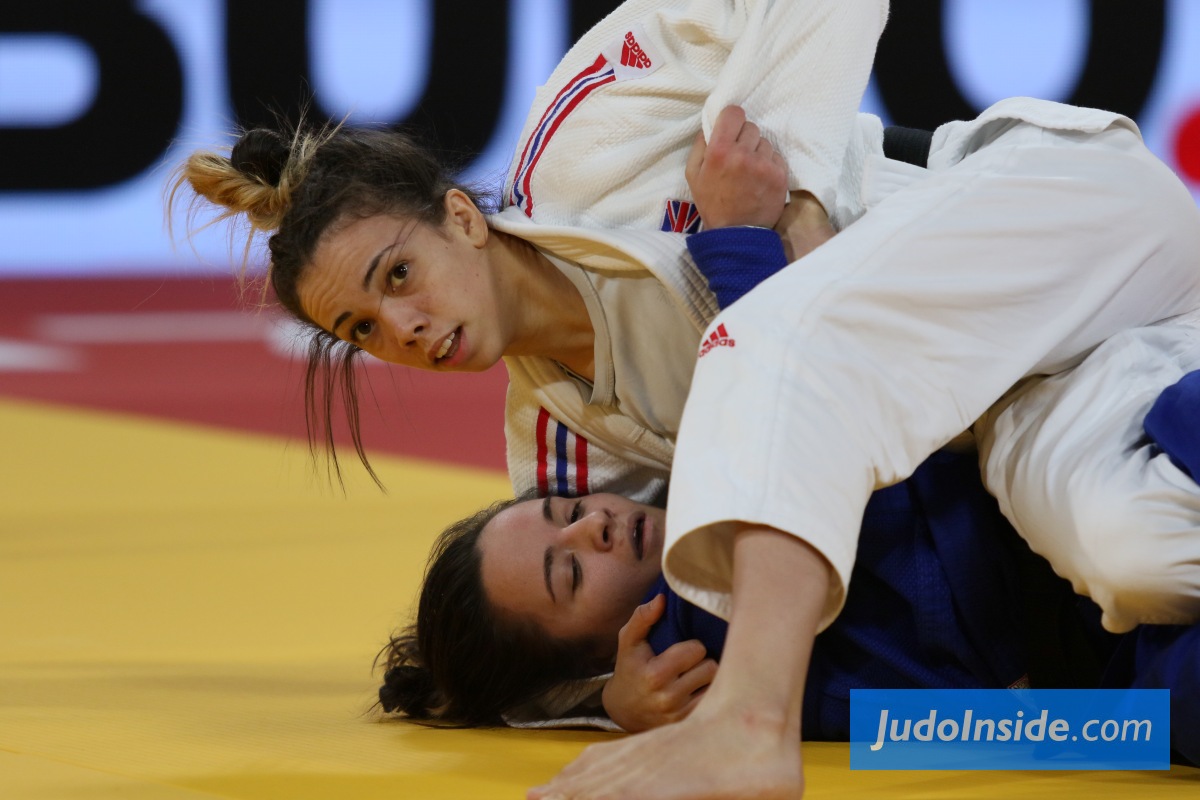 18 Feb 2021 23:00
JudoInside
JudoInside.com / judo news, results and photos
A surprising category U52kg on Thursday in Tel Aviv as three of the top 4 seeds didn't make it to the final block. That is enough of a surprise in itself, but the real shock was watching Great Britain's unseeded Chelsie Giles threw the Olympic champion, Kelmendi (KOS) for ippon in the semi-final. Both athletes were clearly in disbelief but only one had a smile.
Kosovan Olympic champion Kelmendi was beaten in the semi-final of the women's under-52 kilograms class by Britain's Chelsie Giles, who went on to defeat home favourite Gili Cohen in the final.
It was an extraordinary effort for the 24-year-old Giles, whose previous best result at a Grand Slam was bronze in 2019, the same year she won European Games bronze. The Briton put paid to Kelmendi's ambitions by throwing her with an uchi-mata.
In the final, Giles performed an osaekomi pin on home favourite Gili Cohen for 20 seconds, enough to win by ippon and claim a maiden Grand Slam gold in stunning style. "Wow, that was amazing," said the Coventry-born star. "I knew training had gone well since the Masters, but it's only when you step onto the mat and compete that you can really see how that training has gone. "To beat the Olympic champion and win my first Grand Slam gold medal is fantastic. "The confidence I can take from this performance going into my upcoming competitions will enable me to give my best performance later this year in Tokyo."
Giles threw Kelmendi for ippon just over a minute into their contest with the world number five already carrying a shido penalty. She had fought Kelmendi, who won Kosovo's first-ever Olympic medal in 2016, on three prior occasions. In their last two meetings - also Grand Slam semi-finals - the Brit held her own to the four-minute mark but couldn't find a winning breakthrough.
The final was not one to have been predicted at the start of the day, with giant slayer Giles (GBR) meeting home athlete Gili Cohen. Always dominant in her groundwork, Giles held her opponent in sangaku gatame for the mandatory 20 seconds to win by ippon score. A robust performance from Giles saw her finish the day as it began, with a confident and well drilled strategy, backed up by plenty of sharp technique. Sankaku was the winning play, a favourite of Giles' and that is her first grand slam gold and certainly a boost to her placing on the World Ranking List, as we edge closer the Olympic Games.
Giles is not the only one to benefit today, with the Israeli Olympic selection teetering on the edge of the podium. A silver medal for Cohen buys her a ticket to Tokyo, while Primo has to manage a loss bigger than any medal could indicate; on home soil but taking a loss in round one from the same Brit her team-mate lost to in the final.
Bronze medal one was fought hard for, but with the Hungarian taking the win. Pupp (HUN) beat Lopez-Sheriff (ESP) in tachi-waza to reach the World Judo Tour podium. The second was won by Kelmendi, by default, as Van Snick (BEL) was unable to proceed after a small injury earlier in the day.
Giles won the first Grand Slam for Great Britain since Nekoda Davis won in Brasilia in October 2019. It was the 11th Grand Slam gold for Great Britain ever and ninth gold for a woman. Sally Conway was the first in 2015, as only woman she won three Grand Slams.
"This is the best I've seen Chelsie fight," said British Judo performance coach Jamie Johnson.
"We know there is still room for improvement, but this performance can be a springboard to really kickstart the year as we head towards Tokyo.
"Chelsie can take great confident knowing that she beat some world-class fighters and of course beating the Olympic champion was a bonus."