The latest Judo News offered by JudoInside.com
Teddy Riner remains undefeated and helps in organising Rabat
by Mark Pickering - IJF IJF Media Team / International Judo Federation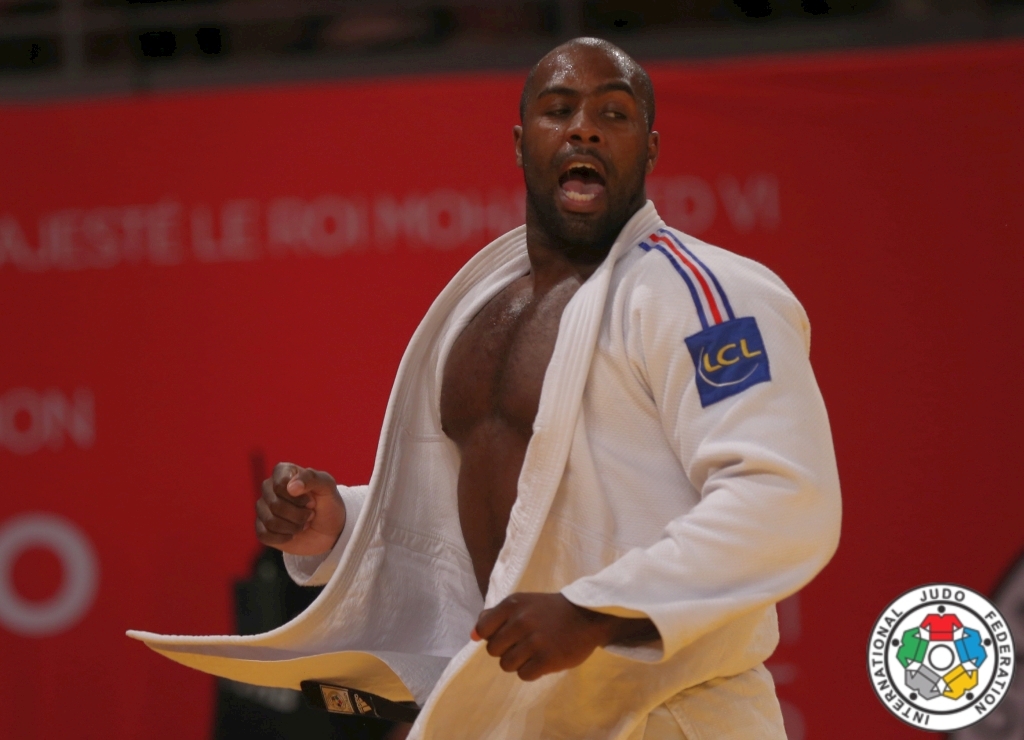 The most awaited category of the Masters in Rabat was the men's heavyweight field with the participation of Teddy Riner, who actively participated in the building of the project to host the Masters in Morocco. With a slight injury two days ago, the French fighter was uncertain at the beginning of the day. But once on the tatami, he showed all his talent to win all his fights with spectacular ippons, the last one being against Shichinohe Ryu (JPN) in the semi-final.
The rematch of the last world championships in Chelyabinsk between the French and the Japanese was particularly interesting. Shichinohe was definitely less 'shy' than in Chelyabinsk, and tried to find a solution against the French giant. But Riner threw him with an extraordinary o-soto-gari for ippon. In the final Riner was opposed to the experienced Bor Barna (HUN).
Having nothing to lose, Bor started the fight with a high rhythm obliging Riner to remain careful on his legs. Bor was then penalised for a defensive position. The two athletes entered the last minute, still with only one shido. But the Hungarian was penalised a second and third time before Teddy RINER could really adjust one powerful attack with a o-soto-gari, for ippon. With no doubt, Riner remains the World Master and Bor has the doubtful record to lose 9 times against the undisputed champion.
The first bronze medal fight opposed Levani Matiashvili (GEO) and Roy Meyer (NED), who was very close to enter the final, being only defeated by Bor with a yuko, a few seconds before the end of the semi-final. After one minute, Matiashvili was penalised with a first shido, giving a tiny advantage to MEYER. Struggling with thethe mixed kumikata of the Dutch, the Georgian judoka who was changing from one side to the other one was penalised a second time. For the remaining time, Meyer just had to control, to launch one or two attacks and he could secure the score to step on the podium.
The second bronze medal fight saw Renat Saidov (RUS) facing Shichinohe Ryu (JPN). The first penalty went to Saidov after less than a minute, copied a few seconds later by Shichinohe who was also penalised for escaping. One more minute, and this time both athletes received a shido for passivity. One false attack later, Saidov received a third penalty, and could not escape longer from receiving the fourth one for hansoku-make and a bronze medal for Shichinohe.
Teddy Riner, who was actively involved within the organisation of the event said: "This was important for our sport to come here in Morocco and to bring back an IJF event on the African soil. We had a fantastic support directly from the King of Morocco, his Highness Mohammed VI. This will really help the development of sport and of judo in Africa but also worldwide. I believe that judo has great values that need to be shared because they can change de society in a positive way."
Related judoka and events
Related Judo Photos
Related Judo Videos
Related Judo News