The latest Judo News offered by JudoInside.com
Distria Krasniqi full of confidence after Budapest gold
by Oon Yeoh of JudoCrazy IJF Gabriela Sabau / International Judo Federation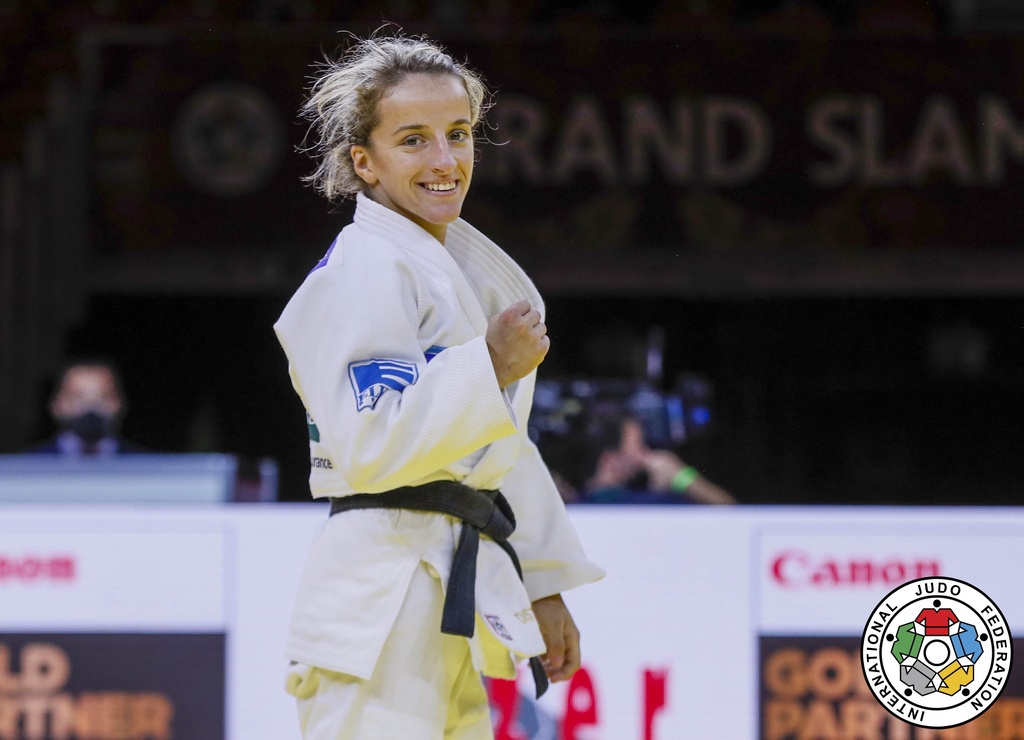 Distria Krasniqi became the winner of the U48kg division at the 2020 Grand Slam in Budapest. Next year the World Championships will be held in the same city, the same venue, this must have been a great feeling to catch another gold medal for the tiny Kosovan who suffers quite a bit from the postponement of the Olympic Games. Krasniqi came from U52kg and is now aiming for Olympic gold next year in Tokyo. Oon Yeoh interview her after her victory.
JIC: How did you feel about the IJF World Tour resuming and how prepared were you for this competition?
A: I was very happy when I heard that the Budapest Grand Slam was confirmed because I had missed fighting for so many months. I came very prepared. I train every day so I am always ready for competition.
JIC: What was the training like for you in the months leading up to this competition?
A: Well, in Kosovo we never stopped training even though we didn't know when the next competition would be. We also went to a few overseas training camps in Croatia and Turkey. That helped a lot.
JIC: What was the atmosphere like at the Budapest Grand Slam?
A: It was very different from the past. Usually in Budapest, you have big crowds and it's a very busy atmosphere. But this time it was very quiet because of the strict rules regarding Covid-19. The day we arrived in Budapest we weren't allowed to meet anybody outside our own contingent. Only after we tested negative, were we allowed to meet others. It was nice catching up with friends and even opponents. I missed seeing other judo people. I miss everything about competition.
JIC: How are you coping with maintaining your weight?
A: I think almost all judo players struggle with weight a little bit and I'm certainly one of them. But I feel good and strong at U48kg so it's worth all that dieting.
JIC: Do you think in a way, it's a blessing in disguise for you to have to drop down to U48kg, because you are stronger than most of your opponents, having come down from U52kg?
A: Honestly, I feel very strong in both categories. But it is a bit different fighting at U48kg because the judo style is different. The players are generally faster and they do a lot of drop techniques. It took a while getting used to it but I'm familiar with this style now. I feel I'm getting better and better with each competition.
JIC: Many people would have liked to see you fight Daria Bilodid, but in this competition she fought in the U52kg category. How do you feel about facing her?
A: Well, I'm not fazed by her if that's what you mean. When I go for a competition, I go there to win. I look forward to fighting her soon.
JIC: Does this win in Budapest give you a big boost in confidence?
A: Of course, each time you win your confidence grows but I should say, I'm generally a confident person regardless. I believe in myself, in my coach and in my training. When it comes to judo, I know what I'm capable of. Even if I should lose sometimes, that doesn't shatter my self-belief. If I don't do so well in one competition, I know I can do better in the next one.
JIC: How did it feel defeating Paula Pareto, the Olympic Champion, in the final?
A: Well, I've fought her many times before. Six times to be exact, and I had beaten her the last five times. But every time we fight, it's a tough battle. She's very strong, very experienced and has great judo skills. I have the utmost respect for her as a judoka and as a person. She's a real role model for me. I hope one day I will be able to attain her kind of achievements.
Get more excusive content of Oon Yeoh via JudoPatreon.
Related judoka and events
Related Judo Photos
Related Judo Videos
Related Judo News