The latest Judo News offered by JudoInside.com
Flavio Canto: The Judo Day of my Life
JudoInside.com / judo news, results and photos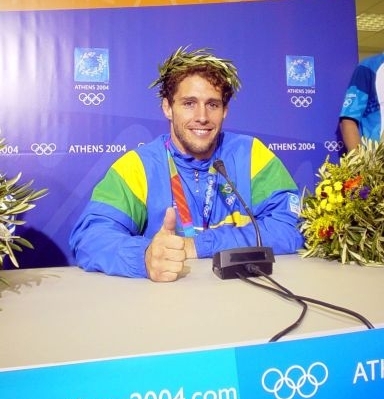 If you dive in the history of judo you find heroic names. Some athletes meant so much for judo, some won big titles, some are just outstanding ambassadors of judo and mean a lot for our sport due to their personality. One of those guys is Flávio Canto, first and foremost a fantastic judoka with a winning personality.
Secondly Flávio Canto a great personality and working hard to make lives better since he founded Instituto Reação promoting human development and social inclusion through sport and education with judo. Flávio is former number one of the IJF World Ranking and we know him so well because of his bronze Olympic medal in Athens. He won gold medals at PanAm Championships and PanAm Games and he competed at various World Championships. He explains that it's not always about winning or losing. When you enter the mat it's about the way you feel, the way you approach the match. Let's call it the flow you're in, your state of mind. Flávio takes us back to the Olympic Games.
Judoinside caught up with judo personality Flávio Canto, to ask him the intriguing question.
"If you could live one day from your competitive judo life again, exactly as it happened, with no changes. Which day would you choose and why?"
Flávio explains his story: The most unforgettable of my judo life happened in Athens in 2004. I didn't win the gold, but the bronze, still it was special and I will tell you why.
2.5 Months before the Games my dad, Luiz Felipe Canto, had a heart attack, so he went into a very tough surgery and did well, and while I was training for the Olympic Games, he was training for his recovery and wanted to be with me there with me at the Games with my whole family. We had a diner after the competition and it all made the most important day of my life. We were celebrating the medal, that my father was alive and we were all together.
I had some good competitions, but this one was quite special. My dad actually spent 3 weeks between heart attack and surgery, so we speak about three months before the Games. It was an Olympic Games but more because of what we had been going through before the Games. So that made it very special.
The flow
In this competition I found the flow in the last three matches. I had a couple of good matches, I won against a Columbian athlete Mario Valles, then I fought Aleksei Budolin of Estonia and in the quarter final and third match against Russian Dmitry Nosov which was a tight match but I lost. After that fight I went back to the warming up area and despite I had already lost, I had the feeling that there was nothing the loose anymore and I fought with no fear. I fought for the repechage against Roberto Meloni of Italy, Kwon Yong-Woo and for bronze against Robert Krawczyk. I mean, I did some research for "the flow" and that was maybe one of the few moments in my life where I felt it. It was quite powerful. I wasn't thinking about results, I was focused. I was in the present moment and fighting, no fear, no thoughts about winning or losing, I was just there. More than most of the moments I ever had.
The night before
The night before at the Games I didn't sleep for a minute and in the morning I had to go to the Olympic Games. But I was a bit older and had some experience of the Olympic Games. I had previous experience with no sleep and still fight well, so I pictured myself the idea and thought that it didn't matter what happened before, but what was about to happen before the fight, during the fight and during the day. I was not concerned of the bad sleep.
All these thoughts don't help at all, it's all about how I fight on that day, that is the only thing that matters.
Obviously if you ask me, I would like to change anything on the day itself, it must be the quarter final because it was a tight match, I did some stupid things and my opponent did well, but it is what it is. Still it was a great experience and a fantastic day with everyone together.
Related judoka and events
Related Judo Photos
Related Judo Videos
Related Judo News

Sarah Seymour (FRA)
24 years
| Result | City | Date |
| --- | --- | --- |
| 7 | Paris | 2020 |
| 1 | Tel Aviv | 2020 |
| 5 | Abu Dhabi | 2019 |
| 3 | Tokyo | 2019 |
| 7 | Ekaterinburg | 2019 |
| Result | City | Date |
| --- | --- | --- |
| 3 | Paris | 2020 |
| 3 | Brasilia | 2019 |
| 1 | Zagreb | 2019 |
| 1 | Budapest | 2019 |
| 7 | Hohhot | 2019 |