The latest Judo News offered by JudoInside.com
Judo in the time of Covid-19: Giorgi Tenadze
JudoCrazy by Oon Yeoh and Irakli Khmelidze IJF Gabriela Sabau / International Judo Federation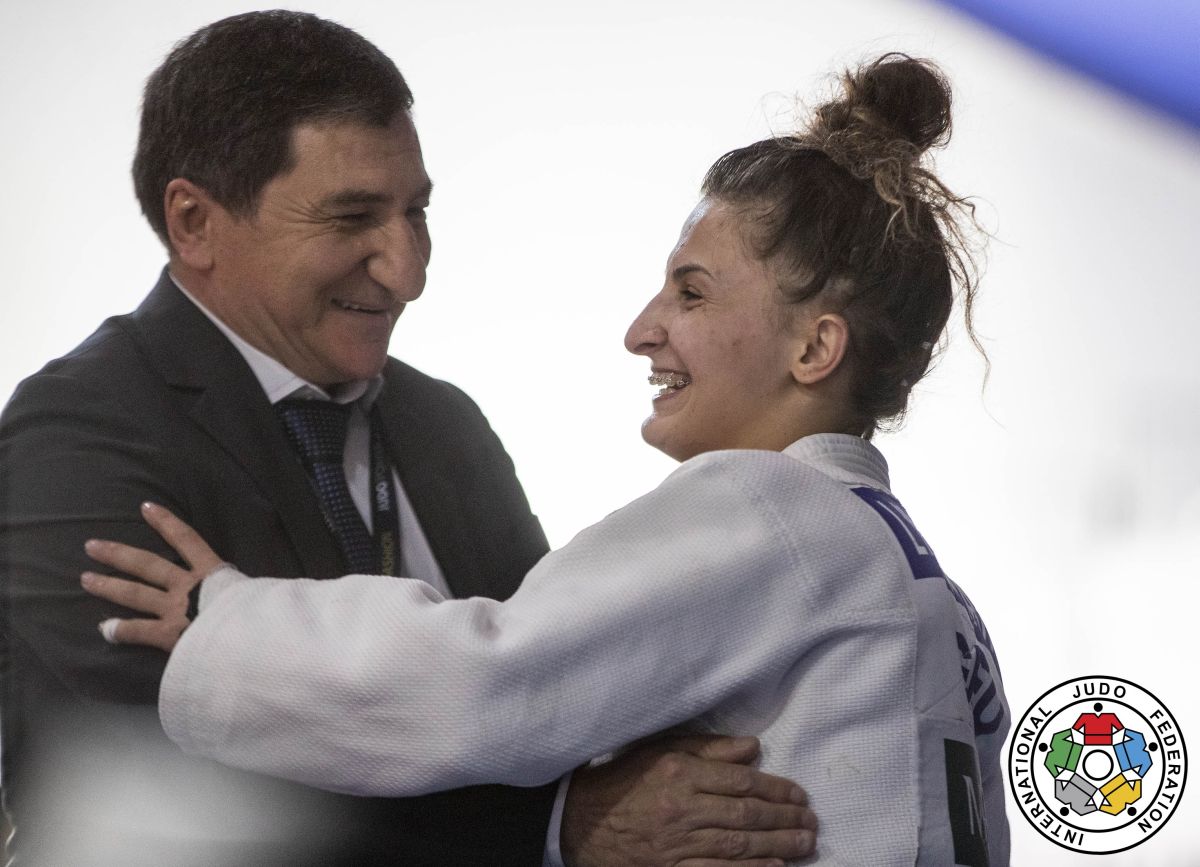 In 1988 Giorgi Tenadze was a surprise taking bronze at the Olympic Games in Seoul. First of all by beating Toshihiko Koga who was the rising man. American Mike Swain was the current World Champion who had beaten Frenchman Marc Alexandre in the world championships final in 1987, the Frenchman became World Champion, but who was Tenadze? Well, he is still very active in judo and master of many top fighters. Oon Yeoh and Irakli Khmelidze interviewed the legend from Gori on the ocassion of his birthday.
JIC: How's the Covid-19 situation in your country?
GT: Unfortunately, this pandemic has touched almost every corner of the world. My country is relatively less affected but still we have been in lock-down for more than two months already. I am glad to see that things are starting to get better in many places and in due time we can get back to doing judo.
JIC: Can you tell us a bit about your judo school?
GT: My brother, Anzor, and I decided to found the Tenadze judo school in our native city of Gori in 2002. A lot of famous judokas got their start there.
JIC: What about Golden Gori team?
GT: Golden Gori is a club team established in 2018 by the City Hall of Gori. Its judokas are Vazha Margvelashvili, Lasha Shavdatuashvili, Luka Maisuradze, Beka Gviniashvili, Giorgi Papunashvili and Ushangi Kokauri. All of them are students of the Tenadze school.
JIC: As I understand it, the two major club teams, Golden Gori and Fighter Tblisi, were formed for participation in European club tournaments. Is that correct?
GT: Basically yes.
JIC: As for other judo dojos around the country, are those established by the government?
GT: There are more than 60 such facilities around the country designed to build up young talent. Generally speaking, to run a sports facility requires a lot of money and there's not very much profit to be gained. So, judo dojos are usually supported by the government and the Georgian Judo Federation. In many cases, it's the federation itself that opens new dojos, supplying the tatami, judogis and so on.
JIC: Are top players funded?
GT: Mostly those who can get good results are funded. Judo funding in Georgia, like in many other countries, is very results-oriented.
JIC: In some countries, like the USA, judo is largely a recreational sport where most of the adults doing it are not competitors. I don't suppose it's like that in Georgia?
GT: In Georgia, everyone competes. Every teen and adult who does judo, does it for one purpose: To become a professional athlete. And their aim is to become a successful international competitor.
JIC: So, nobody really does it just for fun?
GT: At the federation's Judo Academy in Tblisi, there is a special class just for recreation. So, if some adults want to come do judo for fun, it's possible, but to be honest recreational judo is really not common in Georgia.
JIC: How did you get started in judo?
GT: My brother, Anzor, who is two years younger than me, started first, at the age of 12.
When my parents took him to judo class, I would follow. After two months of sitting there,
watching my brother train, the sensei came to me and asked, "Son, since you are here every day anyway, why don't you take up judo as well?" I was so excited to be invited to join the class because during those two months of watching my brother train, I had fallen in love with judo.
JIC: Although you are a Georgian, you competed during the era of the Soviet Union. How did you end up being on the national team?
GT: To represent the Soviet Union in international competitions you had to be the national champion and I was the -71kg national champion three times.
JIC: Were you training in Georgia or Russia?
GT: I was based in Georgia but when I was selected for the national team, I had to go for training sessions in various places in the Soviet Union.
JIC: How was training like back then compared to now?
GT: We trained a lot, up to three times a day but in those days, trainings were more pattern-based, repetitive and monotonous. We were doing the same thing over and over again. Today's just is more advanced and complex so you can't just do repetitive training anymore. You have to have more innovation and variety in your training program.
JIC: If you were to ask people who beat Toshihiko Koga in the Olympics, most people would probably say it was Djamel Bouras of France at the 1996 Atlanta Olympics. What many might not realize is that you had beaten a young Koga at the 1988 Seoul Olympics. Did you know who Koga was at the time?
GT: Koga was a relative newcomer to the international scene back then but he wasn't an unknown. He had won a bronze medal at the 1987 World Championships in Essen and the year before that, he was the Junior World Champion.
JIC: You effectively nullified his grips the entire match and scored twice against him, both times with kosoto-gari. Did you have a specific game plan going into the match?
GT: I did not make any special preparations in case I might meet him in the Olympics. You have to understand, by that time I was already 26 years old and already quite an experienced fighter, so I knew how to deal with his style of gripping. As for my throwing him twice, I think either I was lucky or he was unlucky on that day. Anything can happen in judo. In subsequent years, Koga proved to be an absolutely brilliant fighter. It's always nice to see attractive, high-quality judo and Koga was the best at that. He gave us many unforgettable moments.
JIC: Prior to that match, while waiting mat-side to be called onto the tatami, you could be seen relaxed and smiling. Most people would be nervous before fighting a Japanese player. Were you always that calm before your matches?
GT: Was I smiling? To be honest, I do not recall but what I can say is that I usually was not nervous or stressed before my matches.
JIC: Georgian judo has a distinctive style, especially with the gripping. Do you think the Georgian style of judo, which is heavily influenced by Chidaoba, your traditional form of wrestling, gives Georgian players the edge in international competitions?
GT: We realize that it is very difficult to beat European and Japanese fighters using only traditional-style judo techniques. We need to add something extraordinary to our arsenal if we want to beat them. But I should say that these days, judo rules are changing all the time so sometimes what is legal today might be illegal tomorrow. We have to take care not to be too fixated on a particular style of play. But in general, the Georgian style does give us an advantage precisely because it is so unique.
JIC: You're now the national women's coach. Can you tell us how it was like building up a women's team from scratch?
GT: Before I answer that, I think it's worth looking at how long it took my brother and me to build up our top male players like Lasha Shavdatuashvili, Beka Gviniashvili, Vazha Margvelashvili, Nugzar Tatalashvili, Giorgi Papunashvili, Ushangi Kokauri and others. It took 10 years, and this is against a backdrop of more than 60 years of tradition in men's judo. Women's judo didn't even exist in Georgia until recently. In 2009, the federation asked me to help train up the women's judo team. At that time there wasn't even a real women's team to speak of, only a symbolic team made up of athletic girls from other sports. So now, you understand what kind of situation we had to deal with back then. Fortunately, I had my assistant coach, Kakha Motsradze by my side to help me with the program. Without his hard work, none of this would be possible today.
JIC: How is training girls different from training guys?
GT: The basic principles are the same but there needs to be some slight nuances in the methodical approach to each. In general, girls are more obedient and they will do the tasks you give them. They will follow the program diligently. Guys tend to be a bit more individualistic, so you have to know how to deal with that.
JIC: Do the girls have enough randori partners?
GT: Unfortunately, there still aren't enough girls at the senior level. Of course, they could practice with the boys, and they do, but doing too much of that is also not a good thing. Firstly, the guys tend to do a more brutal, harsher form of wrestling and there is always a chance of the girls getting injured. But also, girls' bodies and guys' bodies have different centers of gravity so if they get too used to wrestling with guys, they may develop habits that are not suitable for fighting other girls in competition.
JIC: So, what can you do?
GT: We work with what we've got. In the long run, we need to get more girls to do judo!
JIC: What are your short-term and long-term goals for your team?
GT: The short-term goal is to qualify my players for the Olympics. The long-term goal is for them to win medals at the Olympics. This Covid-19 pandemic has disrupted our program somewhat but this is only temporary.
JIC: What is your over-arching coaching philosophy?
GT: You must accept that there's no one-size-fits-all in judo. As a coach, you must understand intimately the character of your students and deal with each accordingly. It cannot be the same approach for everyone. Some need a more friendly approach while some respond better to a stricter approach. Sometimes you need to praise them and sometimes you need to scold them, depending on the situation. You have to establish an ongoing and trusting coach-student relationship in order for both to grow as judokas and as people.
Become a JudoCrazy Patron and read all their stories here
Related judoka and events
Related Judo Photos
Related Judo Videos
Related Judo News

Lyudmyla Pliieva (UKR)
34 years
| Result | City | Date |
| --- | --- | --- |
| 1 | Budapest | 23 Oct |
| 2 | Düsseldorf | 21 Feb |
| 1 | Budapest | 2019 |
| 2 | Qingdao | 2019 |
| 1 | Osaka | 2019 |
| Result | City | Date |
| --- | --- | --- |
| 1 | Düsseldorf | 21 Feb |
| 2 | Osaka | 2019 |
| 1 | Tokyo | 2019 |
| 1 | Tokyo | 2019 |
| 1 | Hohhot | 2019 |