The latest Judo News offered by JudoInside.com
Judo in the time of Covid-19: Emilia Kanerva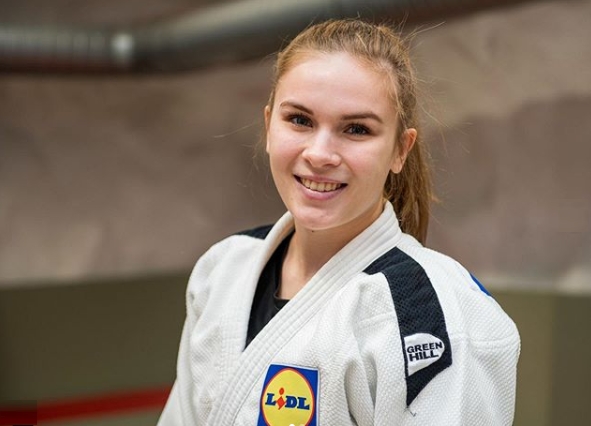 We previously interviewed Martti Puumalainen from Finland. Now we dive into the current world of Emilia Kanerva. She is renowned as the biggest talent ever in Finland but now as a senior it's not so easy to get traction, judo isn't mathematics. Getting ill or a coronacrisis doesn't help either. JudoCrazy's Oon Yeoh talked to Emilia.
JIC: Are you able to do any judo training with all the judo clubs closed?
EK: I'm lucky that we have a big yard at home and a lot of equipment so I am able do gym work, circuit training and aerobics at home.
JIC: Besides training what else are you doing during lock-down?
EK: I've been doing more school work now than usual and I also help my family with yard work. I told you we have a big yard!
JIC: What are you studying?
EK: I'm a student at the University of Helsinki where I study mathematics.
JIC: Mathematics! But why?
EK: Ha… ha… everybody seems to hate maths but for me it's always been a subject I'm most comfortable with. I'm specializing in econometrics. It's a field I want to eventually work in.
JIC: Do you consider yourself to be a professional athlete?
EK: Yes, I do because even though I'm also a student, my main focus right now is judo.
JIC: How old were you when you started judo?
EK: I started when I was five years old, encouraged by my father.
JIC: Is your dad a judoka? Why did he want you to do judo?
EK: No, he's actually into karate but he wanted me to do some martial arts and felt that judo was more suitable for a young child.
JIC: Did you like judo straight away?
EK: I was really shy as a kid and was afraid to go to trainings but after a while I made friends in judo class and everything was better. But ultimately, it was competition that got me hooked.
JIC: What do you like about competition?
EK: I'm just a competitive person and even when I was young, I went from one competition to another. Later, when I got the chance to compete internationally, I jumped at it because it was a chance to do more competitions, and an opportunity to challenge myself more too.
JIC: Which judo club do you belong to?
EK: I'm with Kirkkonummi Judo Club because I live in Kirkkonummi, a municipality in Southern Finland. I have lived here my whole life and it was just natural to join the judo club here.
JIC: In Finland, do top judokas train at their own club or is there a national training centre?
EK: We don't have so many top players here in Finland so it would be impossible if everybody just trained at their own clubs. We also don't have a national training centre. What judokas here do is train together at each other's clubs. My club is rather small so for competitive training, I visit bigger clubs. Kirkkonummi is about 40 minutes from Helsinki, so it involves a lot of driving every day but it's necessary to get the right type of training for competition. At my own club, I would train with my little brother.
JIC: How often do you train and what type of training do you do?
EK: I usually train in judo five to seven times a week and about the same number of times for gym and running. So, it works out to about twice a day. One judo session and one fitness session.
JIC: Do you watch judo videos to analyze your opponents?
EK: A bit but not much because it's very easy for me to end up over-analyzing things and that makes it hard for me to concentrate on what I should be doing for my own judo. So, when it comes to analyzing opponents, my coach would usually do it and give me pointers on what I should look out for.
JIC: Are there any players you admire?
EK: I admire a lot of players but mostly those from small countries yet managed to reach the top — because I come from a small country!
JIC: Do you have enough girls your level to train with?
EK: There are a couple of good girls to train with but for randoris, I normally train with the guys. Fortunately, they don't mind training with me.
JIC: Do you sometimes wish you were from a strong judo nation where there are lots of judokas to train with?
EK: Yes, of course sometimes I do wish for that because training would be so much easier. But there are many ways to become a strong judoka and having lots of training partners is just one of the factors. In Finland I have good coaches and a strong support group around me, so I'm very thankful for that.
JIC: Do you fund your own judo or do you get sponsorship from the government or corporate sponsors?
EK: I do get some funding from the government and the judo federation has been supportive. I also have couple sponsors, like Lidl for example, but mostly I have to fund my judo myself.
JIC: You have been actively competing since you were a youth. Do you sometimes feel that you have made too many sacrifices in order to be a top athlete?
EK: Of course I have to make some sacrifices because I am training and competing a lot but I have never regretted any of that. I don't have so much free time to do other things but that's a choice I've made in order to pursue something I love. I get so much more out of judo than any sacrifices I've had to make.
JIC: What do your parents think about you competing internationally?
EK: They are really supportive and they attend many of my competitions. Before I was selected to the national team my dad actually took me to some smaller international competitions just so I could get more exposure.
JIC: You recently became a senior. How do you find the transition from junior to senior to be?
EK: The transition is hard because the level is so much higher and there are so many tough players. Also, the competition calendar is busier and it takes time to use to it.
JIC: What would you consider to be your breakthrough result as a senior?
EK: My best results so far, as a senior, is fifth place in the European Open in Odivelas, Lisbon.
JIC: Competition means sometimes winning and sometimes losing. How well do you deal with defeat?
EK: I'm very competitive so I hate losing more than anything. Whenever I lose, I need some time to myself, to go over the fight and to think about what I can do better next time.
JIC: How about when you win?
EK: Oh, winning is the best feeling. I consider it a reward for my hard work.
JIC: I heard you recently had appendicitis?
EK: Yes, I got it at the end of October, last year, just a week before the U23 Europeans. I felt a sharp pain in my stomach on a Wednesday morning but I didn't think it was anything serious so I continued with training. The pain got worse in the night and I also got fever the following morning, so I decided to see a doctor. Even then, I didn't think it was anything serious so I drove to the hospital by myself. Obviously, I wasn't thinking clearly and had only the upcoming Europeans on my mind. At the hospital they found out I had appendicitis and took me to surgery pretty soon after that.
JIC: How long did it take to heal?
EK: It took only one month to heal but because of that I couldn't participate in the Europeans and that was hard for me to take. I was in good shape and I felt I was in contention for a medal. But as with the Covid-19 situation, we have to always prioritize health.
JIC: Before this you had not qualified for the Olympics. Now that it has been postponed for a year, is this a new opportunity for you?
EK: The 2020 Olympics would have been too soon for me to try to qualify since I had just recently changed to seniors but with the postponement, maybe I have a chance.
JIC: What does judo mean to you?
EK: Judo is the most important thing in my life and everything I do revolves around it.
Become a JudoCrazy Patron and read all their stories here
Related judoka and events
Related Judo Photos
Related Judo News