The latest Judo News offered by JudoInside.com
Judo in the time of Covid-19: Kathy Hubble
JudoCrazy by Oon Yeoh Rafal Burza - IBSA Sport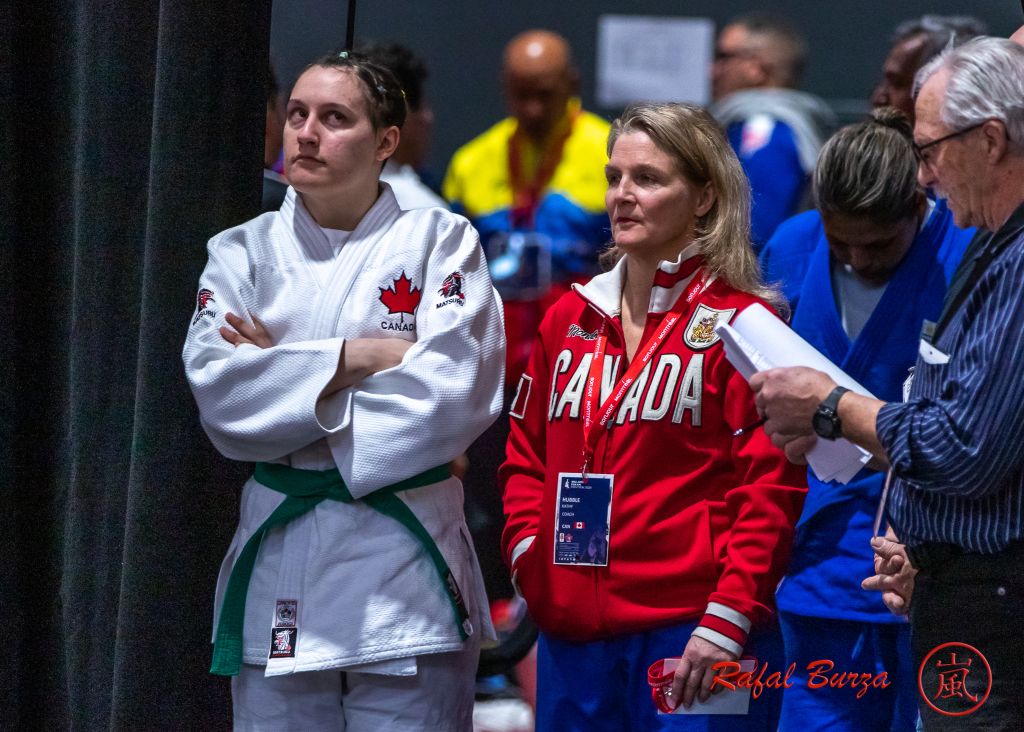 Canadian judoka Kathy Hubble was multiple Canadian champion. She won medals at the Panam Games and participated at the World Championships. After her career, 24 years later she came back in judo and won the World title for Veterans in 2013 in Abu Dhabi. Oon Yeoh of JudoCrazy asked her about her stunt career and much more. Nowadays she is also involved in judo for blind people as a coach for the Canadian team.
JIC: You were a six-time national champion in the 80s (3x junior & 3x senior) and you competed in two World Championships before you abruptly retired at the age of 19! Why give up so early?
KH: I was a very young teenager when I started traveling the world, cutting weight, doing training camps in different countries and so on. I suppose I just got burnt out. I quit in 1988 while my teammates all went on to compete in the 1992 Barcelona Olympics, the first time the women's event was included in the Games.
JIC: Didn't you want to go to the Olympics too?
KH: Well, at the time I wanted to get serious about my budding stunt career.
JIC: How did you get into stunt work?
KH: Through judo actually! My first job was in a movie called The Stepfather, starring, Terry O'Quinn. I played a girl who got beat up by the lead actress. There was a big call-out to all the dojos in Vancouver. I went for it and got the job. I couldn't believe what they paid me for just three days of work. I thought to myself, this is a pretty good line of work to be in!
JIC: Who are some of the famous people you've worked with?
KH: I've stunt doubled for Hilary Duff, Marlee Maitlin, Rebel Wilson and Roseanne Barr, among others. I've also worked in films starring Jackie Chan, Christian Slater, John Cena, Ben Stiller, Will Ferrell, Ben Affleck, Arnold Shwarzenegger, John Leguizamo, etc. There's a video on YouTube with highlights from my stunt career.
JIC: Which activity gave you more injuries, judo or stunt work?
KH: Probably judo. Well, I take that back… maybe about the same amount of injuries for both. Nothing serious for either one though.
JIC: What made you return to judo after all this while?
KH: I had been away from judo for about 25 years and had by then established a career in stunt work, when a challenge came my way from an old teammate. She wanted to hold an "80's Ladies" reunion but required each of us to do at least one obligatory judo practice before we attended the reunion. I donned my judogi for the first time in literally a quarter of a century, and all my love for judo came rushing back!
JIC: So, it didn't turn out to be a one-off session for you?
KH: Hardly. I plunged back into judo full-force. That year I got my 3rd Dan, became an instructor at my local club and took part in 12 competitions, in Canada and the USA. It culminated in the 2013 Veteran's World Championships in Abu Dhabi, where I managed to win gold for my category.
JIC: So can we say it's much better the second time around?
KH: Yes, very much so. The difference is I was doing judo for the pure joy of it! I was training purely for myself, not for parents, coaches or association, and without any expectations of going to the Olympics or anything like that. My involvement in judo this time around was completely driven by passion.
JIC: Do you still compete in veterans events?
KH: I didn't do any more judo competitions after the 2013 Worlds in Abu Dhabi because I had a shoulder surgery shortly after that. I continue to teach judo but for competitions I do BJJ.
JIC: What do you find to be the main difference between BJJ and judo?
KH: Besides the obvious point that BJJ tends to focus on groundwork, I'd say the pace is really different. In BJJ, I have the chance to try to predict what the opponent is going to do and to figure out ways to combat it. In judo, we have like ¼ of a second to explode and make a move work.
JIC: BJJ has overtaken judo in popularity. Why do you think that is so?
KH: There are many reasons but I think mainly they are better at marketing. Also, many BJJ clubs are run as businesses while many judo clubs are not. I would personally like to see a lot more people joining local judo clubs. We need to pay attention to marketing and strategize our future as a sport otherwise we will continue losing ground to BJJ.
JIC: What motivates you to do the things you do?
KH: I like making an impact on the world in some small way. Even if it's just with my judo students by making them better people in society; or through my Never-Tie Belt Project, so kids don't have to worry about tying their belts and can focus on enjoying their judo. If my YouTube videos are useful to some people, that's something fulfilling to me.
JIC: What else haven't you done that you would love to do?
KH: Maybe meet Neil Adams. His wife is a Canadian judoka. I've never met her in person because she came onto the scene after I had retired from competition but we are in contact via Messenger. It would be great to fly out to England after the lock-down is lifted, and do a workout with them at their new dojo.
JIC: Speaking of the Covid-19 situation, how has it affected you?
KH: I had to shut down the judo club, my stunt business has ceased, there's no business to be done for Never-Tie-Belt because there's no judo going on right now, and there's no BJJ competitions to participate in either. So everything's pretty much come to a standstill. I still teach judo using the Zoom platform but its not the same. I even made a grappling dummy so I could try out some moves on it but it's not the same. I miss judo and BJJ not just physically but also socially because many of my friends are in martial arts circles. Well, at least there's the phone and Zoom to allow us to keep in touch with one another. Otherwise, I think I'd go nuts.
JIC: How do you think Canadian judo clubs will weather the shut-down?
KH: Even when the lock-down is lifted, I expect a lot of people won't be re-joining their judo clubs straight away because they'd still be worried about infection. Realistically, I think most clubs will see about half of their members showing up. It'll be tough to make ends meet with that kind of drop in membership. I foresee a lot of judo clubs in Canada not making it, to be honest.
JIC: Any words for other judokas out there stuck in a lock-down?
KH: Use this time to brush you on your judo terminology, study judo history, practice some uchikomi with bands or do some shadow uchikomi. And try to go for a walk each time you feel like walking to the fridge or we will all be three weight categories heavier by the time this is all over!
Related judoka and events
Related Judo Photos
Related Judo Videos
Michaela Baschin (GER)
36 years
| Result | City | Date |
| --- | --- | --- |
| 1 | Brasilia | 2019 |
| 1 | Montreal | 2019 |
| 1 | Marrakech | 2017 |
| 1 | Zagreb | 2017 |
| 3 | Budapest | 2017 |
| Result | City | Date |
| --- | --- | --- |
| 1 | Budapest | 2019 |
| 2 | Qingdao | 2019 |
| 3 | Brasilia | 2019 |
| 1 | Tokyo | 2019 |
| 3 | Montreal | 2019 |