The latest Judo News offered by JudoInside.com
Judo in the time of Covid-19: Distria Krasniqi
JudoCrazy by Oon Yeoh IJF Emanuele Di Feliciantonio / International Judo Federation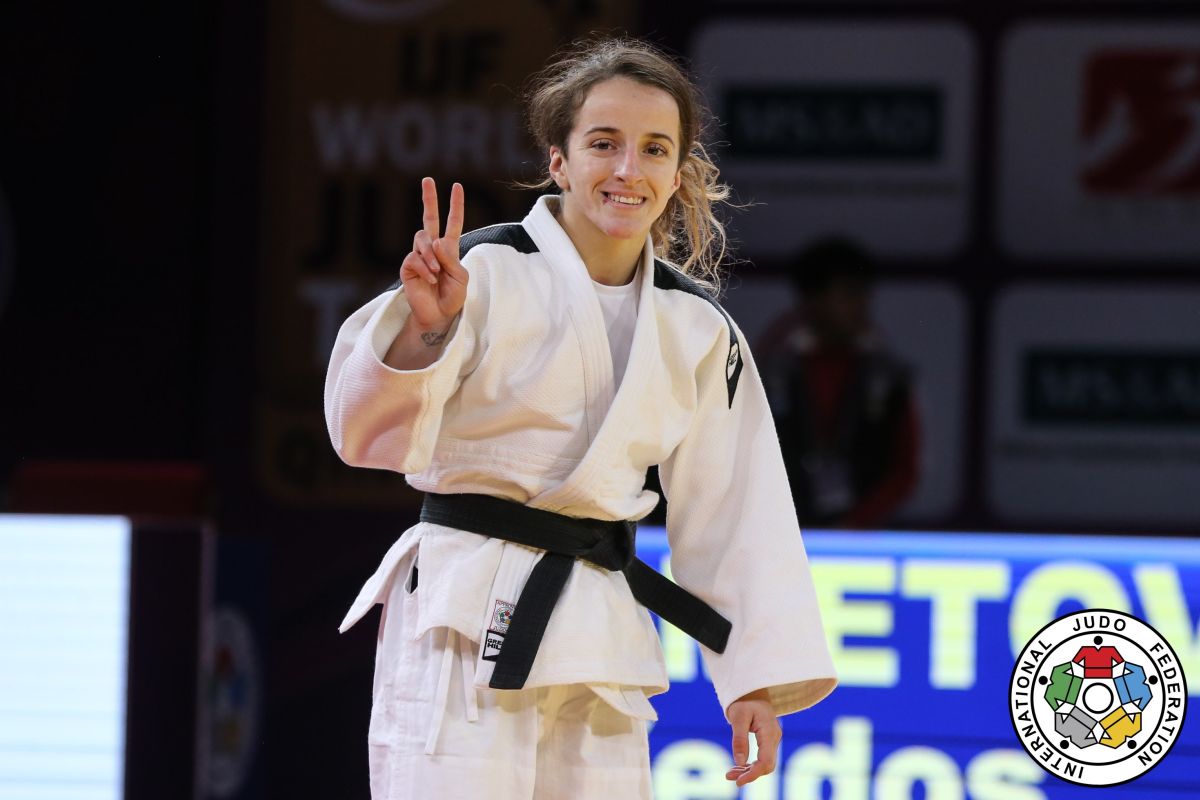 World bronze medallist Distria Krasniqi of Kosovo is surprised all of us going back from U52kg to U48kg. She is one of the leading ladies in this category. The Junior World Champion of 2015 was a promise from the start of her career. Driton Kuka made a diamond of "Disi" who has other talents too and is very musical. Oon Yeoh of JudoCrazy asked her about all her skills which is music in our ears.
JIC: Does the name Distria have a meaning?
DK: It's the name of a historic Romanian princess from Albania who did a lot for Albanians. My grandfather was an historian and it was his idea for me to have this name. But all my friends just call me Disi.
JIC: You're Kelmendi's training partner but she's older than you so she achieved international success before you did. When did you start giving her a hard time in randori?
DK: I would say when I reached junior level my judo was strong enough for me to start fighting with the seniors. So, it was around that time I began to give Kelmendi some good fights.
JIC: Nora Gjakova said she doesn't do much randori with Kelmendi anymore because it started to become a bit too aggressive. Is this the case with you and Kelmendi too?
DK: No, we don't have this problem. We randori every session, sometimes more than once. We fight each other hard but it never gets overly aggressive. This was the case even when I was competing in the same weight category as her.
JIC: Has your relationship with Kelmendi changed over the years? At one time you were her junior but now you are a senior competitor as well. Has this changed the dynamic between the two of you?
DK: No, I don't think anything has changed. Our relationship is a good one, based on mutual respect. It's the same as it's always been, since the beginning.
JIC: In mid-2018, you switched weight categories down to -48kg. What was the thinking behind this move?
DK: I didn't get to go to the 2016 Rio Olympic Games at -52kg and I didn't want to risk that happening again. So, after discussions with my coach, it was decided that going down to -48kg was the right thing for me to do.
JIC: Is cutting down to -48kg difficult for you?
DK: It's not easy but it's totally the right decision. At first, I didn't do so well in competitions but after I got used to the new weight, I started getting good results.
JIC: Is there a difference in the way -48kg players and -52kg players fight?
DK: Yeah, it's a little bit different. The -48kg girls are generally faster and they do a lot more drop techniques than the -52kg girls. It took some getting used to but now I'm totally comfortable fighting -48kg opponents.
JIC: You fought at -52kg in the 2020 Paris Grand Slam. People were speculating why, especially since Kelmendi had not competed in the 2019 Qingdao World Masters and was not on the mat in Paris. Can you clear the air as to why you moved up again?
DK: I think people read too much into it. Fighting in Paris at -52kg doesn't mean that I am moving back up again. It has nothing to do with Kelmendi or me trying to take points at -52kg. I have qualified for the Olympics at -48kg and that is the weight category that I will be fighting at in Tokyo next year. In Paris, I had decided to fight at -52kg because I didn't want to lose weight for it, and I had already amassed enough points at -48kg. That's all there is to it.
JIC: You had won the 2019 Qingdao World Masters and 2020 Paris Grand Slam back-to-back. These are both very prestigious events. Do you feel the postponement of the Olympics has disrupted your momentum?
DK: Towards the end of 2019 and the beginning of 2020 I was in really good shape. So, when I heard about the postponement of the Olympics, I was disappointed because I had been preparing so much for that day. But seeing how this virus has affected the world, it's really the only decision that could have been made.
JIC: Do you feel perhaps an extra year of training might not be such a bad thing after all?
DK: Well, it means one more year of cutting weight, but on the whole I do see good things to come out of it. I believe this extra year will allow me to become even better prepared mentally, physically and technically for the Olympics. So, yeah, I will be fully ready for Tokyo 2021!
JIC: Daria Bilodid is obviously the person to beat at -48kg. You've fought her twice. The first time was at the 2018 Zagreb Grand Prix where she threw you twice with ouchi-gari. She had a harder time at the 2018 Baku World Championships, where she threw you again with an ouchi, but this time it was barely a waza-ari. Do you believe you've figured out her judo by now?
DK: It's true that I lost twice to her but this was in 2018, when I had just shifted down to -48kg. It's been almost two years since I last fought her, and now, I'm very used to my new weight class. I think it will be a very different outcome the next time I meet her on the tatami.
JIC: She's very tall, with a long reach, but in Paris, she had a hard time with Shirine Boukli, precisely because of the French girl's intense gripping. Do you think the key to defeating her is in the grips?
DK: Gripping is important and I'd say one of the best things about my judo is my grips. I dare say I can outgrip anyone in my category, and that includes Bilodid. But, of course, to beat her I have to do more than just grip fight. There are more things I'm working on improving and now, I have the time to do it.
JIC: Speaking of more time, are you enjoying the less intense training sessions during quarantine?
DK: I think this different mode of training is a blessing in disguise and something I actually needed. There's no competition in sight, so I'm able to focus more on improving my judo rather than rushing to prepare for competitions all the time.
JIC: You have a European medal, a World medal and lots of IJF World Tour medals. How important is an Olympic medal to you?
DK: Of course, having an Olympic medal is a dream for all judokas, and it is for me too. I have a strong belief in my coach and myself, so I think I will soon be able to add this medal to my collection!
JIC: How many Olympics do you think you will go for?
DK: I guess that will depend on whether I get any serious injuries along the way. To date, I've not had any, so if that keeps up, I'd like to go for three Olympics.
JIC: When you enter into a match, do you have a game plan or do you go more by instinct?
DK: I always go into a fight fully prepared. I know all my opponents well, I know how they fight, how they grip and so on. So, I always have a strategy on how to fight them.
JIC: You have a beautiful osoto-gari and uchimata. How did you develop these techniques?
DK: I learned them from my coach, Driton Kuka. I literally grew up in the dojo, since I was seven years old until now. My coach does beautiful judo, so that's what we tried to achieve too.
JIC: Is there any technique you wished you could do but find it hard to master?
DK: I think ura-nage is a very beautiful and attractive throw to watch. I've always enjoyed seeing it happen and I've even tried it on occasions during training but I was never able to do it well. Perhaps this is something I should work on for the future.
JIC: What would you say are your strongest qualities as an athlete?
DK: I'm aggressive and I fight to win. I never doubt my abilities. I have a winner's mindset.
JIC: Many people only see you as an aggressive fighter on the tatami but few know what you are like off the mat. Can you name three qualities that describe you best?
DK: Calm, kind and positive.
JIC: Can you tell us something about yourself that would probably surprise people who don't know you?
DK: When I was younger, I was a dancer. I also liked to sing and I actually took piano lessons for four years. This might surprise a lot of people because they figure me to be someone musical.
JIC: Do you have any other interests besides judo?
DK: These days, no. I don't have the time to do anything else besides judo. I'm very focused on training, competitions, analysing my opponents, and so on. Judo is really the only thing I do nowadays.
JIC: But during this lock-down you have more time. What do you do when you're not training?
DK: When I finish training, I watch some movies, read books, draw a little, and I'm learning to play the guitar!
JIC: Are there times when you get sick of judo?
DK: I love judo too much to ever tire of it no matter how tough the training is or what the circumstances may be. I do judo with passion and a lot of love. Judo has made me a stronger person and it's allowed me to see the world and learn new things. Quite frankly, I can't imagine my life — now and in the future — without judo in it.
JIC: It's still a long time away, but what do you hope to do after your competition career is over?
DK: One thing's for certain, I'd still be involved in judo in some capacity, probably as a coach. And, of course, have a family and kids.
JIC: Are you a very family-oriented person?
DK: Yes, I'm happiest when I get to spend time with my family.
JIC: What would you like to say to other judokas who are in lock-down right now?
DK: First of all, stay home and stay safe. Secondly, try to look at things positively. Lastly, I hope to see you guys doing judo again, soon!
Become a JudoCrazy Patron and read all their stories here
The U48kg category will take place at the first day of the Olympic Games at 24 July 2021.
Related judoka and events
Related Judo Photos
Related Judo Videos
Related Judo News

Shahnaz Asgarova (AZE)
18 years
| Result | City | Date |
| --- | --- | --- |
| 1 | Budapest | 23 Oct |
| 2 | Düsseldorf | 21 Feb |
| 1 | Budapest | 2019 |
| 2 | Qingdao | 2019 |
| 1 | Osaka | 2019 |
| Result | City | Date |
| --- | --- | --- |
| 1 | Düsseldorf | 21 Feb |
| 2 | Osaka | 2019 |
| 1 | Tokyo | 2019 |
| 1 | Tokyo | 2019 |
| 1 | Hohhot | 2019 |