The latest Judo News offered by JudoInside.com
Judo in the time of Covid-19: Rok Draksic
JudoCrazy by Oon Yeoh JudoInside.com / judo news, results and photos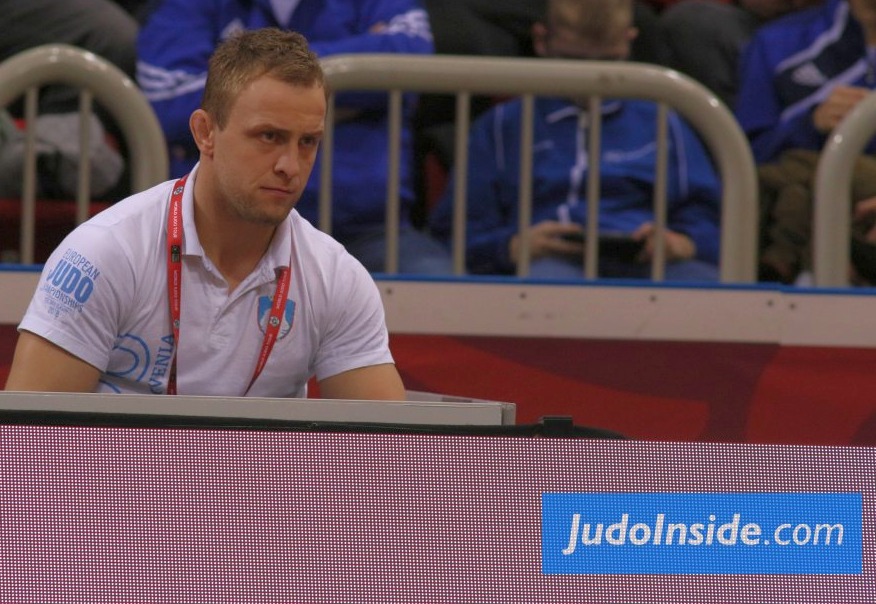 Covid-19 influences the life of many judoka and coaches. Roki Draksic is one of the those top fighters from the past, although past sounds like it's been years. Okay there was good follow up in Slovenia with Adrian Gomboc in Draksic' former category U66kg. He won the first male European title for Slovenia but his hunting style is still in our fresh memories. You can't imagine Draksic is our of judo, but now he is, like many. Oon Yeoh of JudoCrazy memorized his career … from a distance.
JIC: Can you share with us a bit about your judo background?
RK: I started judo when I was seven years old, at my primary school. When I first told my father that I wanted to do judo, he was reluctant to let me do it. I come from a family of farmers and he preferred for me to help out in the farm. He said, "You're too young to do judo and we don't have any money." So, I started training judo without my parents' knowledge. I did this secretly for three months then one day, I went to my father and said, "You need to buy me kimono (judogi) because I have a competition next week." He couldn't say no and that's how I got started in judo!
JIC: What was your school club like and what did you like about judo that made you want to do is so badly?
RK: My primary school club in Griže was run by Sankaku Celje, the most successful judo club in Slovenia. I liked everything about judo but most of all I liked fighting. I had a lot of excess energy and I liked fighting with my friends. So, judo was perfect for me.
JIC: At what age did you realize you wanted to be an international competitor?
RK: At the age of 15, I decided I wanted to give it my all to judo. I was winning almost all the domestic tournaments I took part in and wanted to try my hand at international tournaments. Most of all, I wanted to prove that I could be successful even though I came from a poor family.
JIC: Is judo popular in Slovenia?
RK: After the 2004 Athens Olympics when Urška Žolnir got won an Olympic bronze medal as a wildcard judo started to become popular. It became even more popular after she won the gold medal at the 2012 London Olympics. Judo is Slovenia's most successful summer Olympic sport. Judo competitions can now be seen on national TV and almost every primary school in the country has a judo program. We have about 4000 people actively training in judo (Slovenia's population: 2 million). This is good but we want even more people to do judo.
JIC: I heard that most of the top athletes come from the same club. Is that the one you were attached to?
RK: In Slovenia there are 82 clubs, but only four or five of them have top-level competitors. When I was a competitor, I was with Sankaku Celje, which is where most of Slovenia's successful competitors came from.
JIC: How does the club system work in Slovenia?
RK: Almost all the clubs are private but the government does give some support. How much funding you get will depend on how big your club is and the kind of results you get in competitions. Most of the judokas in Slovenia get their start in schools, and then later join clubs near their homes if they want to take their judo further. It's a pretty good system that has produced some high-level athletes.
JIC: Some small nations like Slovenia, Kosovo and Israel have had major successes in judo. What do you think are the key success factors at play?
RK: There are probably several reasons but one key thing is a national initiative to build top-level competitors. Another is the presence of coaches and athletes who are judo fanatics willing to devote their lives to judo.
JIC: You started competing internationally as a cadet is 2002 and ended your career in 2017, with 348 matches under your belt. Did this remarkably high number of competitions take a toll on your body?
RK: Ooh, that's big number! I didn't even realize I had taken part in so many competitions. Actually, I didn't suffer from serious injuries as a competitor, just minor ones. The funny thing is I got my biggest injury after I was done competing. I was at a training camp with my students when a guy came up to me and challenged me to do a randori. I wasn't really warmed up properly but I couldn't resist the invitation. So, I paid the price for doing that!
JIC: You were very well known for your "Side Takedown". Where did you learn this?
RK: Around 2001, my coach at the time, Marjan Fabjan, brought a Russian coach to our club and he showed up this drop version of kata-guruma where you throw uke to the side. This version involved grabbing the legs. Although it was legal to grab legs back then, I somehow developed a way to do it without grabbing the legs. I was quite good at it but at one of the training camps, Sašo Šindič (now the guy in charge the IJF slow motion replays during competitions) explained to me that it would be more effective if I were to grab uke's leg when doing the technique. So, I started doing it this way, and had even more success with it. I became known as the kata-guruma guy. When the IJF changed the rules to ban leg grabs, everybody thought my judo was over because I wouldn't be able to do kata-guruma anymore. What they didn't know is that I had already had years of experience doing it without grabbing the leg. So, I just reverted to the way I originally did it and proved my critics wrong.
JIC: Slovenia's had great success with female judokas but there weren't that many male top players in your time. Did you have enough randori partners?
RK: Definitely not enough. During my time, judo wasn't very popular. Most people couldn't tell the difference between karate and judo. So, as a youth, I had very few training partners. I have an older brother who did judo so I was able to train with him, and my coach used to send me to do randori with senior players just so I could get enough randori. They killed me each time but it was good because it made me tougher. Later, when I became a senior, it was really difficult finding suitable training partners. Many times, I ended up sparring with the girls just to get enough randori.
JIC: Did you go abroad for more randori?
RK: Yes, this was necessary but I was lucky in that Slovenia is situated in the middle of Europe, so we can just take a bus and go to nearby countries like Croatia, Italy, Austria and Germany for training. We used to go to Japan once a year, for two or three weeks, to get good randori.
JIC: What was your training day like when you were a competitor?
RK: Normally, we'd train 12 times a week so that works out to twice a day. I'd wake up at 5.00am to get ready for training at 6.00am. The other session was in the evening at 19.00pm. In between, I'd do my own training, and I even built a small dojo in my home for that purpose. And, of course, I had to help out with the farming. So, my days were very full. I had no leisure time at all. It was just training and farming for me.
JIC: You were in the police force?
RK: Yes, I was in the police. I won gold at the 2011 European Police Championships and the 2012 World Police Championships. The way it works in Slovenia is when you win either an IJF Grand Prix or Grand Slam medal, you can get a job with the police, army or customs department. You can hold on to this job as long as you remain a professional athlete. Once you retire from competition, you have to find a new job. Sometimes it can be difficult starting a brand new career just like that but I'm lucky as I'm employed by the Slovenian Olympic Committee and I'm also a member of the Slovenian Foundation of Sports.
JIC: Would you say judo was a way out of poverty for you?
RK: You could say that. Of course judo is much more to me than just that. During my time as an athlete, judo was just a sport to me and winning competitions was the important thing. But now, having retired from competition, I see judo differently. I realize judo had prepared me for life. Whether you realize it or not, judo teaches you many things that will be useful in your life.
JIC: Are you a coach now?
RK: Yes, I am working as a coach. After I retired from competition in 2017, a judo club in Bežigrad invited me to be their coach. For the first two years I worked with senior players but now I focus on developing the children.
JIC: What do you hope to achieve as a coach?
RK: My dream is to see one of my athletes get an Olympic medal, which is the only medal I don't have myself. (Rok captured six Senior European medals including a gold; 14 IJF World Tour medals including four gold medals; and a World Junior Championships bronze medal).
JIC: If a judo player is from a small country, but has big dreams to become a top international competitor, what would you tell them?
RK: Hard work pays off. Today, there are many examples of judo players from small countries who have shown that with hard work, it's possible to make your dreams come true.
JIC: Do you still watch a lot of judo? Do you follow the IJF World Tour on YouTube?
RK: Without question. I watch everything from the IJF: cadets, juniors, seniors. In Slovenia, I sometimes even go to watch children's competitions.
JIC: When you were competing did you watch a lot of judo videos to analyse your opponents?
RK: Yes, I always analysed my opponents. I even kept a book where I wrote down my notes on each of my opponents so I could figure out strategies to fight them.
JIC: How is the Covid-19 situation in Slovenia?
RK: Our health care system is good and all citizens are covered. The situation is still under control. We have about 40 people in intensive care right now due to Covid-19.
JIC: How are judo clubs affected?
RK: In Slovenia all judo clubs are closed, of course. Many clubs survive on membership fees, so they will suffer if this goes on for too long.
JIC: How has it affected you, personally?
RK: It's affected me a lot! I'm used to being involved in judo in one way or another, all the time. Now, I'm stuck at home all the time. So, I hope everything will be over soon.
JIC: Do you have any words for other judokas who are stuck in a lock-down?
RK: Have positive thoughts, do some training at home, and remember to laugh a lot. That's important in these times.
Are you JUDOCRAZY? The become a JudoCrazy Patron and read all their stories here
Related judoka and events
Related Judo Photos
Related Judo Videos
Related Judo News

Joaquin Ruíz Zajac (ESP)
38 years
| Result | City | Date |
| --- | --- | --- |
| 1 | Brasilia | 2019 |
| 1 | Montreal | 2019 |
| 1 | Marrakech | 2017 |
| 1 | Zagreb | 2017 |
| 3 | Budapest | 2017 |
| Result | City | Date |
| --- | --- | --- |
| 1 | Budapest | 2019 |
| 2 | Qingdao | 2019 |
| 3 | Brasilia | 2019 |
| 1 | Tokyo | 2019 |
| 3 | Montreal | 2019 |