Judo in the time of Covid-19: Anna-Maria Wagner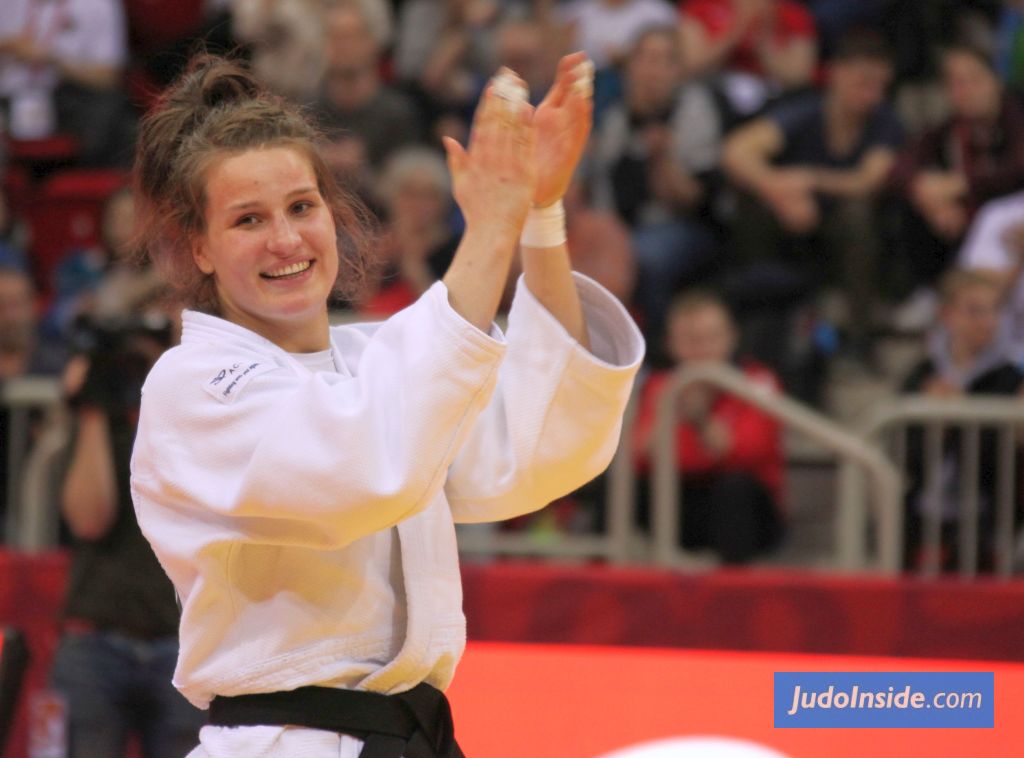 4 Apr 2020 23:30
JudoCrazy by Oon Yeoh
JudoInside.com / judo news, results and photos
Anna-Maria Wagner is the chosen one to represent Germany at the Tokyo Olympic Games. In a direct match she defeated her opponent Luise Malzahn at the Grand Slam in Düsseldorf, a great relief. Still she had to take a medal and she did, that was the moment she realized that she qualified for Tokyo, but it all went a different way and Wagner got stuck like many other. JudoCrazy's Oon Yeoh asked her about her Covid-19 experiences.
JIC: Can you tell us a little bit about yourself?
AMW: I grew up in Ravensburg, where I enjoyed a really good childhood. I started judo in 2004, when I was seven years old. It was in my primary school that I had the opportunity to try some judo lesson. As I had two brothers, learning some judo was probably a good idea. I really loved judo. I had a lot of energy and I loved to play with other kids and challenge myself.
JIC: Which club are you from?
AMW: My home club is KJC Ravensburg, in the city where I grew up. It's the club where I learned my judo and I'm sure I will never leave it. I'm proud to be a part of this club and I always wanted to give something back. I got that opportunity in 2017 and 2018 when I won in the German Championships, representing my club.
JIC: Do you recall at what point you decide you want to become a professional athlete?
AMW: Actually, I remember it well. It was in 2011 — I was 15 years old at the time — when I won my first medal at the Cadet European Cup in Tver, Russia. It was then that I felt certain the right track for me was to become a professional athlete. From that day onward, I was motivated to become better and better, day after day.
JIC: What are some of the sacrifices you have to make as a professional athlete?
AMW: Of course you have to miss out on some things but I wouldn't call them sacrifices because I consider it an honor to live the life I live. What I end up missing out on are things like birthdays of my friends and families, weddings, holidays and so on, either because of training or competitions.
JIC: What are your favorite techniques?
AMW: For tachi-waza, I like uchimata because it allows me to make good use of my height. As for newaza, it's koshi-jime that I like to do most.
JIC: Now for probably the first time since you were 15, you've had to do without judo training for a long stretch. How are you coping with it?
AMW: Although I miss judo training, I realize most athletes around the world are in the same position right now, so we just have to keep our heads up and remain positive. I do my weight training and running to keep fight.
JIC: How do you stay motivated?
AMW: Of course, it's hard to stay motivated when you're at home alone but every morning when I open my eyes, I visualize myself winning the gold medal in Tokyo next year. This is enough to keep me motivated.
JIC: Besides fitness training, what are you doing?
AMW: I'm studying Hotel and Tourism Management via distance learning. This downtime gives me the chance to really catch up on my studies. I also chat with my friends and we play some online games together.
JIC: Are you watching a lot of judo videos? Do you normally analyze your opponents on video?
AMW: Yes, I'm watching some judo videos in general. Sometimes I watch videos of my opponents but I already know their judo quite well because I have a book where I've noted down everything about their fighting styles. And whenever there's something new I should take note of, I write it down immediately.
JIC: Is it true that after the Dusseldorf Grand Slam where you won bronze, you were selected for the Olympics? If so, how will the postponement affect that?
AMW: Yes, after the Dusseldorf Grand Slam, the German Judo Federation selected me for the Tokyo Olympics. At the moment nobody knows what will happen next. We don't even know when the next IJF event will be or how they will handle the qualifications. We'll just have to wait and see.
JIC: Your teammate, Luise Malzahn, is also in the Top 10 for Olympic rankings although she wasn't selected because you had done better in Dusseldorf. In fact, you beat her there. How is your relationship with her?
AMW: We're not best friends but we do have a cordial relationship. Before every competition, we will warm up together, shake hands and wish each other good luck.
JIC: So far, you've fought Malzahn five times in IJF events. Do you guys also face each other in domestic events in Germany?
AMW: Last year we faced each other for the first time in the German Championships. I lost to her in that event.
JIC: Any words for other judokas who are also stuck in a lock-down?
AMW: Just two things: Stay strong and stay positive!
Are you JUDOCRAZY? The become a JudoCrazy Patron and read all their stories here
The IOC postponed the Olympic Games until 23 July 2021, the U78kg event will take place at 29 July 2021.