Judo in the time of Covid-19: Andrea Stojadinov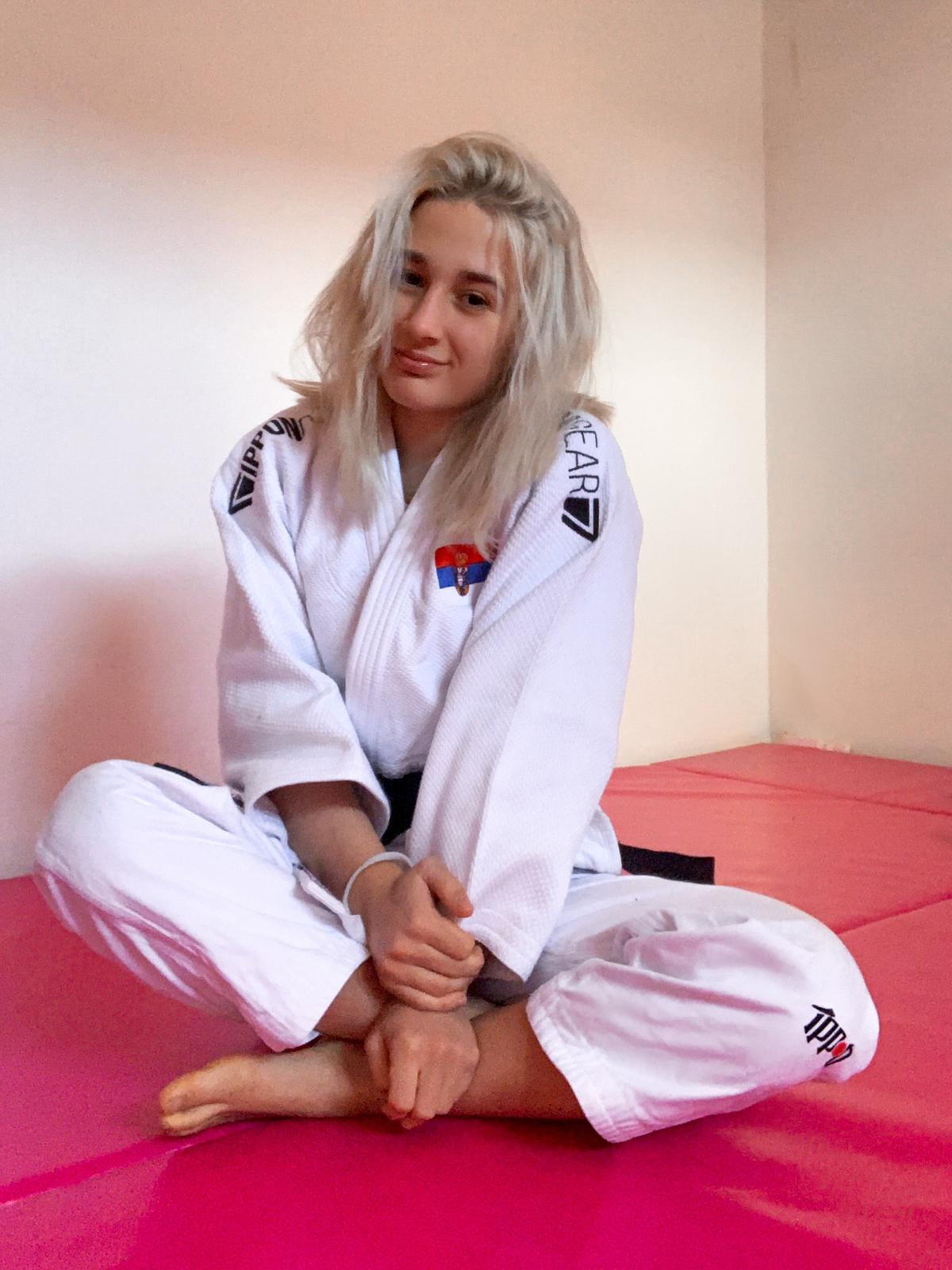 4 Apr 2020 09:20
JudoCrazy by Oon Yeoh
Sent by athlete
Andrea Stojadinov is a rising star in Serbian judo. She is a double World Junior bronze medalist and is an Under 23 European Champion. She is currently in lock-down in Serbia but trains daily in her home dojo with her elder brother. Oon Yeoh of JudoCrazy wondered how she is doing in her own pink Dojo.
JIC: Last year, at the World Junior Championships in Marrakech, you faced the Japanese player, Aiko Watanabe, in the bronze medal match. You defeated her by using a yoko-guruma counter which can sometimes be risky. Is this a technique you've been training a lot?
AS: I had lost to Watanabe in the bronze medal match at the 2017 World Cadet Championship in Chile. In that one, I finished fifth, and if you ask any judoka, coming in fifth is the worst feeling in the world because you've just missed out from getting a medal. So, I was really looking forward to our rematch. Regarding the yoko-guruma, this wasn't a technique that I had trained for. Normally, I would practice ura-nage. It wasn't even a technique I was aiming for when I countered Watanabe. It's just something that happened in the spur of the moment. I guess after 15 years of doing judo, the body has its own instincts.
JIC: You are a right-hander and from a right-handed stance you seem to favor drop morote-seoi-nage. Can you tell us how you developed that throw?
AS: Morote-seoi is definitely the technique I do the most. I've been doing it since young. As a kid at my home club, Dinamo, one of our coaches named Boris Bevc showed us the morote-seoi-nage. Since he was a competitor himself, he showed us the drop version. I remember him telling us that this was not the classical version found in judo textbooks but it's the version he wins with in competition. That's all I needed to hear and I was hooked. I grew to love morote-seoi-nage because it allowed me to throw bigger players. As I was often the smallest player, having to fight a lot of older boys, this was the one technique that worked for me. To practice it, I used to put two slippers on the floor imagining that those were my opponent's feet, and I would aim to drop and land in the space in between the two slippers as quickly and precisely as possible.
JIC: What about yoko-otoshi, which you seem to do towards your left side whenever you face an opponent with a strong right-handed grip? How did you develop that?
AS: For many years, I struggled to find a way to deal with strong right-handers and one day I noticed my Latvian friend, Artjom Galaktionovs, doing this technique, which seemed like the solution to my problem. So I asked Artjom to show my brother and me how he did that throw. So, it started from there. Since then, I have developed my own way of doing it and it works well against strong right-handers.
JIC: In newaza, you seem to like a reverse yoko-sankaku the most. What made you choose this technique?
AS: In 2015, when I began competing in international cadet tournaments and European Cups, I realized my newaza was really bad. In June that year I attended a training camp where the best newaza coach in Serbia, Vladimir Jovičić, showed us reverse yoko-sankaku. "This is what you can win with in competitions," he said. That's it, I fell for it straight away. I must have done it a million times in training so it's now an instinctive move for me in newaza.
JIC: How old were you when you started doing judo?
AS: Actually, as far back as I can remember, I've always been doing judo. I was two years old when my parents first took my brother, who was five then, to judo class. They brought me along so technically you could say I started at two years old! But I was just running around and tumbling on the mat. I officially started my judo training at four years old.
JIC: Many players who started young say that they didn't really learn to enjoy judo until much later. How long did it take you?
AS: I fell in love with this sport from the beginning. I can't go a day without it. If I miss judo training it feels like I'm missing my home. I grew up doing it since as far back as I can remember so it's a part of who I am as a person. And this love I have for judo, it just keeps growing.
JIC: Is your brother still doing judo?
AS: Yeah, Aleksa is still a judoka but he's had a lot of problems with injuries — mostly with his knees and shoulders too. So, that has hindered his judo career. Today he's one of the coaches at my judo club. I have to say, I am where I am in judo because of him. He may have given up his judo career but not on mine. For example, under normal circumstances he would never get up at 8am to do his own judo training but if I told him I needed to practice judo at 8am, he would be there with his judogi and ready to go.
JIC: Do you like learning from your brother?
AS: Yes, he is so talented. If someone shows a technique, Aleksa can get it right after just two or three tries. For me, it would take at last 20 tries before I can get it right. The difference is I will then do it another 100 times whereas he would just stop once he's learned it.
JIC: So, during this time of lock-down are you training with him at home?
AS: Of course. We are training together more than ever now because of this lock-down. He plans my daily training program, helps to correct my mistakes and forgives me every time I kick him in the shins, which is quite often… ha… ha! I'm very lucky to have him around although I can't wait for this lock-down to end because his tough training program is killing me!
JIC: How do you guys do that? Do you have some mats in your house?
AS: We have a tiny, little home dojo with pink mats! It's really small though. Six mats is all it takes to fill up the room but it's good enough for us to do everything — gripping drills, uchikomi, nagekomi, and even newaza randori. The only thing we can't really do is tachi-waza randori.
JIC: What if you didn't have your home dojo? What would you do?
AS: For me, not doing judo is simply not an option. If I had no tatami to work on, I would go into the yard and do judo training on the grass. I don't mind missing my gym sessions even though I know it's important but I can't do without judo. I love putting on my judogi. I could do judo all day long.
JIC: Before the lock-down did you train at the national training centre?
AS: I trained at my club, Red Star, in Belgrade. In Serbia we don't currently have a national training centre but one is being built. It's supposed to be ready by September this year but now with this whole Covid-19 thing, I'm not sure if it can be ready on time. I can't wait for us to finally have a really big judo space that's available 24/7!
JIC: How popular is judo in Serbia?
AS: Judo is getting more and more popular here. People can watch the IJF World Tour on TV, not just the Internet. I believe this is very important for getting the general public to understand what judo is all about. Parents, after seeing judo on TV, may want to send their kids to do judo. There is also a "Judo in Schools" program which is getting more and more kids involved in judo.
JIC: Are you able to get enough quality randori in Serbia?
AS: My club, Red Star, is a top judo club. Both our men's and women's teams won the club national championships in 2018 and we repeated that feat in 2019. I'm lucky in that I've got many good seniors to train with such as Milica Nikolić, Jovana Rogić, Anja Obradović and Jovana Bunčić (formerly Obradović). Also, with Serbia being a small country, I often get to meet up with players from other clubs like Nadežda Petrović, Milica Žabić and Marica Perišić. Of course, there are also international training camps that we go to.
JIC: Are you a student or are you a full-time professional athlete?
AS: Both actually. I finished high school last year and now I'm taking a course in Security Studies — terrorism, international relations, natural disasters, corporate security and espionage, anything to do with security.
JIC: Isn't it difficult balancing studies and full-time training?
AS: I think knowledge is very important so as athletes we should not neglect education. Frankly, judo is a sport where anything can happen each time we step on the tatami. If your competitive judo career is suddenly cut short you need to have something to fall back on. I know it's hard as a professional athlete to find time to do anything else but with proper time management I think it's possible to be a good student too. It's tough but if it were easy anyone could do it. As a judoka, I've learned not to give up when things get difficult.
JIC: What about balancing training and social life?
AS: Every athlete knows how hard it is. I've lost many friends because I just didn't have the time to meet up with them. I'm always at training or away for competitions. It hurts of course but I would never skip training for a social event. I'm very strict about that. Even if it's a friend's birthday party, I would only drop by after training is over. I have my moments of weakness, of course, when I wish I had more time for a social life but if you're a professional athlete, you've got to prioritize training. Luckily, I do have a few friends who are understanding about the path I've chosen. I'm grateful to them because I know they are my true friends.
JIC: What do you like about being an international competitor?
AS: I've met so many wonderful people through judo. I get to spend time with them, travel the world with them, explore new places with them. After our competition careers are over, I'm sure I would still be friends with them. As for the competitions, I really love the adrenaline rush you get each time you step on the tatami for a fight. And that feeling you get when you win, it's indescribable.
JIC: Unlike most female players, you sport a different hairstyle when you compete and when you stand on the podium. Why is that?
AS: Ha… ha… you noticed. You can say it's tradition. At my very first competition as a kid, my mother did my hair up like that, with a pony tail on each side of my head. She subsequently did that for every competition I took part in and soon people in Serbian judo circles began noticing that, and it sort of became my trademark. After I grew my hair long, it was no longer possible to use this hairstyle in competition, so I reserve it just for the podium.
JIC: What are your competition goals going forward?
AS: There's usually no World Championship during Olympic year but with the postponement, I hope there will be a World Championship this year. Also, the postponement means Olympic qualifications may be extended. I will discuss with my coach about this but I think I may have a shot at qualifying if the time frame for qualifications is longer. I currently have 1013 points and the last person to qualify in my weight class has 1548 points, so it's within striking distance.
JIC: Who are your judo heroes?
AS: I would say Nemanja Majdov and Aleksandar Kukolj, Serbia's two best judokas ever. I love Nemanja because his story is similar to mine. He trains with his brother and his parents are always there to support him. He is hardworking, knows what he wants and he just goes for it. And my love for Kukolj is because he's a great example of someone who has achieved a well-balanced life. He does great in international competitions, has a university degree, is married and has a kid. He is a great role model for youngsters. He is living proof that you can have sports, education and love if you plan your time properly.
JIC: What does judo mean to you?
AS: For me, judo is a way of life. I can't imagine my future without it, or where I would be now if I hadn't chosen this path. I'm really grateful to my parents for introducing me to judo and supporting me all this while.
JIC: Any message for other judo players around the world who are also affected by the Covid-19 lock-down?
AS: Judo taught us to be resilient so now is not the time to give up. Even though there is a lock-down, with a little bit of creativity and imagination, it's possible to do some training. Maybe you will need to ask your family members to help out. Even if they are not judo players, you can practice lifting them, pulling them, etc. Treat it as an opportunity to spend more time with your family members, to bond and to create new lifelong memories of them training with you during this time of lock-down. Think positively and don't forget to have fun. As for my friends in the -48kg category, please eat, sleep and watch movies! This moment in time is your one chance to do all these things… ha… ha!
Are you JUDOCRAZY? The become a JudoCrazy Patron and read all their stories here