The latest Judo News offered by JudoInside.com
Heyder and Scheibel retain German titles in Stuttgart
Diana Suess Klaus Müller / Watch: https://km-pics.de/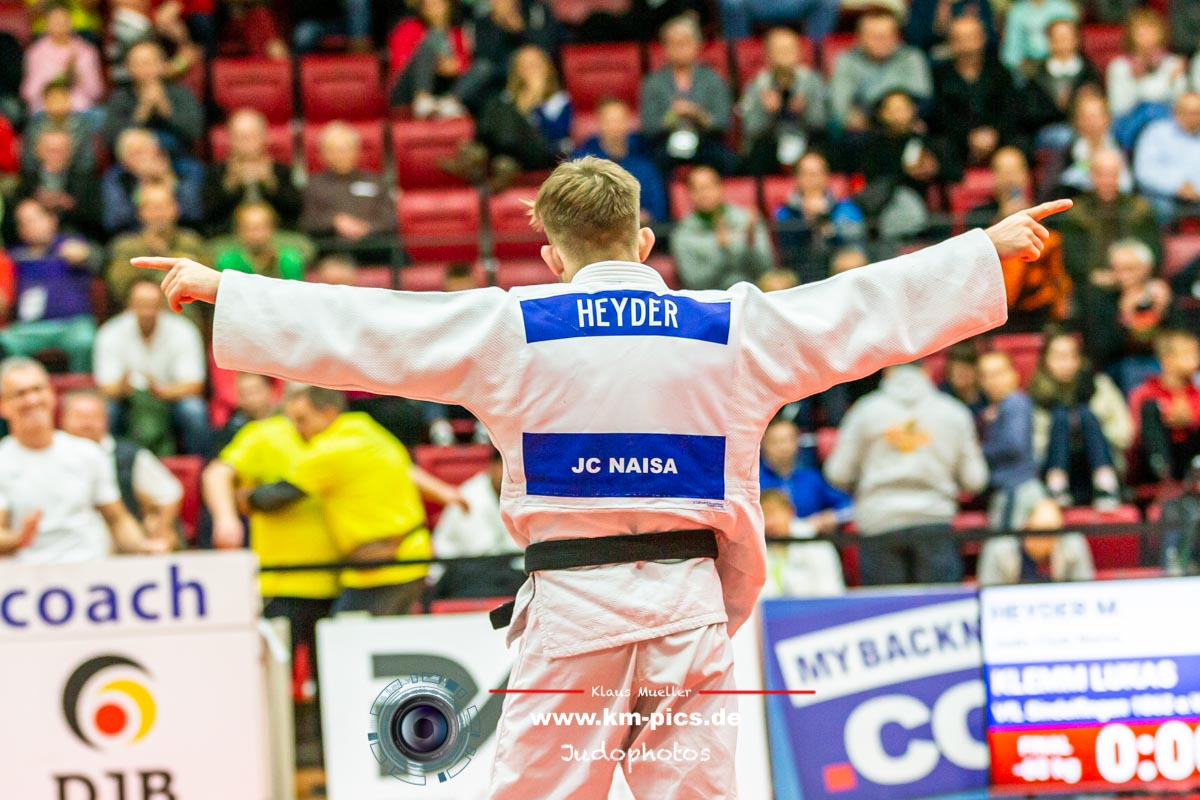 For the third time in a row Stuttgart is the city for the German Championships. In the SCHARRena in Stuttgart six new title winners and only two athlete kept their title, Maximilian Heyder and Manuel Scheibel.
Today the weight categories U48kg, U52kg, U78kg and +78kg for women and U60kg, U66kg, U100kg and +100kg for men. Last year's bronze medallist U48kg Helena Grau of TSG Backnang won this year's edition. In the final the 19-year-old showed a sovereign fight against the experienced Jessica Lindner and defended a wazari mark over the time. In the small finals, Sarah Ischt was able to beat the permanent performer Mira Ulrich and Helen Schneider to win against Nikita Krieger.
Max Heyder was able to defend his title U60kg with a remarkable Seoi nage against Lukas Klemm. Max Standke from Erfurt fought his way through the repechage, to win the small final against Daniel Scheller from Abensberg with a wazari. The second small final was won by Fabian Hässner from Sindelfingen with a choke he worked out in newaza.
The U52kg weight class was dominated by the youngsters from the north. Annika Würfel from Rostock won the final with a remarkable attacking judo style and an Ippon marked osotogari against Mascha Ballhaus from Hamburg. Ballhaus who switched from U48kg to U52kg had previously beaten title candidate and last year's runner-up Natalie Rouviere. While Würfel overcame last year's winner Verena Thumm on her way to the final. Rouviere, as well as Thumm, could assert themselves in their fights for bronze without any danger.
Manuel Scheibel from Abensberg defended the championship title this year and won the final against Yerrick Schriever with an osotogari after only about one minute of fighting time. Bronze went to Leon Phillip who was awarded an Ippon for a choking technique and Dan Matuschowitz with an Ippon for kouchi makikomi.
The U78kg class had a few surprises in store. Title favourite Maike Ziech lost the final quite ungrateful after her opponent Greta Bolte used an attack from her for a counterattack. In the end Ziech wasn't able catch up with the score despite a more active fighting style. Bolte won the fight in a tactical way. Christina Faber of JC Wiesbaden, who had lost the semi-final against Bolte, won the fight for 3rd place with a choke technique against Hanna Rollwage. Arijana Peric didn't take long and finished her small final against Julia Rieß within 20 seconds.
The U100kg final was a clear thing, because Ole Buth from Potsdam threw Jan Goldhammer for the first time for a wazari osotogari and followed this with an Ippon for Koshi-guruma. The bronze medals went to Dario Kurbjeweit Garcia and Sidney Mai. Kurbjeweit Garcia won after 40 seconds with an ippon against Daniel Herbst, while Mai countered an attack by Marvin Belz with a Uranage and thus won a full point.
In the open women's weight category René Lucht of HT16 won the gold medal. For this she had to overcome Samira Bouizgarne in the final. She succeeded in doing so with a few contentious decisions of the judges. In the end Lucht had a wazari standing for herself and Bouizgarne got a Hansokumake 17 seconds before the end, caused by receiving three Shidos. The bronze medals in this weight category went to Aylin Mill and Michelle Goschin, both won with ippon against their opponents.
The last weight class of the first day of competition was won by Eric Abramov from Potsdam. He defeated Jonas Schreiber with strong attacks for which he was awarded a wazari and an ippon. The bronze medals went to Niklas Pelz and Losseni Kone.
Related judoka and events
Related Judo Photos
Related Judo News

Derya Cibir (TUR)
30 years
| Result | City | Date |
| --- | --- | --- |
| 2 | Düsseldorf | 21 Feb |
| 1 | Budapest | 2019 |
| 2 | Qingdao | 2019 |
| 1 | Osaka | 2019 |
| 1 | Odivelas | 2019 |
| Result | City | Date |
| --- | --- | --- |
| 1 | Düsseldorf | 21 Feb |
| 2 | Osaka | 2019 |
| 1 | Tokyo | 2019 |
| 1 | Tokyo | 2019 |
| 1 | Hohhot | 2019 |