Historic European title for Jovana Pekovic and Montenegro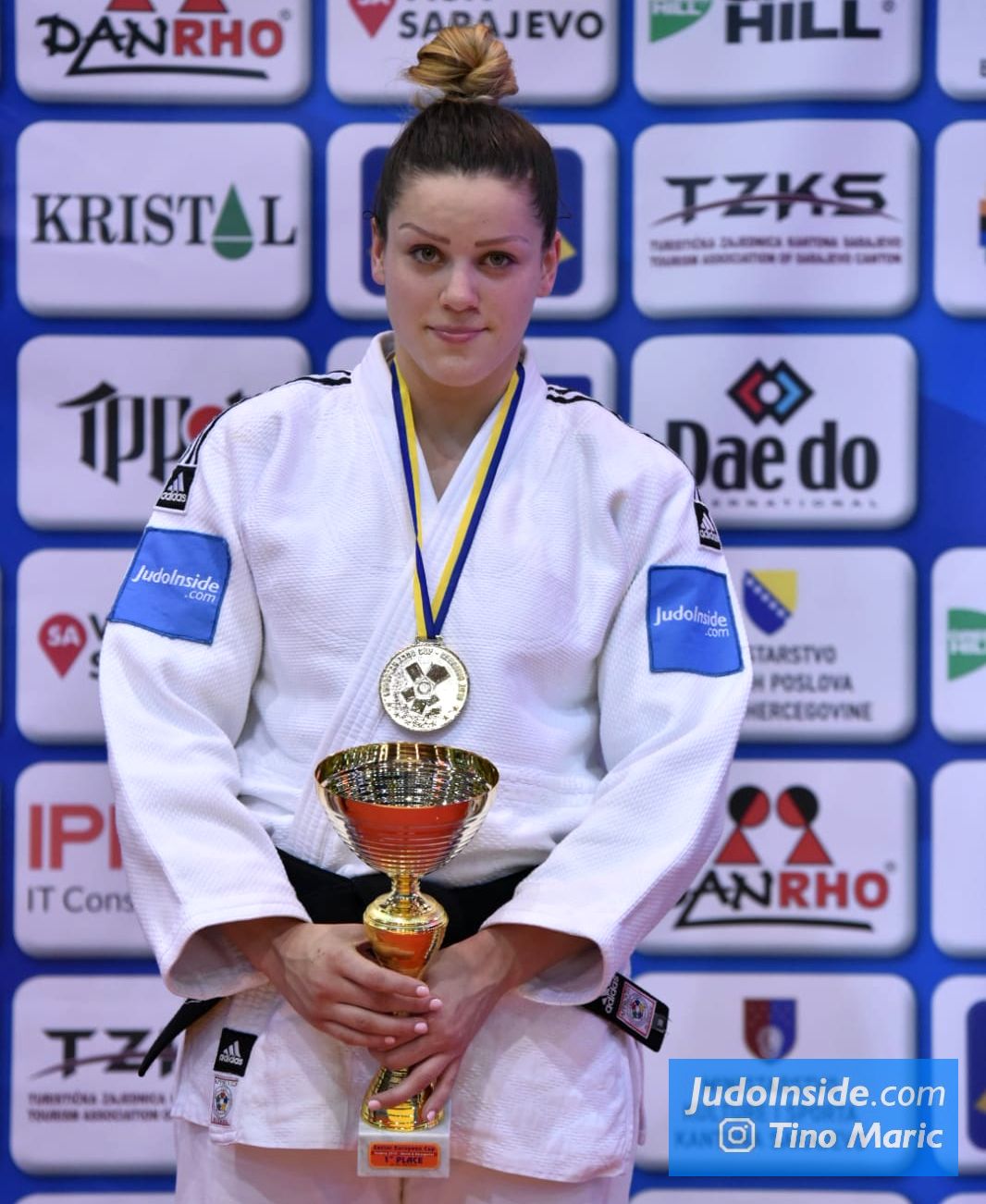 3 Nov 2019 17:55
Tino Maric - BHF / Bosnia Herzegovina Federation
Finally it was the time for Jovana Pekovic. The super talent from Montenegro captured the European U23 title in Izhevsk. She was the only athlete from Montenegro to make the trip to the Ural in Russia. Always those are personal investment she does for such a long time. In a field of just 12 women it was not impossible, but doing it, is part two, but the 21-year old this time took the jackpot.
Never she succeeded to win a European Championships medal. However this year she booked an encouraging result at the European Cup in Sarajevo winning gold. She showed already in Naples to be on form at the FISU Universiade with a fifth place. In Izhevsk she captured the gold winning four contests against Shelley Ludford (GBR), Sophie Berger (BEL) who won the bronze, Inbar Lanir of Israel who also captured bronze and in the final Teresa Zenker for Germany, so she had them all and deserved the European title. Not even Montenegro legend Srdan Mrvaljevic never won this title. He won silver in 2006 and Nikola Gusic took silver as well in 2014. This time Pekovic won the epic title for her small country. It's the most important European performance ever for Montenegro.
Germany's Samira Bouizgarne grabbed gold in the heavyweights in an all-German final against Renee Lucht. She was one of the most experienced girls in this category with challengers. This is her chance as the top of Europe didn't compete, still she won her three contests with flair and the final took more than seven minutes against an opponent she knows so well.
Where would expect Russia to win at least another gold medal it was Hungary that struck on this last day in Izhevsk. Two gold medals and for Roland Goz counts, what was in the air, came after all this year. Goz took silver at the Junior Europeans in Vaantaa and silver at the Junior World Championships, but here in Russia he finally took the precious gold medal. Goz took so many medals, but 20 year old this time stood on the highest podium. Falk Petersilka, the German finalist was actually expected to reach that stage. He is experienced the 2015 Cadet World Champion. Seems like a long time ago and it needs time, especially in this competitive weight category to get set. Still it's a struggle to earn a place in the senior category, but at least it's a motivating milestone in Goz' career. Russians Iurii Bozha and Roman Dontsov took the bronze medal. Two Belarussian took the fifth place.
Belarus however did win gold U100kg. Again it was Daniel Mukete who regained his title of 2017 in Podgorica. He excelled today and added his second major title. He is in competition with his friend Mikita Sviryd for a place at the Olympic Games. This doesn't bring him the points, but again it's a good motivation. He took a fifth place this year at the Senior Europeans. In the final on Sunday he defeated Onise Saneblidze, the strong Georgian, which says enough about the capacity of Mukete. Dutchman Jelle Snippe and Polish Kacper Szczurowski took the bronze medals U100kg.
The second Hungarian miracle was achieved by Richard Sipocz. Last year he won the Cadet European title and but typical for Sipocz he moves on at U23 level with a gold medal in Izhevsk. In Vantaa at the Junior Europeans he won bronze. A few weeks ago in Marrakech Sipocz took the bronze as well at World Junior level. This time in Russia he defeated Dutchman Jur Spijkers, normally too experienced to let this title go, but Sipocz surprised him within 100 seconds. For all his three contests Sipocz needed not even five minutes. Spijkers claimed the second silver medal for the Dutch team. Yahor Kukharenka (BLR) and Finnish Martti Puumalainen were both rewarded with bronze for the long attempts to gain such a prestigious medal.
Both strong U23 nations Russia and Hungary can be satisfied with four and three gold medals. Georgia won two gold medals, Germany seven medals including gold for Bouizgarne.