The latest Judo News offered by JudoInside.com
Japanese cadets defend world title successfully
Pedro Lasuen - IJF IJF Emanuele Di Feliciantonio / International Judo Federation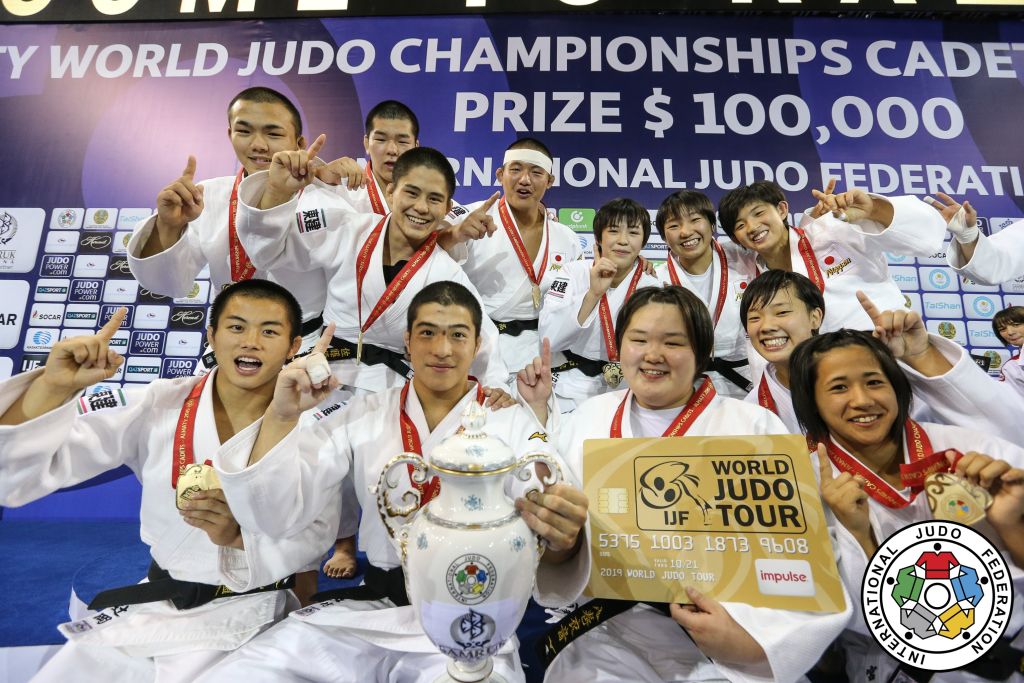 The Japanese cadet team started as the favourite for world gold in Almaty and captured the title. Japan was the defending champion. Exhausted after a crazy semifinal, Azerbaijan lost 4-1. It was the epic end of a competition where all contenders participated with passion and determination. The trophy for the team champion.
We had something in mind from the very first contest. We wanted to know what is more difficult between being on the tatami and cheering teammates. Russia Aleksandra Zagirova said that for her it was "harder to be on the bench because when you are on the mat you focus on the match. On the bench you just want to get into the tatami and help your teammates".
Her colleague Aina Moiseeva had mixed feelings. "It is equally tough. On the bench you get very nervous but, on the mat, you just don't want to lose, so it is also really stressful". When asked if they will do it again, both smiled and said yes. "We love this competition format".
For others such as Turkey Mohammed Demirel, the worst part is to be on the tatami because "all teammates eyes are on you and there is no way to fail. Today I am happy, I did not fail", he concluded.
Bronze medal for Russian cadets
Russia was disappointed but managed to get the first bronze medal by defeating Uzbekistan 4-0.
The second bronze medal flew to Turkey after defeating Brazil in a contest which could also have been a final. Brazil took advantage of the break much better than Turkey and took an early lead 3-0. But Turkey came back thanks to Demirel, Afyonlu and Simsek. So, we had another golden score contest and Demirel had to compete again against Felipe Lima in a -60kg match. In the end the bronze medal went to Turkey.
Semi finals
In the smei final Turkey fought Japan, which constitutes a final ahead of time. And Russia, which appears as a clear favorite against Azerbaijan.
On mat 1 Japan takes a quick lead 2-0. Turkey comes back. 2-1. On the mat Yoshioka Hikari faces Buketnur Karabulut and scores ippon with uchimata. 3-1. Turkey must win the -60kg match. Mohammed Demirel vs Sato Yuma. Ten seconds after hajime, Demirel scores waza-ari. He knows the future of his team depends on him. He is performing at top level and scores ippon. 3-2. Habibe Afyonlu, new World champion, comes on the mat where Yazawa Airi is waiting in a remake of the final a few days ago. Afyonlu scores waza-ari, crowd gets crazy. It is pure offensive judo, a gift for the eyes.
Afyonlu does it again, waza-ari, ippon and 3-3. The draw choses +81kg category for the golden score contest. Munir Ertug versus Sugawara Mitsuki, bronze medallist on Saturday. On the bench both teams are very nervous. And Sugawara scores and qualifies Japan for the final after an extraordinary confrontation.
On mat 2 Russia starts really strong and gets three wins in a row. But Azerbaijan comes back, 3-2. Russia Iana Radchenko is facing Aytaj Gardashkhanli in the -63kg contest. Both scores waza-ari. The azeri scores ippon. 3-3. We are trying to avoid the heart attack. Golden score contest goes then to -48kg. Azerbaijan Sabina Aliyeva could again be the savior of the team. She fights against Zakharova Daria. And Aliyeva, once again, saves Azerbaijan, eliminates Russia and qualifies her team for the final.
Related judoka and events
Related Judo Photos
Related Judo News

Kanae Yamabe (JPN)
30 years
| Result | City | Date |
| --- | --- | --- |
| 2 | Düsseldorf | 21 Feb |
| 1 | Budapest | 2019 |
| 2 | Qingdao | 2019 |
| 1 | Osaka | 2019 |
| 1 | Odivelas | 2019 |
| Result | City | Date |
| --- | --- | --- |
| 1 | Düsseldorf | 21 Feb |
| 2 | Osaka | 2019 |
| 1 | Tokyo | 2019 |
| 1 | Tokyo | 2019 |
| 1 | Hohhot | 2019 |