The latest Judo News offered by JudoInside.com
Saeid Mollaei was intimidated in advance of World Championships
IJF Emanuele Di Feliciantonio / International Judo Federation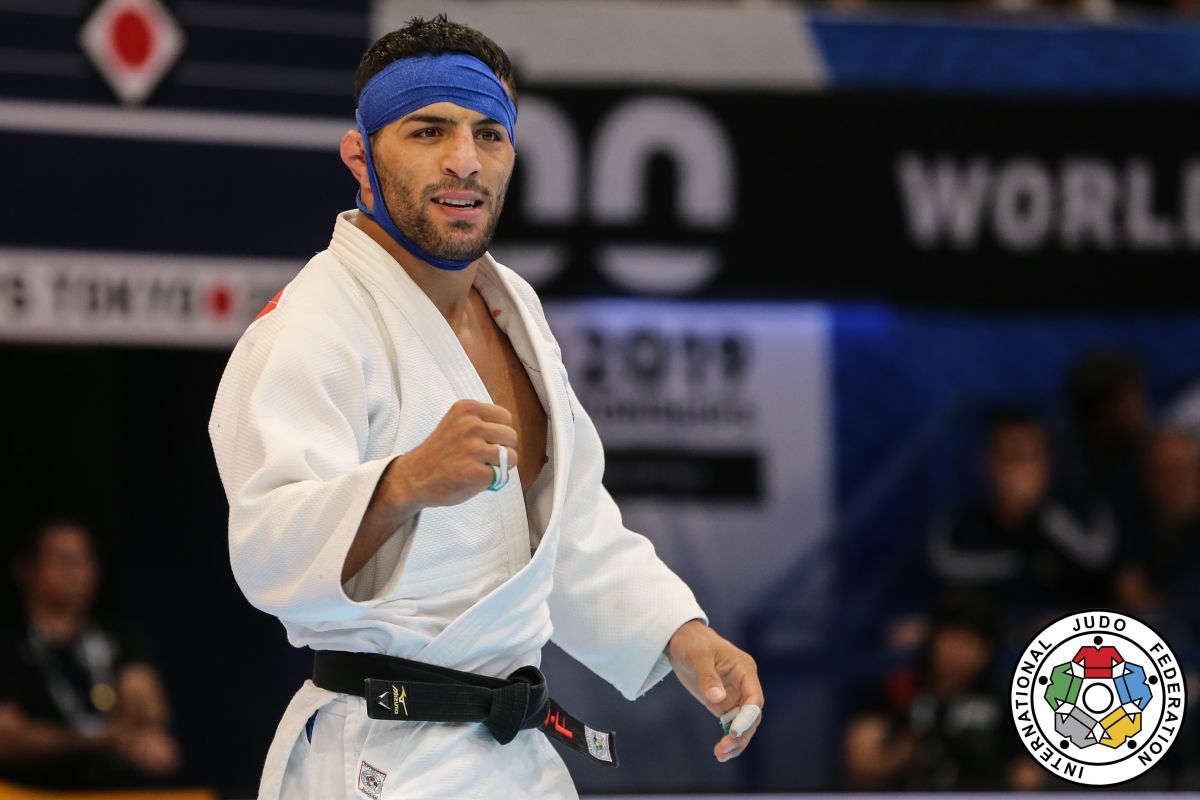 Saeid Mollaei was threated in advance of the World Championships. "I am ready to fight for Israel at all time, but my political situation forces that I am in danger. Politics kill me if I fight Israel. Before the World Championships they told me not to fight against, maybe even not fight at all and they would threaten not me but my family."
The IJF will give Saeid Mollaei the opportunity to fight under a refugee flag at Tokyo 2020, Marius Vizer said after revealing that the 2018 World Champion is in Germany. Iranian judoka Saeid Mollaei, was under big pressure and was ordered to deliberately lose his semi-final and actually not even start the world championships.
Mollaei could compete under a different flag at the 2020 Tokyo Olympics, the IJF said Sunday.
IJF President Marius Vizer has thrown his support behind former world champion Mollaei, who said he had been instructed by Iranian authorities to throw a match in Tokyo last week to avoid facing Israeli Sagi Muki. "It is our mission to protect our athletes -- that's clear," Vizer told to French agency AFP.
Mollaei travelled to Germany where the 27-year-old Teheran owns an apartment.
To JudoInside he already stated in advance of the draw he was in danger. After Mohammad Mohamadi was already instructed to stay home and not to compete to the worlds, Mollaei was also forbidden to take part, but was still a part at the draw. He started the event with success on Wednesday at the fourth day of the Championships, but was ordered to stop fighting as he could be facing Sagi Muki of Israel.
Mollaei now in Germany
"I've had a German visa and I'm in Germany to stay away from the rumors," Mollaei told the London-based Persian language channel Iran International.
"God forbid something would happen to my family. But I serve my country and whatever medal I get belongs to Iran, whether it's under the Iran or IOC flag," he added.
"I feel sorry that maybe I won't be able to compete for Iran again. But I didn't train this hard just to put up this show of losing."
The IJF will issue a statement on Monday, Vizer confirmed, insisting: "First of all we will do everything to support the athlete so he can continue his career and participate in the Olympic Games."
Vizer added that an emergency meeting would be convened to investigate whether Mollaei and his family had been the victim of political coercion or threats and subsequently to decide whether to punish the Iranian judo federation.
Israeli judo chief Moshe Ponti told that Mollaei "intended to continue the contest, even if he had to face Sagi Muki. From what we understand... Iranian intelligence officials came both to his home in Iran and to the judo arena and warned him."
Related judoka and events
Related Judo Photos
Related Judo Videos
Related Judo News
All judo results of
Teddy Riner
,
Daria Bilodid
,
Tadahiro Nomura
,
Shohei Ono
,
Ronda Rousey
,
Majlinda Kelmendi
,
Clarisse Agbegnenou
,
Ilias Iliadis
,
Flávio Canto
,
Fabio Basile
,
Joshiro Maruyama
,
Naohisa Takato
,
Hifumi Abe
,
Uta Abe
,
Rafaela Silva
,
Lukas Krpálek
,
Tina Trstenjak
,
Kayla Harrison
,
Tsogtbaatar Tsend-Ochir
,
Nemanja Majdov
,
Jorge Fonseca
,
Nikoloz Sherazadishvili
,
Guram Tushishvili
,
Varlam Liparteliani
,
Sagi Muki
,
Noël Van 't End
,
Saeid Mollaei
,
Christa Deguchi
,
Manuel Lombardo
,
Marie Eve Gahié
,
Lukhumi Chkhvimiani
,
Distria Krasniqi
and
142000+
other judoka in
628000+
results and
420000+
judo matches including the recent
Grand Slam Düsseldorf
,
Grand Slam Paris
,
Grand Slam Osaka
,
World Championships Tokyo
,
World Championships Baku
and
15000+
major judo events. More judo info than you can analyse 24/7! Share your results with your judo network.
Become an Insider!