The latest Judo News offered by JudoInside.com
Japan confirms candidacy for Olympic team gold
Mark Pickering - IJF IJF Media Team / International Judo Federation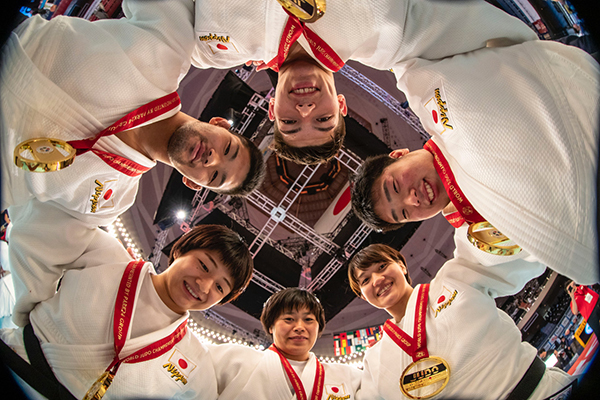 At the Team World Championships in Tokyo's Budokan the world of judo saw the host nation taking the gold medal. Prolongation was expected but France made it a real match. The Olympic test event came to an end with the fifth gold medal for Japan. The final was witnessed by Prime Minister Shinzo Abe.
+90kg: KAGEURA, Kokoro (JPN) v MARET, Cyrille (FRA) 1-0
Japan took the lead after a close encounter between -100kg judoka Maret and +100kg judoka Kageura who was only selected for the team event. After 84 seconds of golden score, the home judoka struck with a lethal piece of ashi-waza as his ko-soto-gake gave the defending champions a commanding position.
-57kg: YOSHIDA, Tsukasa (JPN) v CYSIQUE, Sarah Leonie (FRA) 1-1
World silver medallist Yoshida was stunned by World Championships debutant Cysique after only 24 seconds. The confident French judoka sent the Japanese over with an emphatic o-soto-gari for ippon to surprisingly restore parity.
-73kg: ONO, Shohei (JPN) v CHAINE, Guillaume (FRA) 2-1
Olympic champion and newly-appointed world champion Ono Shohei (JPN) expectedly put the hosts back on track with an irresistible display against Chaine. The Tenri University superstar sent Chaine over with a uchi-mata for a waza-ari score and quickly added a second from a yoko-tomoe-nage that left the crowd purring at his excellence.
-70kg: ARAI, Chizuru (JPN) v GAHIE, Marie Eve (FRA) 3-1
Former world champion Arai beat the new world champion Gahie to put Japan within touching distance of gold. Arai, who was wearing her red backpatch for the last time, trapped her rival in a kesa-gatame for 20 seconds and ippon as the crowd lapped up the crucial victory.
-90kg: MURAO, Sanshiro (JPN) v CLERGET, Axel (FRA) 3-2
Teenager Murao, who was only called upon for the team event, fell to world bronze medallist Clerget in one of the best contests of the entire eight-day competition. Clerget, who had six contests in the -90kg category, matched the fresh Japanese youngster for four minutes and then a phenomenal six minutes of added time. French workhorse Clerget sensationally submitted Murao who was trapped in a sankaku-gatame outside the area after a tenacious effort from France's men's MVP of this event.
France +70kg: HAMADA, Shori (JPN) v MALONGA, Madeleine 4-2
Former world champion Hamada held down new world champion Malonga for 20 seconds and ippon to secure the title for Japan. World silver medallist Hamada showed her masterful ne-waza as she toyed with -78kg winner Malonga and applied the pin for gold.
In the first semi-final Japan routed Brazil 4-0 as former world champion Hashimoto Soichi (JPN) sealed the fourth and final point for the hosts. Hashimoto, who was overlooked for the individual competition, teased and tormented an overmatched Eduardo Barbosa (BRA), with one-handed sode-tsurikomi-goshi attacks as part of a typically flashy display.
Individual and team world champion Ono, who received a deafening ovation when his face appeared on the big screen before the Japanese team entered the field of play, said: "This is a nation of judo lovers. To be able to get this reception in front of my home fans meant a lot to me."
Russia and Brazil take team bronze
The second set of bronze medals were won by Brazil who narrowly defeated Mongolia 4-2. Double Olympic bronze medallist Rafael Silva (+90kg), who finished fifth in the individual competition, did his part to avoid finishing in the same place in the team event as he beat Ulziibayar Duurenbayar in golden score. Olympic champion and world bronze medallist Rafaela Silva (-57kg) doubled her country's lead before Rio 2016 Olympian Tsend-Ochir Tsogtbaatar (-73kg) pulled one back for Mongolia. Former world number one Maria Portela (-70kg) beat Bold to extend her country's lead to 3-1 and put them on the brink of bronze. Gantulga Altanbagana (-90kg) kept the match alive before Maria Suelen Altheman sealed it for Brazil.
Semi finals
In the second semi-final Europe's elite met for a place in the final and it was a thrilling encounter as they finished tied 3-3 after all six of their respective judoka had fought. An additional contest was required to produce a winner. The -70kg category was randomly drawn and world champion Marie EVE Gahie (FRA) wrapped up her second win over Madina Taimazova (RUS) of the match to steer France into the final to set up a rematch of the 2018 final.
The first set of team bronze medals went to Russia who come from behind to beat Azerbaijan 4-1. Zelym Kotsoiev (AZE) gave his country a shock lead by winning a +90kg contest against Inal Tasoev (RUS). Daria Mezhetskaia (-57kg), Lech Ediev (-73kg), Alena Prokopenko (-70kg) and Khusen Khalmurzaev (-90kg) registered wins for Russia to send them onto the medal podium.
Related judoka and events
Related Judo Photos
Related Judo News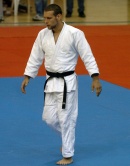 Christoph Keller (SUI)
42 years
| Result | City | Date |
| --- | --- | --- |
| 2 | Düsseldorf | 21 Feb |
| 1 | Budapest | 2019 |
| 2 | Qingdao | 2019 |
| 1 | Osaka | 2019 |
| 1 | Odivelas | 2019 |
| Result | City | Date |
| --- | --- | --- |
| 1 | Düsseldorf | 21 Feb |
| 2 | Osaka | 2019 |
| 1 | Tokyo | 2019 |
| 1 | Tokyo | 2019 |
| 1 | Hohhot | 2019 |