Akira Sone make statement for the games with world title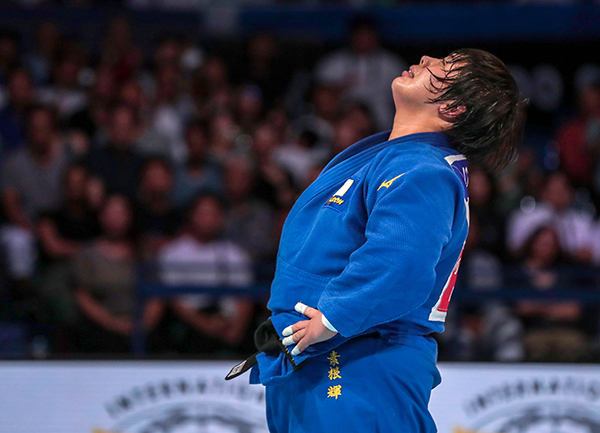 31 Aug 2019 17:05
Mark Pickering - IJF
IJF Media Team / International Judo Federation
Japanese prodigy Akira Sone became the youngest women's heavyweight world champion of all time as she won the +78kg crown with a narrow victory over the legendary Idalys Ortiz (CUB). Sone, 19, who was the 2015 Cadet world champion and 2017 Junior world champion, completed her Worlds set by beating her rival Ortiz for the second time with their head-to-series even at 1-1 before the final.
World number one Ortiz, who was aiming for her third world title, was penalised after four minutes of golden score for going out of the area and was disqualified. The Cuban, 29, who was one of the speakers at the IJF Gender Equity Conference on the eve of the competition along with her coach, was halted by the Japanese but it was World Judo Masters gold medallist Sone and not defending champion Asahina who ruled for the hosts and kept the red backpatch in the sport's homeland.
The backpatch was not the only hot commodity that Sone prised away from her older teammate Asahina as the latter held the record as the youngest women's heavyweight champion – which was set last year in Baku at 21 – until today and now it's Asahina who has to chase down her teammate and fellow contender for the sole spot at Tokyo 2020.
In the first semi-final former European champion Kayra Sayit (TUR) was quickly defeated by Sone who threw with a tai-otoshi and pinned down her opponent for 10 seconds to rush into the final. The Japanese youngster needed only 27 seconds to book a place in the final at her first attempt.
In the second semi-final Ortiz extended her perfect head-to-head over world number four Maria Suelen Altheman (BRA) to 17-0. In golden score the Cuban veteran threw with a low seoi-nage after 31 seconds for a match-winning waza-ari score to guarantee her country their first accolade at Tokyo 2019.
The first bronze medal went to Sayit after world number nine Beatriz Souza (BRA) tapped out when trapped in osaekomi after two seconds. Souza appeared to have picked up a knock as she gingerly returned to her feet on numerous occasions but showed her fighting spirit as she continued but ultimately there was only going to be one winner at this point and Sayit prevailed on the ground to register Turkey on the medal table.
The second bronze medal contest was claimed by 2018 world champion Asahina Sarah (JPN) who left it late to defeat Altheman. Park 24 member Asahina, who was urged on by her highly-animated dad Terry Asahina who was in the front row, threw for ippon with five seconds left and after leaving the mat she bowed to all four corners of the iconic Budokan. The highly-popular Kodokan product fought back the tears before embracing with her dad and applauding her supporters in one of the most emotional moments of the competition.