Marie Eve Gahie crowned World Champion in the Budokan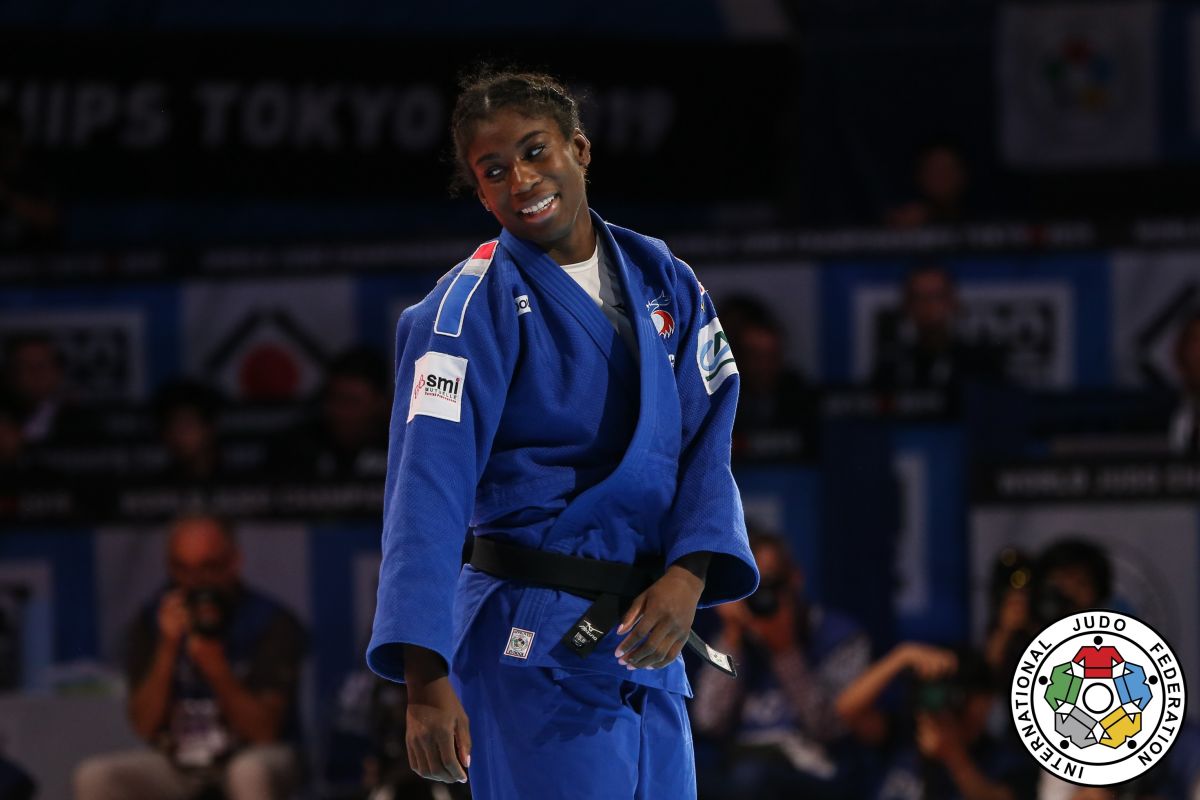 29 Aug 2019 15:40
Mark Pickering - IJF
IJF Emanuele Di Feliciantonio / International Judo Federation
French Marie Eve Gahie was crowned the new world champion after the French ace banished her memories of losing the 2018 final. Gahie defeated the unfancied Tbilisi Grand Prix winner Barbara Timo (POR) in the final after the Portuguese judoka belied her ranking of 29th in the world.
Timo was bidding to become her country's first world judo champion but the highly-motivated Gahie was determined to come away with gold this year and won in style. The world number two took control on the ground and, just as it looked like she was transitioning for a pin, switched to a juji-gatame for gold.
Gahie fell to her knees in celebration and the tears flowed as she left the mat and jumped into the arms of her coach before looking up and applauding the French fans who had been in good voice all day long.
In the first semi-final Gahie defeated Olympic bronze medallist Sally Conway (GBR) to seal consecutive World Championships final appearances. Ne-waza specialist Conway was beaten at her own game as she was turned over on the ground and Gahie applied a kata-gatame hold for 20 seconds and ippon. The Frenchwoman executed a double lapel turn and had too much power for Bristol-born Conway who tried in vain to escape.
In the second semi-final European Games winner Margaux Pinot (FRA) was humbled by Timo who threw spectacularly with a sode-tsurikomi-goshi after 45 seconds to take a sensational place in the final. The Portuguese, who switched from representing Brazil earlier this year, could barely believe what she had achieved and the crowd were also surprised by her incredible run through the rounds and into the gold medal contest as she prevented an all-French final.
The first bronze medal went to Conway who won her country's first medal in Tokyo at the expense of Zagreb Grand Prix bronze medallist Michaela Polleres (AUT). Conway trailed to a waza-ari score but responded with a ura-nage to restore parity and called upon her yoko-sutemi-waza for a second score to send the large British delegation wild. Conway now owns an Olympic medal and a world medal and is the most decorated member of the British squad.
The second bronze medal contest was claimed by Pinot as the Frenchwoman added to her country's fast-rising medal tally. European Games bronze medallist Anna Bernholm (SWE) was halted by ippon from a ko-uchi-gake with a great change of direction from Pinot who waved to her supporters who smiled straight back at their first-time world medallist.