Lukhumi Chkhvimiani surprises the field with world gold U60kg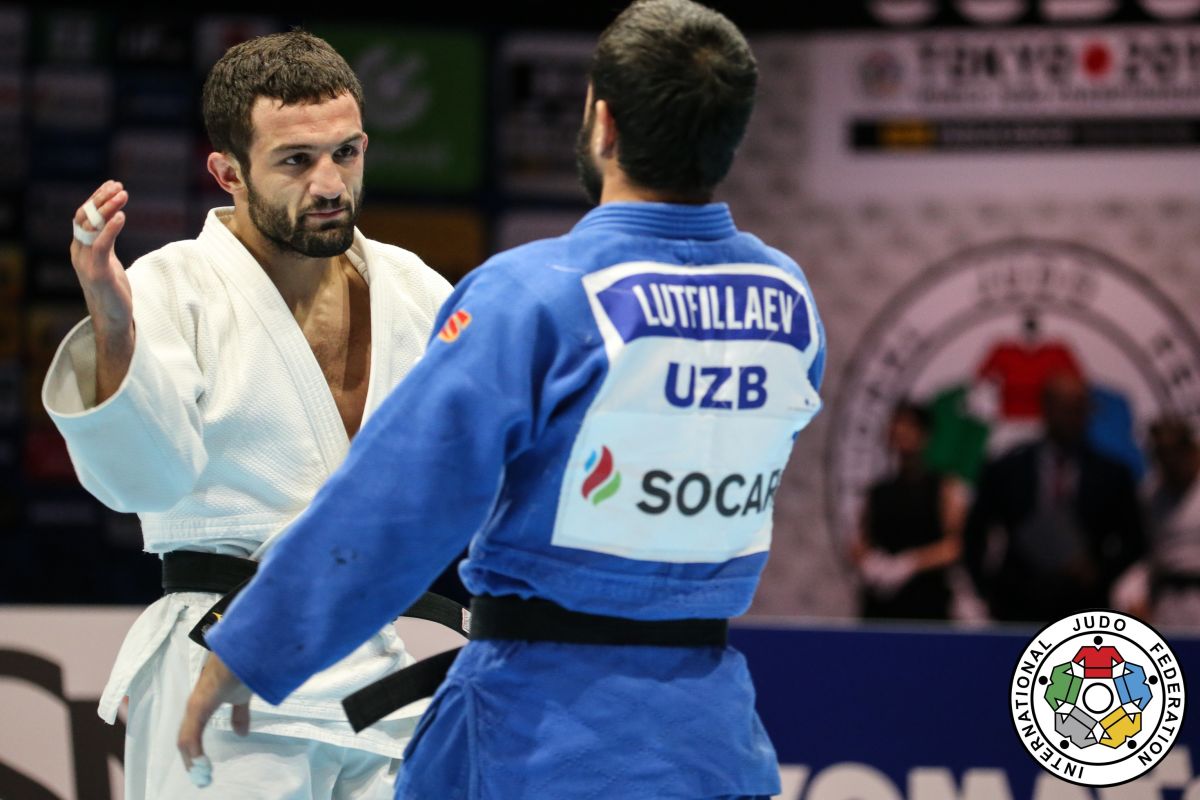 25 Aug 2019 15:55
Mark Pickering - IJF and JudoInside
IJF Emanuele Di Feliciantonio / International Judo Federation
A sensational victory for Georgia's Lukhumi Chkhvimiani today in the Nippon Budokan in Tokyo where Chkhvimiani was crowned the new world champion, the first ever lightweight world champion for Georgia. Chkhvimiani defeated world number seven Sharafuddin Lutfillaev of Uzbekistan for the first time in four contests, his most important contest ever.
Not Takato, not Nagayama, not Mshvidobadze, not Smetov but the worlds number 9 of the seeding list won the gold medal. Chkhvimiani trailed 0-3 in their head-to-head series before today but registered in the win column today on the biggest stage of his career and when it mattered the most. The Georgian countered an uchi-mata for a waza-ari score with 51 seconds left and, as Lutfillaev had no choice but to go on the attack, Chkhvimiani was ready and loaded up the Uzbek onto his hip and over for ippon and U60kg gold.
In the first semi-final Chkhvimiani stunned world bronze medallist Nagayama Ryuju (JPN) by a waza-ari in golden score. The Georgian looked out on his feet after a scoreless four minutes and had started spoiling with negative gripping but burst into life in golden score to counter the gold medal favourite for a waza-ari score. Chkhvimiani was originally awarded ippon but upon review his score was downgraded to a waza-ari which was still enough for victory and an unexpected spot in the final.
In the second semi-final Lutfillaev launched two-time Grand Prix winner Gusman Kyrgyzbayev (KAZ) with a uchi-mata for ippon to advance to the final. The Uzbek punched the air in delight having guaranteed the best result of his career. Kyrgyzbayev had won his poule with Dashdavaa, Amiran Papinashvili, Kitadai and Korean Choi.
In the first bronze medal contest former world champion Yeldos Smetov (KAZ) outclassed teammate Kyrgyzbayev in an all-Kazakh contest. Smetov prevailed after 90 seconds of golden score by ippon and Kyrgyzbayev raised the arm of his victorious compatriot who clapped the crowd for the appreciation of his efforts.
In the second bronze medal contest Nagayama dramatically beat three-time and defending world champion Takato Naohisa (JPN). Nagayama who immediately floored Takato with ashi-waza but the Olympic bronze medallist was able to turn out onto his front. With 18 seconds left Takato countered a failed uchi-mata by rolling his Tokai teammate over for a waza-ari only for Nagayama to score a waza-ari of his own in the very last second and pinned down the former for 10 seconds to win bronze as he did in 2018.
Takato, who won gold in 2017 and 2018, had to settle for fifth-place but showed his class as he raised the hand of his international colleague who now has the edge in the race for selection for Tokyo 2020. It just wasn't his day and it went wrong when he faced Frenchman Walide Khyar who gave him a super hard and dedicated match. Takato progressed but had no energy left to face Lutfillaev, who is a sensational fighter with both innovative as traditional judo.
Chkhvimiani reached the final by winning the toughest poule with a win over Francisco Garrigos of Spain in the second round. Eric Takabatake (BRA) was the next victim and Artem Lesyuk gave the Georgian a good match but had a head injury and was fully taped and Chkhvimiani struck afterall. The sensation in this poule was Yang Yung Wei of Taipeh who bested Robert Mshvidobadze who wasn't fit at all with a knee injury. Without the Russian in the starting grid, Chkhvimiani would have been protected as number eight and in the same pool with Takato. Taipeh's lightweight Yang also defeated Mkheidze of France and he overcame Olympic bronze medallist Diyorbek Urozboyev (UKZB) and reached the quarter final against Chkhvimiani.
In 2007 Irakli Tsirekidze won the first Georgian world title, followed by Avtandili Tchrikishvili in 2013 in Rio and last year Guram Tushishvili won the heavyweight title. Chkhvimiani is the biggest surprise of them all.