Italian cadets take the lead at European Championships in Warsaw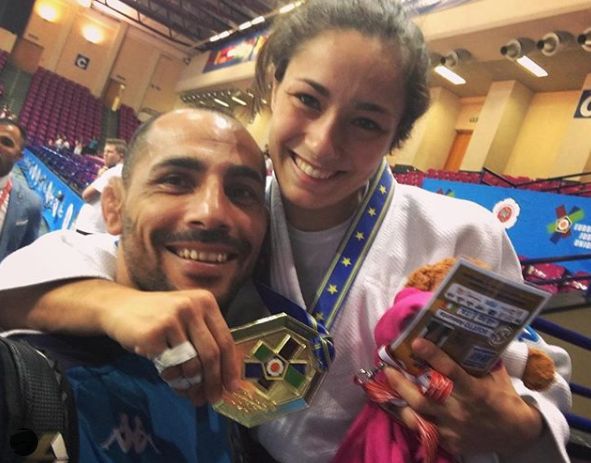 27 Jun 2019 21:55
Athlete Instagram
Italy was proud of its two Cadet European Champions. The two athletes catapulted the talented Italian team to the first place after one day of fighting. Vincenzo Skenderi and Assunta Scutto signed for tho efficient gold medals for the Azzurri.
The girls U48kg class was world class. With 29 girls the favourites came on top in this amazing category. In the semi final Assunta Scutto of Italy defeated Ana Viktorija Puljiz of Croatia. Portugal's Raquel Brito caught Iasmina Covaciu of Romania. The final was a fingerlicking affiche where Scutto claimed the victory in 100 seconds over the talented Portuguese. Scutto won all events she appeared except the Italian cadet title. It says enough about the level of competition. Carlotta Avanzato took that Italian title but internationally Scutto continued with gold in Follonica, Coimbra (U21 and U18), Tula and why not the Italian Junior and senior title. What an amazing six months for Scutto awarded with the icing on the cake, but also still a stepping stone, the European cadet title. If you have such a potential then more is just a matter of time, she already won a Junior European Cup. Enough rest and balanced training may be the challenge for these youngsters that can expect the European EYOF in Baku and World Championships in Almaty this year. The semi finallists Covaciu and Puljiz won the bronze medals.
Skenderi takes gold
The first gold for Italy was actually won by Vincenzo Skenderi and it was actually the first gold medal this year for Skenderi who took silver in Berlin and Bielsko Biala, also in Poland. The winner in Follonica and Zagreb, Bence Farkas was his opponent in the U55kg final, decided by wazari in extra time. Two Azeri judoka Mammadli and Suleymanov captured the bronze.
Armenia's first gold
Armenia was the first golden country in Warsaw. Susanna Stepanyan set a historic performance fro her country as first ever Cadet European Champion. The last finalist was in 2006 and Susanna is also the first girl winning the first medal medal ever. She was expected among the favourites with victories in Tula and Cluj in this spring. Stepanyan defeated Hungarian Luca Mamira in the final U40kg. She won gold in Teplice and Bielsko Biala and that European Cup seemed quite a good indicator of form for this milestone event in Poland.
Valadier Picard peaks at the right time
Young Frenchman Romain Valadier Picard won gold in Bielsko Biala and repeated his golden performance here in Warsaw winning against Ukrainian lightweight Mykyta Holoborodko. French champion Valadier Picard took revenge for his loss against Mykyta Holoborodko in Zagreb, but that was a useful one. Without losses no victories.
Turan Bayramov of Azerbaijan won the third male gold medal. His captured gold U60kg against Muhammed Demirel of Turkey. 38 young boys in this class so really competitive.
Where Turkey was unfortunate in U60kg men, there was gold for Hanife Ozcan. Ozcan and Merve Azak met in a Turkish semi-final U44kg where Azak had actually the better pre-season. Ozan took the gold against Anastasiia Balaban of Bulgaria.
Hungary was unlucky with two silver medals but will for sure get more medals, two finals is pretty good. Romania even won three bronze medals. Normally Russia and Azerbaijan are super strong on the first day but certainly Russia will be expected in all two remaining individual days and the team event.