Belarus celebrates judo gold by Maryna Slutskaya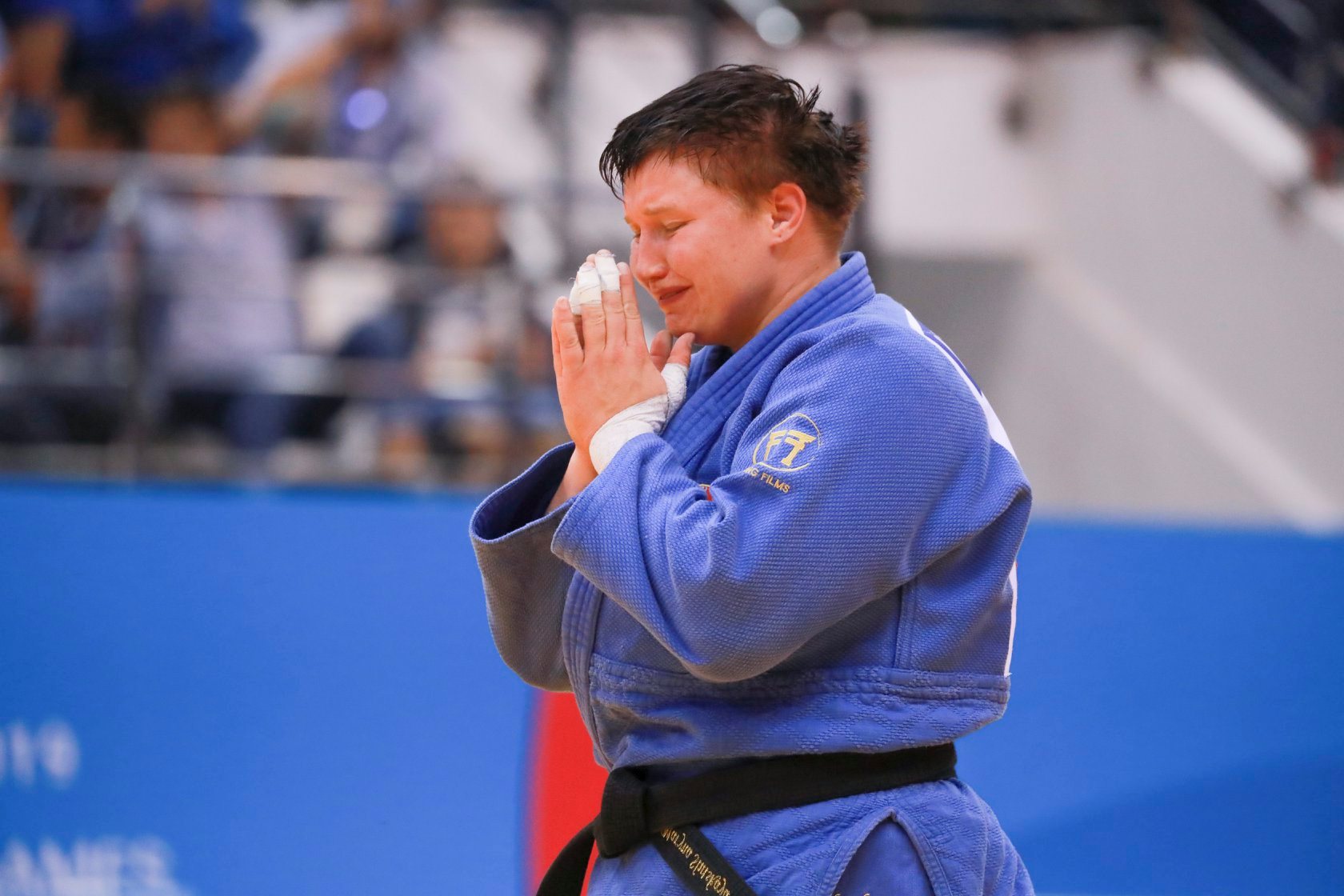 25 Jun 2019 08:45
Games News Service
Local Organising Committee
Belarus celebrated their first judo medal at the Minsk 2019 Europeans Games with Maryna Slutskaya's gold while Georgian giant Guram Tushishvili again triumphed as the individual competition ended at Chizhovka Arena on Monday.
Slutskaya came out on top of Larisa Ceric (BIH) in the final of the women's +78kg, a match that went almost four minutes into overtime as nobody was able to score. It ended when Ceric got a third penalty and was automatically disqualified.
"It was a hard final, a tough fight, a tough opponent. We're meeting often and every time the outcome is different," Slutskaya said.
"I am glad that I was able to take revenge here at home for my last defeat against her."
Slutskaya credited home-crowd support for her success.
"It was nice that the whole arena was supporting me," she said. "In the hardest moment in overtime in the final, their support played an important role."
+100kg
World champion Tushishvili dominated the men's +100kg, winning each of his matches on the way to the final by ippon.
His opponent Inal Tasoev (RUS) shocked spectators when he was the first to score but Tushishvili recovered almost instantly and threw the Russian for another ippon.
"I was pushing myself very hard to get that result. The final was very emotional for me. Tasoev is a young guy with very good technique," Tushishvili said.
Two-time Olympic medallist Henk Grol (NED) earned a bronze medal, beating Lukas Krpalek (CZE), the 2016 Olympic champion, in the +100kg.
U100kg
Georgia's other gold medal hope Varlam Liparteliani succumbed to newcomer Armen Adamian (RUS) in the men's U100kg final. The Russian threw his opponent for waza-ari and defended this lead to the end.
"This is a really important win for me as it pushes me towards the Olympic Games 2020 in Tokyo," said Adamian, who recorded his first major title win at senior level.
The Rio 2016 Olympic silver medallist Elmar Gasimov (AZE) settled for a bronze.
U90kg
Mikael Ozerler (TUR) snatched victory in a turbulent men's U90kg, defeating Li Kochman (ISR) in the final. For both it was their first European championship medal because the Minsk 2019 judo tournament doubles as the European championships.
"I feel incredible. It was a perfect day for me. When I came to the warm-up area in the morning I felt goosebumps all over my body and I knew this was going to be my day," Slovenian-born Ozerler said.
Several medal hopefuls, including world champion and top seed Nikoloz Sherazadishvili (ESP), were eliminated in the earlier rounds.
U78kg
Klara Apotekar (SLO) was another up-and-coming judoka who struck gold in Minsk. The 21-year-old beat top seeded Guusje Steenhuis (NED) in the U78kg final by waza-ari.
"Senior is definitely another and a higher level. I didn't have a European medal in seniors before, so it was a wish. Now I've got the gold medal and it's like a little piece of a dream come true," Apotekar said.
The judo competition concludes Tuesday with the mixed team event. The Netherlands, Russia and Ukraine are the teams to watch.