The latest Judo News offered by JudoInside.com
Klara Apotekar continues Slovenian golden streak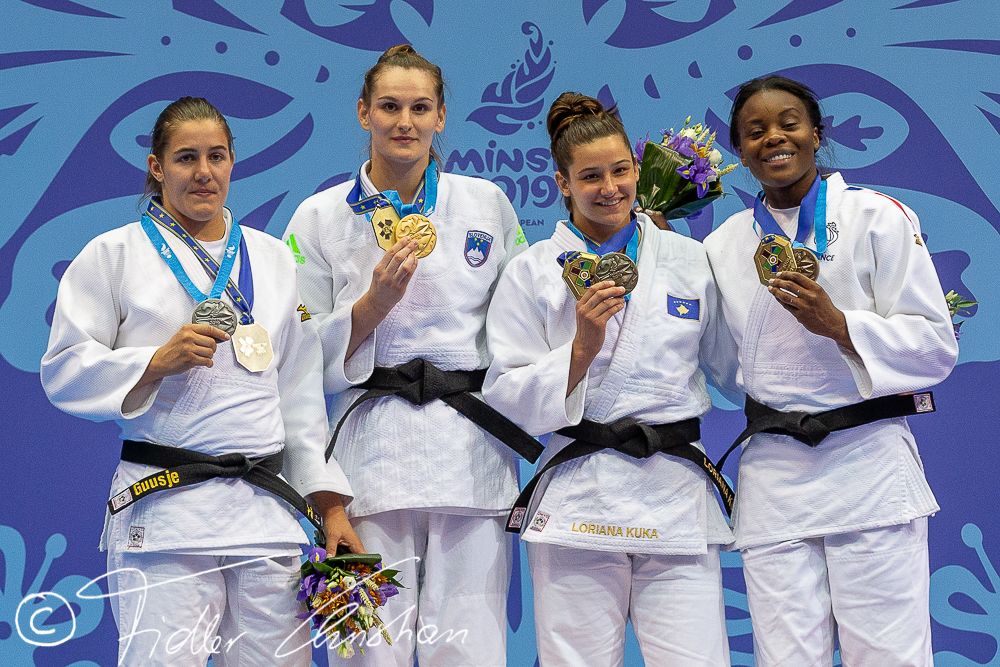 You just cannot believe it, Guusje Steenhuis cannot believe it but Guusje Steenhuis lost her third European Championships final away. Slovenian Klara Apotekar was the one who snatched this European Games title. Apotekar was the winner of a pool with Natalie Powell and Bernadette Graf and both were more favourite on paper, but Apotekar steadily grew to this level for a long period and the differences are small.
In 2014 she won European silver medal in the age category U23 years. One year later she captured that U23 title. In 2017 she was close to a European senior medal but just came short but captured the Junior European title in her own country.
She knew the difference between gold and silver, but you don't need to explain that to world silver medallist Guusje Steenhuis who lost her third European final. Not yet comparable to Varlam Liparteliani who lost his fifth European final half an hour later. Still it wasn't the first time that Apotekar overcame the Dutch favourite. In 2017 she defeated Steenhuis at the Paris Grand Slam but one year later Steenhuis took revenge in the same place. Nonetheless Steenhuis knew who she met in today's final.
The Dutch woman had a warm up match against Loriana Kuka of Kosovo who won the bronze medal after all. In a Dutch battle against rival Marhinde Verkerk it was Steenhuis who progressed to the final after a third penalty for Verkerk.
The top favourite and 2018 European Champion Madeleine Malonga won her last contest against Verkerk and grabbed bronze but she lost to Luise Malzahn in the quarter final. The youngster Kuka surprised Malzahn for bronze. Technically speaking Slovenia won its second gold medal today, but Mihael Zgank switched to Turkey two years ago and won gold U90kg in Minsk.
It says enough about the potential of Slovenia that wasn't too lucky with just one bronze medal for Marusa Stangar U48kg, but today the gold medal continues the streak of at least one Slovenian champion since 2016 with Trstenjak twice and Adrian Gomboc last year.
Klara Apotekar had a good preparation and opened 2019 with a victory at the Grand Prix in Tel Aviv and she took bronze at the Grand Slam in Düsseldorf. Apotekar is the half-sister of Olympic medallist in this category, Ana Velensek.
Apotekar made a dream come true
Apotekar: "Senior European Champion is definitely another and a higher level. I didn't have a European medal in seniors before, so it was a wish. Now I've got the gold medal and it's like a little piece of a dream to come true."
And you had a tough opponent but did you feel chances?
Apotekar: "It was a tough fight, the opponent was very strong. But after I threw her for waza-ari, I knew that I might maybe win, because I felt in my arms that I'm strong enough to keep the lead until the end. In fact All the contests were really hard. Almost all of them went to the end or into golden score. I just wanted to enjoy my fight and do my best. I think the luck was on my side and it was my day.
Did you have an advantage with your reach with your 1.86m?
Apotekar: "It is a big advantage, because I have long arms and legs. I'm trying to use it as much as I can. Some other girls are also quite tall, but I think I'm still the tallest."
So how did it feel today, describe your day
Apotekar: "In the morning when I woke up, I was relaxed. I didn't think about winning or losing. I just went into each fight wanting to show my best judo."
Related judoka and events
Related Judo Photos
Related Judo News

Seung-Jin Jang (KOR)
28 years
| Result | City | Date |
| --- | --- | --- |
| 2 | Düsseldorf | 21 Feb |
| 1 | Budapest | 2019 |
| 2 | Qingdao | 2019 |
| 1 | Osaka | 2019 |
| 1 | Odivelas | 2019 |
| Result | City | Date |
| --- | --- | --- |
| 1 | Düsseldorf | 21 Feb |
| 2 | Osaka | 2019 |
| 1 | Tokyo | 2019 |
| 1 | Tokyo | 2019 |
| 1 | Hohhot | 2019 |