The latest Judo News offered by JudoInside.com
Proud flagbearers Agbegnenou and Conway excited for the Games
Games News Service JudoInside.com / judo news, results and photos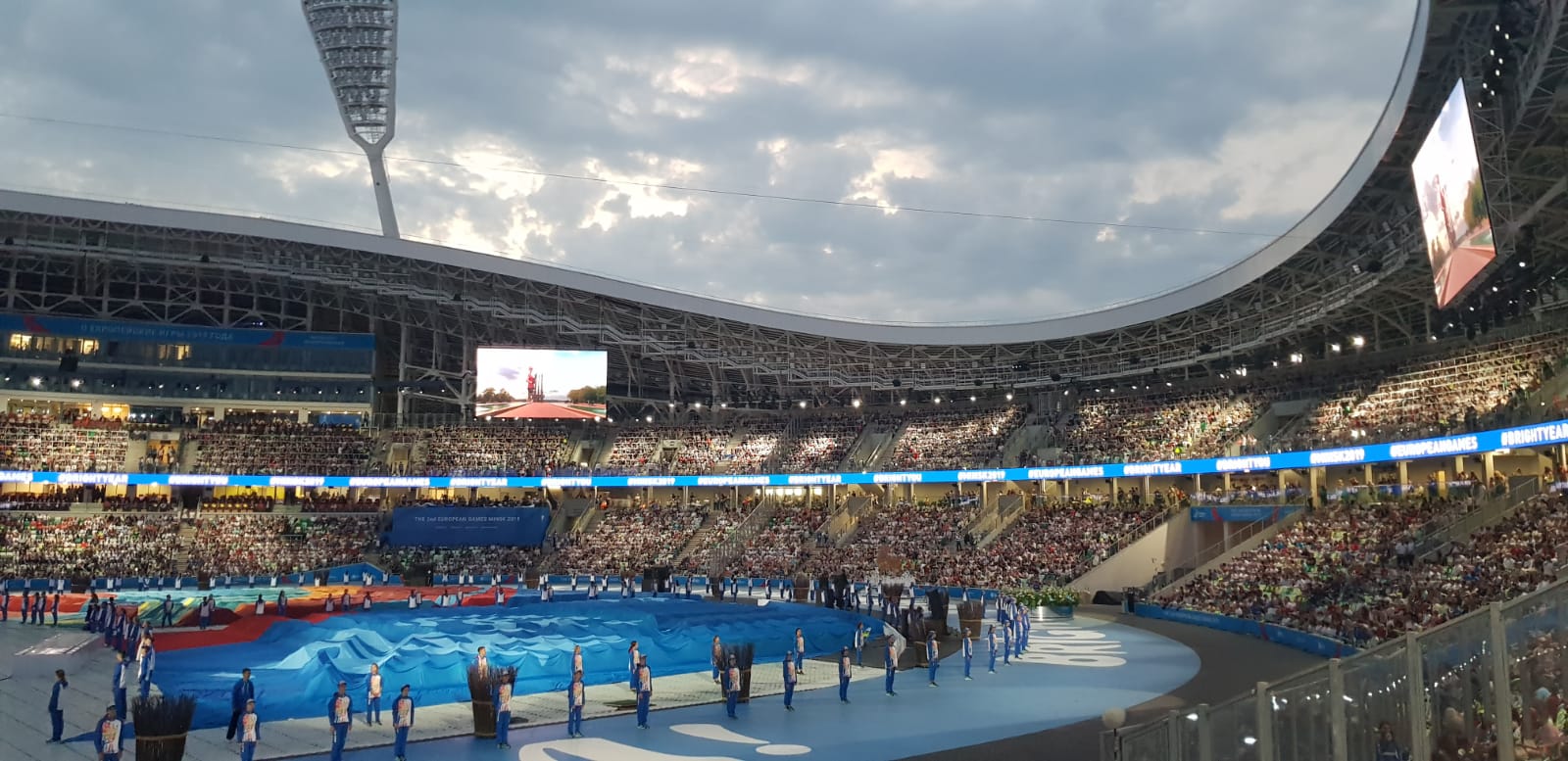 The Minsk 2019 European Games got underway on Friday night with a quirky, joyful Opening Ceremony celebrating with athletes in Minsk's Dinamo Stadium. The gasps from the 22,246 fans armed with smartphones were never far away as a succession of animals and birds regularly appeared to take to the skies.
As always, the action, which was broadcast to 148 countries worldwide and showcased 500 artists, 700 volunteers and 1,200 costumes, built towards the lighting of the flame. Named the Flame of Peace, the European Games fire has travelled all over Europe, scaling the continent's highest peak, Mont Blanc, and criss-crossing Belarus during the past 50 days. In the process it has notched up 7,700km and been handled by 450 lucky people.
With the formalities now out of the way, nine full days of action featuring 15 sports and 23 disciplines kick off on Saturday morning. Stay up to date with all 200 events and every big story via the European Games News Service.
French Flagbearer Clarisse Agbegnenou said: "I'm so happy. It's really nice, good weather, not rainy, so I'm so happy to be here. I found out one week ago. I was really impressed that they chose me."
"I think we got here two days ago. I don't actually remember because it's going so fast but it's really nice. I'm hoping that after my competition I can see a bit of this beautiful city. I don't know what I want to discover yet, maybe the museums."
On waiting for the judo competition to get under way: "I want to fight. I'm here to fight, and I need to win because four years ago I only won the bronze medal. So I need a gold medal at the European Games. I've been preparing for this competition for four months. I'm ready, I'm sure of that, so on Sunday I will kill everybody."
On her plans this weekend: "I need to lose weight before competition on Sunday because judo is a weight-category sport. So in the morning, I need to do some preparation, so making the weight, and then in the afternoon it'll be just chilling, having fun in the Village with friends. In the morning I need to run in a special suit and then I cannot really eat how I want. It's tough but we're used to that, and then after the weight control I can eat everything. I'm most looking forward to meat, potatoes, pasta, maybe pizza but don't tell anyone that."
British flagbearer Sally Conway (GBR) is impressed in Minsk. "So far, I've only seen the village and that's it. So just the views from the bus on the way here. But it looks like a cool place, I haven't had a chance to explore yet."
"It's a huge honour to carry the flag and I'm really, really excited about doing it. I can't wait.
"The official announcement was on Friday, so that's when I could tell everybody. I haven't had a practice carrying it yet though, so the pressure's on!
Conway: "We'll see how it goes when we're out there. I did tell friends and family but they had to keep it on the low-down because no one was allowed to know. I think they can watch on TV back home, I'm sure they'll find a way."
On the Athletes' Village: "The whole place looks great. The food hall is always good, the rooms are great. There's so many different choices of foods, so always something for you to eat. The pizza's looking good right now, not had any pizza yet so after I've competed, that's the first thing I'll be going for."
How about the competition? "Hoping to put on a really good performance and I'd love to come home with a medal. I try not to get myself too psyched up beforehand, just stay relaxed, keep focused, then go out there and see what I can do.
"Europeans is always a big event for us, and especially this one as it's part of Olympic qualification, it's quite big points ahead of Tokyo. Looking forward to fighting on Sunday."
Related judoka and events
Related Judo Photos
Related Judo Videos
Related Judo News
Camila Barreto (BRA)
26 years
| Result | City | Date |
| --- | --- | --- |
| 2 | Düsseldorf | 21 Feb |
| 1 | Budapest | 2019 |
| 2 | Qingdao | 2019 |
| 1 | Osaka | 2019 |
| 1 | Odivelas | 2019 |
| Result | City | Date |
| --- | --- | --- |
| 1 | Düsseldorf | 21 Feb |
| 2 | Osaka | 2019 |
| 1 | Tokyo | 2019 |
| 1 | Tokyo | 2019 |
| 1 | Hohhot | 2019 |