The latest Judo News offered by JudoInside.com
Five countries win European U23 gold in Györ
JudoInside.com / judo news, results and photos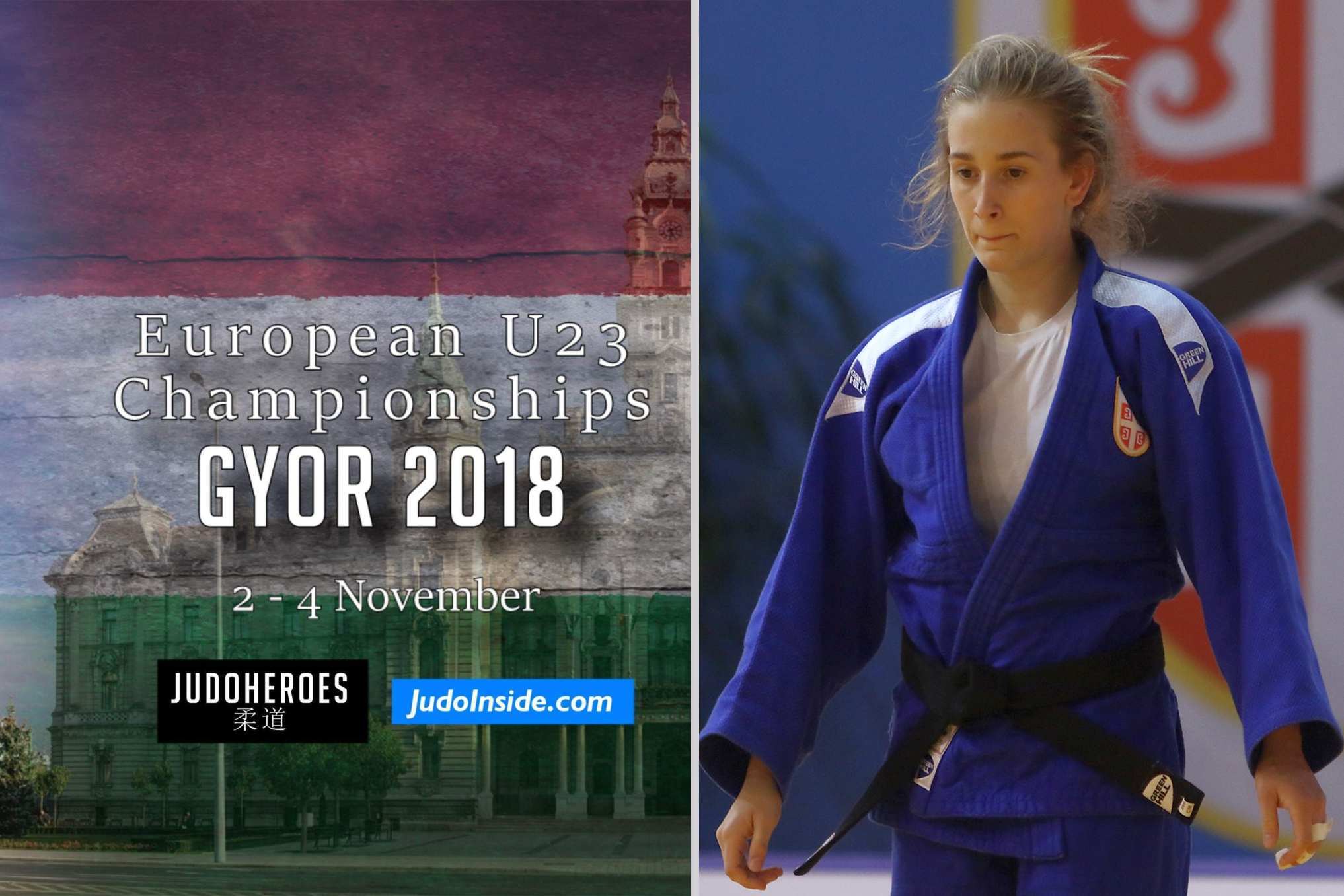 Five countries have won a gold medal at the first day of the U23 European Championships in Gyor. 18-year old Serbian lightweight Andrea Stojadinov was the youngest winner of the day as she won her category U48kg.
Stojadinov reached the final by winning all her matches by ippon and the same counted for Daria Pichkaleva of Russia, so two equal opponents, but Stojadinov lost her final last years and she knew what it had to take to win it this time. After thirty second the righthanded Serbian scored wazari but Pichkaleva didn't let go her European ambitions. She came back quickly with a harai goshi and the first minute was extremely interesting with in the last seconds of the first minute Stojadinov scored the winning point for Serbia. After four silver medals at European Championships, finally sweet gold for Serbia's tony Stojadinov.
Yago Abuladze of Russia won the gold U60kg. Last year he lost the final in Podgorica, but this time he was able to beat his opponent Jaba Papinashvili of Georgia. An exciting match where Papinashvili seemed to take the initiative in the match after thirty seconds but his ura nage resulted not in a score. Not much later it was Abuladze who fired an explosive Harai Makikomi and scored the first wazari on the board. Papinashvili tried everything and took more risk in his match and tried a sutemi but made a mistake and Abuladze converted immediately into oseikomi and no chance for Papinashvili to fight it with an empty body.
A Hungarian finalist for the host nation with Reka Pupp. She had won seven medals at European Championships in all age categories, and she was fifth in 2014, she won bronze in 2015 and silver in Israel in 2016 and was the favourite to win the contest against Betina Temelkova of Israel. But also Temelkova had already won a European title for cadets when she was 15 and fighting for Bulgaria, but just wasn't that successful in this category U23 and was a junior last year. No score in the first four minutes but just in the golden score it was Temelkova who scored with yoko tomo nage and Pupp landed on her side, just enough for the gold U52kg for Temelkova. She is only the third Israelian to take this title. Alice Schlesinger in 2009 and Baruch Shmailov in 2014 who happens to be Temelkova fiancé. She listened well to Baruch how to deal with a U23 European final.
The final U66kg was between Alberto Gaitero Martin of Spain and Mirzoiusuf Gafurov of Russia. Gaitero had won a semi final against Tornike Nagliashvili who got disqualified for hirect hansoku for a dangerous single righthanded uchimata and couldn't fight for bronze anymore. After two minutes in the final U66kg match Mirzoiusuf Gafurov tried a sloppy drop seoi nage and Gaitero countered the Russian quickly and scored wazari and never gave Gafurov the chance to make it even. Gold for Spain which is only the second gold medal in the history for Spain in such championship. Only in 2011 heavyweight Sara Alvarez Folgueira won gold in Tyumen.
Julia Kowalczyk took the gold U57kg. Finally she claimed the gold medal after she had won five medals at European Championships before and none was gold. This time the Polish anthem was played for Kowalczyk who won the European Open in Minsk as well this year. In the final Kowalczyk started on fire and had her British Opponent Lele Nairne in oseikomi after thirty seconds, but Nairne escaped but couldn't make a difference in the remaining minutes and the gold went to Poland.
Russia leads the medal table with six medals, one gold, two silver and three bronze. Four golden countries follow but Israel was best of the rest with two additional bronze medals at day 1.
Related judoka and events
Related Judo Photos
Related Judo News

Jaykhunbek Nazarov (UZB)
19 years
| Result | City | Date |
| --- | --- | --- |
| 2 | Düsseldorf | 21 Feb |
| 1 | Budapest | 2019 |
| 2 | Qingdao | 2019 |
| 1 | Osaka | 2019 |
| 1 | Odivelas | 2019 |
| Result | City | Date |
| --- | --- | --- |
| 1 | Düsseldorf | 21 Feb |
| 2 | Osaka | 2019 |
| 1 | Tokyo | 2019 |
| 1 | Tokyo | 2019 |
| 1 | Hohhot | 2019 |