The latest Judo News offered by JudoInside.com
Japan close the 2018 World Championships with more gold
IJF Media Team / International Judo Federation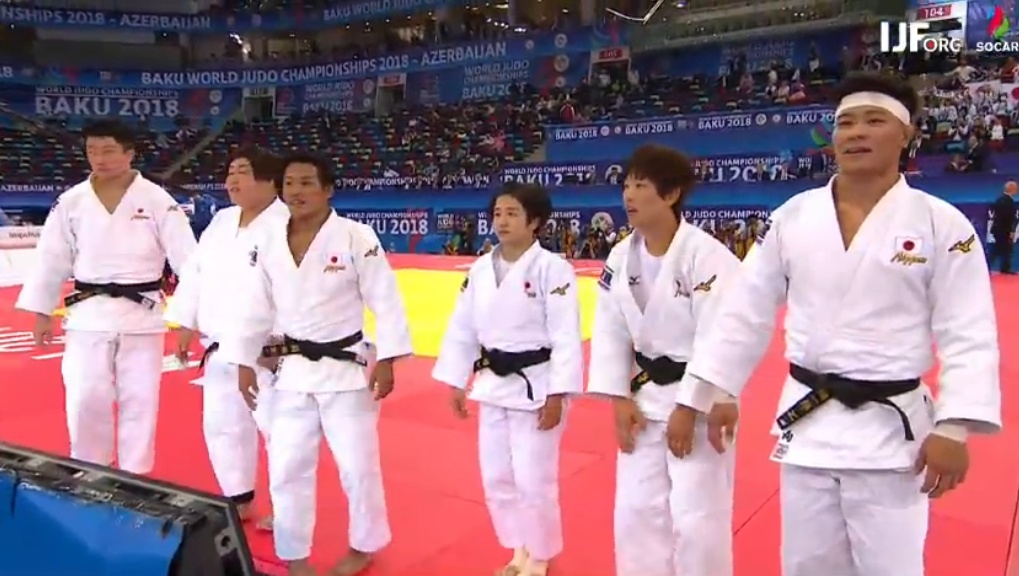 The World Mixed team title was captured by the team of Japan and they prolonged last year's title from Budapest here in Baku. Witnessed by Russia Federation President Vladimir Putin Russia and a united team of North and South Korea took bronze. France lost the final to Japan by 4-1.
Japan started with Hisayoshi Harasawa against Cyrille Maret, in fact also a heavyweight. Although Harasawa wasn't at his best, he did win bronze. Maret tried to strangle Hasarawa but he escaped. Maret made a mis judgement after six minutes in the fight and gifted Harasawa to take over Maret, 1-0. Priscilla Gneto started aggressive against World Champion Tsukasa Yoshida. Just in the golden score Yoshida scored 2-0 with o-guruma. Last year's Grand Slam Tokyo winner Arata Tatsukawa defeated Guillaume Chaine who had two penalties after four minutes and Tatsukawa could play it tactical to achieve the 3-0. An interesting fight between world silver Marie Eve Gahie and world bronze medallist Yoko Ono. Gahie pulled one point back. Ono couldn't prevent an attack of Gahie making 3-1. Axel Clerget has a good record against Shoichiro Mukai winning once but this time Mukai got him back with ko-soto-gake throwing Clerget on his back and no chance on a sudden death, 4-1. Aasahina and Yoshida won two gold medals this week, not a bad score.
The bronze was captured by the team of Russia that defeated the home team of Azerbaijan. Despite the medal winners Heydarov and Kokauri they just couldn't stand the Russian variety of choices. When Inal Tasoev started with a win against World silver medallist Kokauri, most hope was gone for Azerbaijan after the first contest. Konkina scored an excellent 2-0 for Russia and Hidayet Heydarov made the 1-2 in a massive fight with Musa Mogushkov far in the golden score. Alena Prokopenko increased the gap with two points again and with Mikhail Igolnikov fighting U90kg, the Azeri knew what was waiting. Mehdiyev is a not a bad player though and prevented the Grand Slam Düsseldorf from scoring the 4-1 in regular time, but after 30 seconds Igolnikov scored wazari and decided the match and took bronze with Russia.
In the second bronze medal between the United team of Korea and Germany, Korea led after the first contest. Korean promise Kim Min-Jeong won his contest against Sven Heinle. Amelie Stoll conceded a wazari for a seoi nage by You Jeong Kwon making the 2-0. World Champion An Chang-Rim fought Igor Wandtke but the German can surprise and made a good match of it. He tried a reverse seoi nage against the Korean, speaking about guts, but it was just too sloppy for a score. An scored wazari with 40 seconds on the clock and made the 3-0 with a low sumi gaeshi for COR, the abbreviation for the United Korean Team. The 4-0 was a matter of time. Could North Korean Sun Yong Kwon make that decisive point against Olympic bronze medallist Laura Vargas-Koch (GER). Fourty seconds for the end Kwon made a drop seoi nage and scored wazari and made the 4-0. The match was also witnessed by North Korea legend Kye Sun -Hui who was inducted into the IJF Hall of fame in advance of these World Championships.
Japan won the world title with not even their top team. In Tokyo 2020 the team will consist of existing players of the individual tournament, that will be no doubt deliver a very strong home team fighting at home. The next world championships are in Tokyo as well.
Final Results
1. Japan (JPN)
2. France (FRA)
3. Russia (RUS)
3. Korea (COR)
5. Azerbaijan (AZE)
5. Germany (GER)
7. Netherlands (NED)
7. Brazil (BRA)
Related judoka and events
Related Judo Photos
Related Judo Videos
Related Judo News
All judo results of
Teddy Riner
,
Daria Bilodid
,
Tadahiro Nomura
,
Shohei Ono
,
Ronda Rousey
,
Majlinda Kelmendi
,
Clarisse Agbegnenou
,
Ilias Iliadis
,
Flávio Canto
,
Fabio Basile
,
Joshiro Maruyama
,
Naohisa Takato
,
Hifumi Abe
,
Uta Abe
,
Rafaela Silva
,
Lukas Krpálek
,
Tina Trstenjak
,
Kayla Harrison
,
Tsogtbaatar Tsend-Ochir
,
Nemanja Majdov
,
Jorge Fonseca
,
Nikoloz Sherazadishvili
,
Guram Tushishvili
,
Varlam Liparteliani
,
Sagi Muki
,
Noël Van 't End
,
Saeid Mollaei
,
Christa Deguchi
,
Manuel Lombardo
,
Marie Eve Gahié
,
Lukhumi Chkhvimiani
,
Distria Krasniqi
and
142000+
other judoka in
628000+
results and
420000+
judo matches including the recent
Grand Slam Düsseldorf
,
Grand Slam Paris
,
Grand Slam Osaka
,
World Championships Tokyo
,
World Championships Baku
and
15000+
major judo events. More judo info than you can analyse 24/7! Share your results with your judo network.
Become an Insider!