Hifumi Abe captures his second world title in style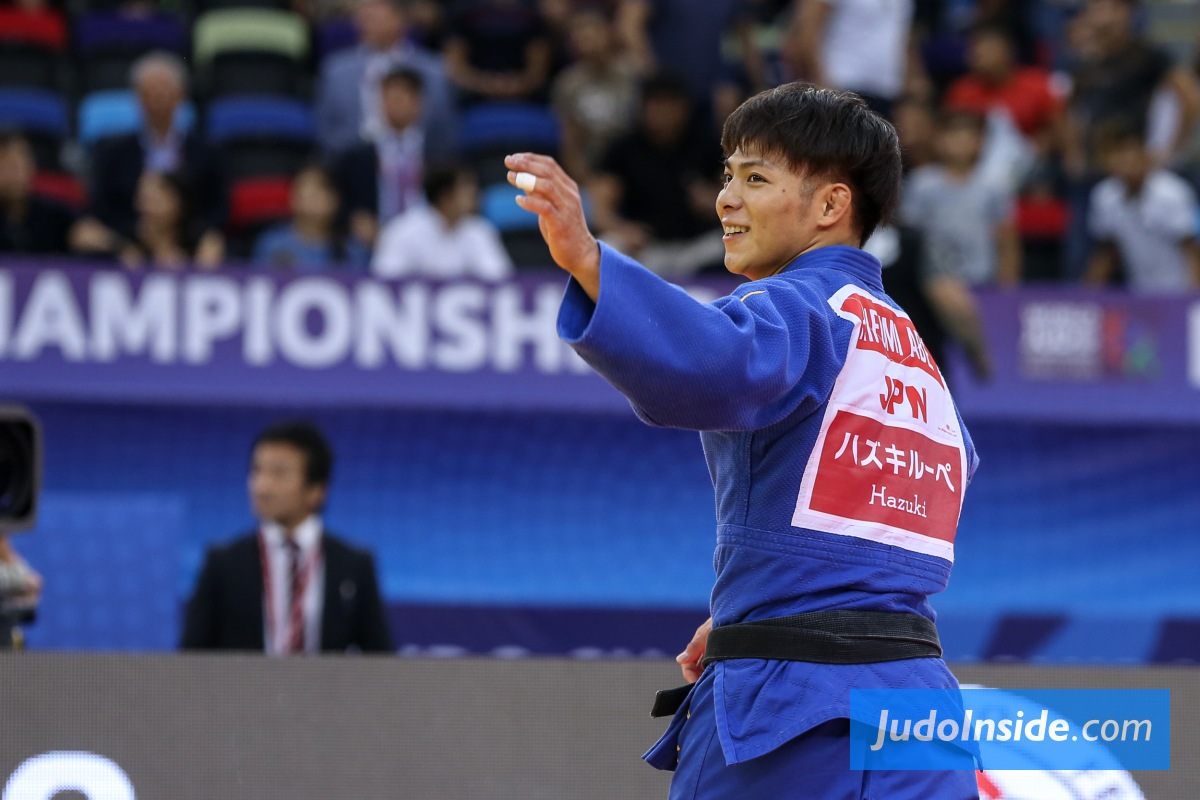 21 Sep 2018 16:25
JudoInside.com / judo news, results and photos
What a story for judo with brother and sister Abe showcasing marvelous and innovating judo. Both champions finished their match by uchimata, a unique happening in judo. Hifumi Abe claimed the world title U66kg defeating the dark horse of today Yerlan Serikzhanov of Kazakhstan.
Yerlan Serikzhanov could be a controversial stylist who could spoil the party for the Abe siblings. But Abe was clear he tried it seven times from the beginning to throw the Kazakh. A normal man wouldn't have survived it but it was time Serikzhanov had to come in action. He tried a ko-soto halfway the match and was immediately countered by Abe for an excellent stylish uchimata, just like his sisters. While launching he could wave to his sister because there was no way to escape for Serikzhanov. An unique background story in judo to have a brother and sister as World Champion. An excellent final and what a story today in Baku.
For the bronze Korean An Baul had to recover from losing to Abe. Against Brazilian Daniel Cargnin he needed all concentration. Also Cargnin can throw with reverse seoi nage. Cargin was one of the revelations of the day and Baul looked tired. Fifty seconds for the end he launched a sode and scored a wazari, he once more showed his class. It brought Baul in a safe situation, Cargnin had to come but the match slipped away, bronze for An Baul.
Georgii Zantaraia demanded another World Championships medal and didn't allow Tal Flicker to get close to Zantaraia after he scored a wazari for uchi-mata. The 2009 World Champion had a super performance and was better in a technical and physical way. A tactical win for Zantaraia who, with all his experience, claimed that sixth medal at the Worlds.
In the semi final Tal Flicker and Yerlan Serikzhanov were equal and needed the golden score. Flicker who grew into the tournament had a tough start but got better towards the final stage and one minute into the golden score it was the Kazakh who threw Flicker instinctively by osoto-gari. The unseeded made it to the final as fifth Kazakh in the history. Smetov (2015) and Rakov (2009) won.
A top match between An Baul and Hifumi Abe who had only met once at the World Junior Championships in 2014. Both judoka didn't score in the regular time in a tactical match, defensive and both players had two penalties. Abe who was the biggest threat lost once at the GP Zagreb to Dovdon which was a useful loss. Abe threw An after 2.5 minutes in the golden score for a wazari.
Brazilian Daniel Cargnin showcased an excellent kuzushi but in fact in the last seconds when he launched a number of combinations against Kherlen Ganbold and scored a wazari. The unlucky Ganbold had a broken nose from the preliminaries but simply couldn't show his best judo in the repechage.
Puliaev defeated the cat Georgii Zantaraia, two excellent and experienced players who always deliver at the World Championships, this time it was between both super stars. The Intuitive judo of Zantaraia vs cool cat Puliaev with no scores in the match. Puliaev was close to a second penalty but 11 seconds in the golden score Zantaraia countered Puliaev.
Todays story will be remembered for a long time.