Jovana Rogic is still hungry for gold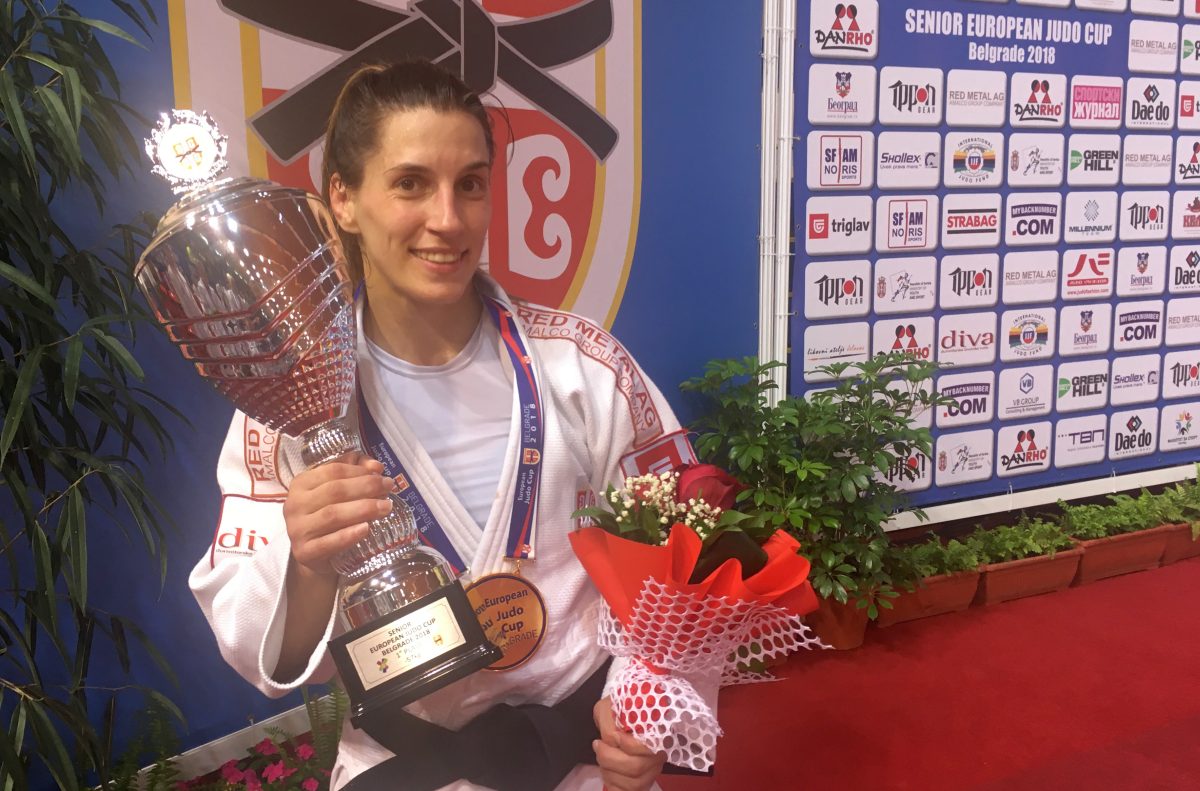 9 Jun 2018 18:25
JudoInside.com / judo news, results and photos
The highlight at the first day of the European Cup in Belgrade was a Serbian final. It was only the third time in the eleven years of history in this tournament that there was a Serbian final and for the first time among women. Jovana Rogic clearly had the experience with her 29 years, a bit of pressure on her shoulders, against the young Marica Perisic who had nothing to lose.
Rogic won a Grand Slam final in Rio in 2012 but also knows the bitter taste of a loss in a final. She was in the final of the European Cup in Belgrade in 2011 but this time didn't want to have the same feeling. Against Perisic it was Jovana Rogic who showed her strong grip in the beginning of the match. Perisic had nothing to lose and was looking for a small gap or mistake from Rogic and grew better into the match. Both kept active but both received a penalty meanwhile. No difference but the age after four minutes in the match. After six minutes of fight a second shido was given to Perisic who energy seemed to slip away. A third penalty was given in the seventh minute. Perisic lost about 75% of her main finals in her career, if she can convert that to wins, she will some extra confidence soon to finish these kind of battles. Gold for Rogic who took gold at the European Cup in Belgrade for the first time.
The final U48kg was won by Priscilla Morand (MRI) who defeated Sara Matijevic of Croatia by ippon after she scored a wazari earlier in the contest. The first gold was the first victory for the born Swiss at a European Cup. She is quadruple Swiss champion. Serbian talent and vice European U23 champion Andrea Stojadinov who won the tournament in 2016 took the first Serbian bronze medal this edition. Two African athletes on the podium. In total 34 nations compete in Belgrade which is an all-time record for the organisation.
The 24-year old Morand from Mauritius lived her life in Switzerland but fights for Mauritius since 2014. Morand said: "I am very happy to be back, but I didn't expect to win a gold medal. For me it was just a big pleasure to be back after a searcher at my elbow one year ago. Of course I still cheer for Switzerland (for her friend Tamara Silva) because I have always lived in Switzerland, but my mother is from Mauritius. My father is from Switzerland so I am 8 time Swiss champion and four times in seniors. For me this is really a big success, maybe not my biggest as I am also proud of my bronze medal of the African Championships. When I was young I was fifth at European Junior Championships in 2011 and 2013 but I hope to win African gold once and obviously qualify for the Olympic Games in Japan. I am 24, so it's a good time to qualify and this medal gives me more confidence to proceed."
Alon Rahima of Israel set his career best today with probably more to come. In the final U60kg he defeated David Pulkrabek (CZE). The Czech seemed very active getting his grip, but Rahima meanwhile prepared an excellent combination catching the Czech for direct ippon. It was his second win over Pulkrabek, also at the 2014 European Open in Sofia.
Emoke Knetig (24) of Hungary won gold U52kg, which was her best performance ever in her career. In the final she overcame Italian Maruska Iamundo (21) who won her first medal in a European Cup event. It was the first gold for Hungary at a European Cup U52kg since Barbara Maros won in 2009 in Boras.
A gold medal for Russia after two minutes in the golden score between Islam Tsikanov and Hungarian Bence Boros. In the final Boros couldn't give the contest that he showed on his road to the final and it was Tsikanov who just couldn't get the right pressure for a score. A fourth silver medal for Boros while he was so close to gold.
The final for men U73kg was won by Ksawery Morka of Poland who had his best ever performance in Belgrade. Morka had to win five matches today and was a surprising winner.
Also the last medal of the opening day was for Serbia when Svetlana Dakic took gold against Croatian Ana Kokeza of Croatia. The best international result for Dakic at home in Belgrade.